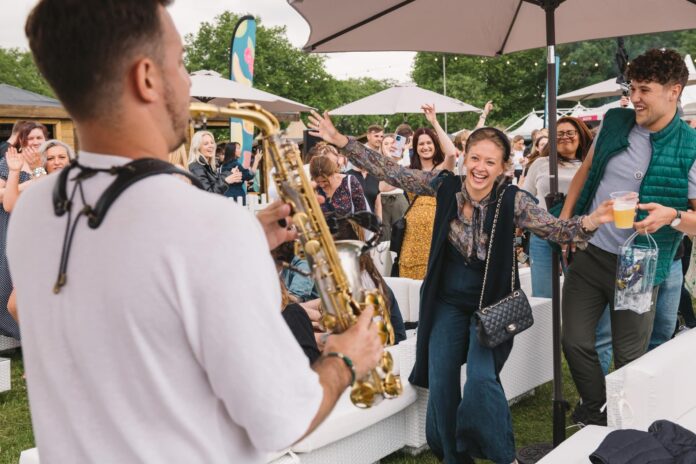 Well, New Year's done & dusted, and you may think that the celebrations are over. My friend, you are wrong! We at Gulf Buzz believe that life is always a party, and we're here to bring you the best of what Dubai has to offer, to light up the month of love – February. Whether you're planning a romantic evening out, some fun family time or even looking for a fun place to hang out with your friends, we've got you covered with our comprehensive list of things to do in Dubai in February.
Take a look at our guide of the best things to do in Dubai in February:
Also read: 21 Best Places To Celebrate Valentine's Day 2023 In Dubai – Couples, Singles & Galentines
1. Tom Odell & Ivor Novello in Dubai 
Date: February 4
Tom Odell, an English pop singer, and Ivor Novello Award-winning songwriter will perform at Dubai Opera as part of his international tour on February 4. Among the hits he will perform in Dubai are Another Love, Real Love, Best Day of My Life, Half as Good as You, and more. If you're a fan of Tom Odell, you must have seen that his latest album Monsters climbed to number 4 in the UK. So all the Tom Odell fans book your tickets now for a musical outing.
Where: Dubai Opera, Sheikh Mohammed bin Rashid Boulevard – Dubai
Tickets: Click here
Minimum Age: 2+
Also read: Must-Have Apps In Dubai For Tourists & Those Who've Just Moved In To Make Your Life Easier
2. Taste of Dubai
Location: Dubai Media Amphitheater
Dates: February 3-5
Looking for a place to bring the whole family from little ones, teenagers and parents? If you're a foodie, then this one is really going to excite you in our list of things to do in Dubai in February. The Taste of Dubai is the ultimate food festival with a fresh line-up of gourmet food, chefs and entertainment in one location. The Taste of Dubai guys self-proclaim that this is the location "where food lovers feast."
The event promises to be more delicious this year with the region's best chefs and restaurants, interactive masterclasses, live entertainment, and much more for all the foodies. It is home to a multitude of pop-up restaurants selected from the newly released Michelin Guide Dubai. A three-course menu will be available at each restaurant exclusively for Taste of Dubai. There are taster portions of every dish – so you can try a wide range of the UAE's best cuisines in one place!
The culinary extravaganza will run through till February 5 and is likely to bring together 1500 foodies.
From lively music to get the whole fam dancing, a tea garden from Ahmad Tea UAE, family friendly cooking sessions through the event, and a mega Children's Space from woo-hoo, there is something for everyone!
Where:
Dubai Media City Amphitheatre, 35V6+V3G – Al Sufouh – Al Sufouh 2 – Dubai – United Arab Emirates

When:

February 3-5
Price:
Tickets start at AED 75
Enjoy a 10% discount on packs of two tickets when purchasing online (this offer is not available on the door).
Children under 12 years old enter for free!
All Taste restaurant dishes will be available for sale at the event via credit card and Tappit. Dishes can also be redeemed with the food vouchers included in select ticket packages.
Book Tickets Here: Taste Of Dubai Tickets
3. La Perle By Dragone 
Location: Al Habtoor City, Dubai
Dates: All of February
La Perle is the premier permanent show in Dubai, located at the Al Habtoor City. The show offers a unique fusion of immersive artistic performances, stunning imagery, and cutting-edge technology. La Perle is a celebration of Dubai's rich culture, vibrant present, and aspirational future, featuring breathtaking stunts and special effects that will leave audiences speechless.
Here's a sneak peak into what you can expect at the show:
The 270-degree seating at La Perle offers a truly immersive experience, allowing viewers to feel like they are part of the action. The tailor-made aqua theatre features a stage that can flood and drain in seconds, allowing for incredible aqua and aerial feats, such as performers diving from 25 meters high. With its focus on the culture, history and future of Dubai, and its use of cutting-edge technology and special effects, La Perle is a must-see destination for anyone visiting the city.
Where:
Al Habtoor City, Sheikh Zayed Rd – Dubai – United Arab Emirates

When:
All of February 2023
Dress code:
The dress code at La Perle is smart casual.
Book tickets here
4. The Gipsy Kings By Tonino Baliardo 
Date: February 5 
On February 5th, 2023, experience the musical magic of The Gipsy Kings by Tonino Baliardo, the kings of Catalan rumba, at Dubai Opera.
With a career spanning decades, The Gipsy Kings have introduced millions of listeners to their unique blend of traditional flamenco, Western pop, and Latin rhythms through hit songs like Bamboléo, Volare, Djobi Djoba, and more.
Don't miss your chance to sing and dance to the rhythms of all your favorite hits at Dubai Opera. Book your tickets now for an unforgettable night of music and entertainment!
Where: Dubai Opera, Sheikh Mohammed bin Rashid Boulevard – Dubai
When: February 5
Book tickets here
Also read: Best Newly Opened Bars In Dubai That You Have To Check Out Immediately
5. Latin Crazy Tribe Festival 2nd Edition
Dates: February 23-27
If you are a party animal, something special awaits you this February. The 5 day Latin Crazy Tribe festival is set to return to Dubai with its second edition.
Latin Crazy Tribe is known for hosting amazing parties at prime venues throughout Dubai, whether you're a regular on Dubai's Latin circuit or looking for something different. This year's second edition will take place in Dubai from Feb 23-27.
You can visit the Latin Crazy Tribe Festival if you want to experience Latin dances in great company and ensure an unforgettable time. The amazing dance event also offers workshops for those who want to level up their dance style.  
Where: Mashreq Metro Station 1, Sheikh Zayed Rd – Dubai
Book Tickets Here
Also read: This Insane 'Floating' Glamp In Sharjah Lets You Camp Suspended Between Two Mountains
6. Chill At Dubai's New Viewing Point With Free Entry
Dates: All of Feb
Dubai Creek Harbour has introduced a new viewing point for residents and tourists to take in the iconic skyline of the city. The Viewing Point offers a panoramic view of the Dubai Creek and surrounding areas, including the stunning views of Downtown Dubai and the Address Grand twin towers. The best part? It's completely free to visit.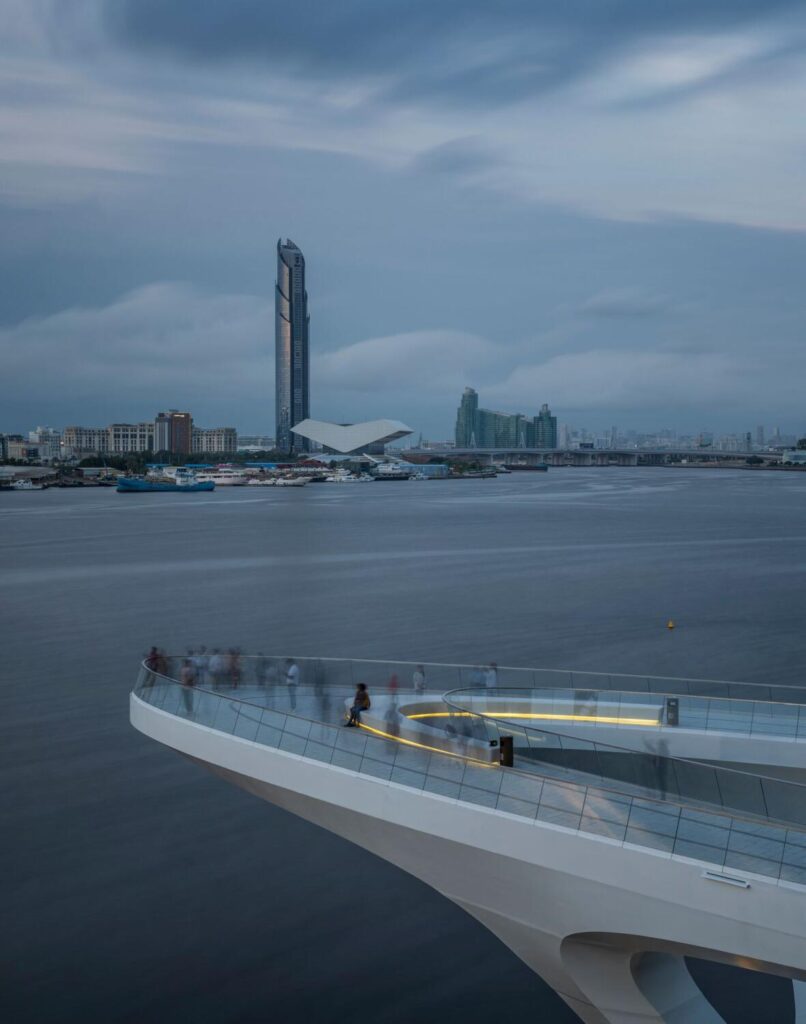 Get full details here:
Dubai Creek Harbour Introduces New Free Viewing Point With Stunning Vistas
7. InClassica
Dates: 12 February – 10 March 2023
InClassica International Music Festival 2023 is a premier event for classical music lovers. The festival brings together musicians who are dedicated to their craft and an opportunity for audiences to escape the everyday and immerse in the world of music.
Taking place at the world's largest observatory, InClassica enables young talents and established musicians to come together, and new and remarkable careers are given a platform to shine. A Turkish orchestra, the Cukurova State Symphony Orchestra, will open the festival, accompanied by soloist Fumiaki Miura under the direction of Massimiliano Caldi. There will be pieces by Mozart included in the evening's program, such as Symphony no 40 and The Marriage of Figaro – Overture.
The festival is dedicated to music and the shared ideals of friendship and international cooperation that are at the heart of culture and the arts worldwide. Experience the beauty
Where:
Coca-Cola Arena, Al Wasl – Dubai – United Arab Emirates

When:
12 February – 10 March 2023

Age requirement:
6+. Guests under 16 must be accompanied by an adult
Book Tickets Here
8. Elrow XXL
Dates: February 17-18
Get ready for the Middle East debut of elrow XXL, one of the biggest dance music festivals in the world, on 17-18 February 2023 at d3 in Dubai.
This Barcelona-based extravaganza has entertained thousands across 34 countries and 84 cities, and is now making its way to Dubai for the very first time. The outdoor carnival, with a capacity of more than 8,000 guests, will feature over-the-top decorations, flamboyant costumes, and glittering confetti showers. Performers will mingle among the crowd as the massive El Traingulo de las Rowmudas stage showcases top artists from around the world.
The event will be headlined by prominent British DJ and actor Idris Elba along with Sonny Fodera, Armand Van Helden, and Wade. Dubai will also get to see the famous Rowmudas Triangle stage which is one of the largest stages Elrow has ever produced.
Where: Dubai Design District 33330 Dubai, United Arab Emirates
When: February 17-18
Book Tickets Here. Please note tickets for 18th Feb are already sold out & only 19th Feb is available
9. Dubai Duty Free Tennis Championships
Dates: Feb 19 – March 4, 2023
It's decided! Five-time Dubai champion and crowd favourite Novak Djokovic @djokernole will grace the Dubai Duty Free Tennis Stadium next month. Watch this space for ticket info…!​

February 26 – March 4​#DDFTennis #ATP #ATPTour500Tournament @atptour pic.twitter.com/xVhbiL50XC

— Dubai Tennis Champs (@DDFTennis) January 16, 2023
The Dubai Duty Free Tennis Championships is one of the most highly-anticipated events on the UAE sporting calendar, and a popular stop for both the ATP World Tour and the WTA Tour. Organized and owned by Dubai Duty Free and under the patronage of HH Sheikh Mohammed Bin Rashid Al Maktoum, Vice President and Prime Minister of the UAE and Ruler of Dubai, the tournament is celebrating its 31st year for the ATP and its 23rd year for the WTA. The tournament features a WTA 1000 women's event, followed by an ATP 500 men's tournament.
This year's tournament will feature some of the top players in the world, including WTA World No.2 Ons Jabeur, who became the first Arab to reach a Grand Slam final at Wimbledon last year and later reached the US Open final.
Also competing is 21-time Grand Slam winner Novak Djokovic. Seven of the top-10 female players in the world will be in attendance, including defending champion Jelena Ostapenko, WTA World No.1 Iga Swiatek, and Arab superstar Ons Jabeur. Fans will have the opportunity to see 14 of the top 20 ranked players in action.
The tournament will be held at the Dubai Duty Free Tennis Stadium from February 19-25, and promises to be an exciting and high-quality event. With a star-studded lineup and the opportunity to see some of the best players in the world compete, the Dubai Duty Free Tennis Championships is a must-see event for tennis fans.
Where: Dubai Duty Free Tennis Stadium, 68VR+8XM – Garhoud – Dubai – United Arab Emirates
When: Feb 19 – March 4, 2023
Book Tickets Here
Also read: 6 Winter Markets In The UAE That You Have To Visit
10. Valentine's Day
Date: 14th Feb
Yes, it's February. A month of love that is all about sweethearts and valentines. While your feelings shouldn't wait for a special day yada yada, you know that this is a day to be celebrated.
The magical land of Dubai is the perfect place to speak your heart out to your loved one. Spend Valentine's Day with your special someone on the magnificent ocean liner as you dine by candlelight against Dubai's glamorous skyline. Plan a romantic date this valentine's day by proposing to your crush and your life partner to create memories that will last a lifetime.
Check out our whole list of special Valentines Day deals and offers here:
Budget Valentine's Day In Dubai – Where To Go If You're Broke & Still Looking For A Good Time
21 Best Places To Celebrate Valentine's Day 2023 In Dubai – Couples, Singles & Galentines
11. Overnight Desert Safari
Yes, we know! This may seem like a super touristy thingy to do, but guys hear us out. We have a few precious winter months left, and there's something absolutely magical about heading to a desert safari with your loved ones. Maybe even make a surprise date out of it!
Experience the thrill of an overnight desert safari in Dubai, whether you're traveling solo or with friends. This extension of the evening desert safari is a unique opportunity to relax at a desert campsite and enjoy the starry desert sky. The overnight safari begins once the guests of the evening safari have left the campsite.
Guests will be provided with a tent, mattresses, pillows, and blankets for a comfortable overnight stay. The desert safari camp also includes washroom and shower facilities. Start your day with a delicious breakfast served in the morning, along with tea or coffee, before heading back to your hotel. Don't miss out on this unforgettable overnight desert safari experience in Dubai. There are a range of options to choose from when it comes to choosing a desert safari in Dubai!
Also read: UAE: Comet Seen Only Once In 50,000 Years Can Be Spotted From Feb 1-5
12.

The M1Run, A Vertical Run at Media One Hotel
Date: 11th Feb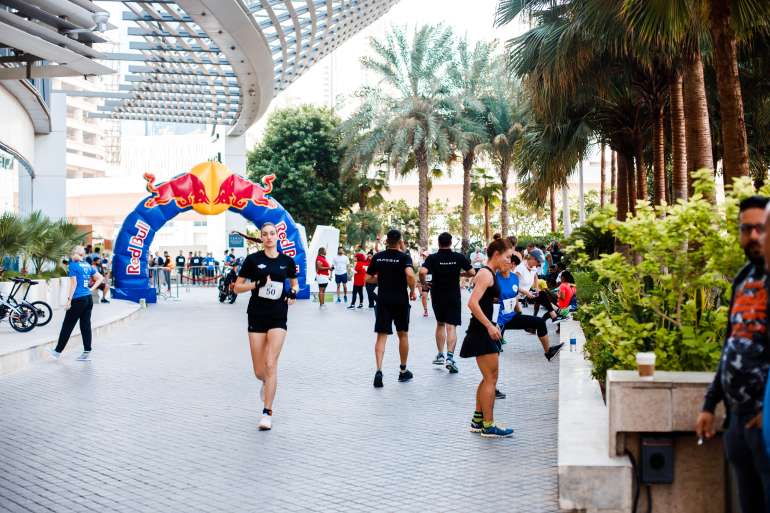 It is time to kick your new year's fitness resolution up a notch and join the annual M1Run! Taking place on February 11th at the Media One Hotel, the vertical run returns as a 1.2 km incline run followed by over 700 steps in the staircase from the 7th to the 42nd floor of Media One Hotel & Tower.
Starting from AED 125 for individual participants and AED 375 for team sign-ups for a group of four, this challenge gives you the chance to win great prizes worth up to AED 10,000 (including great cash prizes), goody bags filled with lots of sports goodies, a raffle draw, and medals to record your triumph.
With times being recorded live, you can track your achievements and set goals for next year or you can even try to beat the race record of under 6.5 minutes!
On race day, those who have preregistered will be able to sign in at Ciao Bella (ground floor) from 7:30am with the race starting at 9am. Afterwards, enjoy refreshments and awards at P7, the hotels infamous underground venue. 
Registration to take part in the M1Run closes February 6th or sooner if places sell out.
There is no need to fear the stairs and think of those buns of steel you will have afterwards!
Price:* AED125 per person for individual entries; AED 375 for a group of four
Time: Bib collection at office tower lobby on the ground floor and registration in Ciao Bella at 7:30 am (in Media One Hotel, ground floor); Race starts at 9am
Start:Entrance of the Hotel
Finish: Level 42
Medal Ceremony: P7arena
13. Comet Seen Only Once In 50,000 Years To Be Visible To The Naked Eye
Dates: Feb 1 – 5
A once-in-a-lifetime comet, known as Comet 2022 E3 (ZTF), was spotted from the Abu Dhabi desert at dawn on 14th January 2023, according to the International Astronomy Centre (IAC). This celestial object is passing by Earth for the first time in 50,000 years, and NASA had earlier said that the comet was expected to be closest to the sun on January 12th.
Comet 2022 E3 (ZTF) To Be Visible In February
Residents of the UAE who may have missed the sight earlier today still have the opportunity to catch it, especially when it hits its closest point to Earth on February 1st. It will be equally visible until February 5th, experts said. The CEO of Dubai Astronomy Group (DAG), Hasan Al Hariri, stated that comet brightness can be difficult to predict, but even if it does not brighten enough to be seen with the naked eye, it will still be viewable with binoculars and small telescopes around January and early February.
Also read: 8 Beautiful Places With Free Entry In Dubai That You Must Visit Once
How To See The Comet?
For those who wish to observe the celestial body from their homes, the best tools to observe the comet are binoculars, according to Al Hariri. He stated that binoculars have a wide-angle field of view of the sky, making it much easier to hunt down the comet than using a telescope, which has a narrow-angle field of view and makes it harder to locate the comet.
The DAG will host a special ticketed event on February 4th on Al Qudra desert in Dubai from 6.30pm to 9.30pm. The event will include comet, Moon, Mars, Jupiter, and deep sky objects telescope observations, astrophotography sessions, sky mapping and more.
Also read: Planning To Travel? These 17 Countries Are Reintroducing PCR Tests For International Arrivals
 14. Immersive Art Exhibition In Dubai
Date: Jan 28th – Feb 20th
Experience the latest in digital art at Revival of Aesthetics 2.0, an immersive exhibition at kanvas in Dubai's Al Khayat Art Avenue.
From January 28 to February 20, visitors can explore 150,000 traditional carpet compositions that have been digitalized and transformed into mesmerizing patterns projected onto the gallery's walls.
Don't miss this unique opportunity to see the Eastern custom of carpet weaving in a modern, high-tech way. Visit kanvas in Al Quoz Industrial 1, open daily from 10am to 6pm.
Admission is AED 100 per person. Click here for website
15. LitFest
Dates: Feb 1st – 6th
Experience the 15th anniversary of the Emirates Airline Festival of Literature from February 1st to 6th. With over 250 authors and 300 sessions, this literary event promises to be an unforgettable celebration of the written word. Meet world-renowned authors including Brian Cox, Cecelia Ahern, Alexander McCall Smith, David Walliams and Ben Miller, and join the literary community in exploring the world through the written word.
Address: The Emirates Airline Festival of Literature, Intercontinental Hotel, Dubai Festival City
Website: emirateslitfest.com
16. Spinney's Dubai 92 Cycle Challenge
Date: Feb 19th
Get ready to hit the road with the annual 'On Yer Bike' endurance race! This event attracts cycling fans globally and offers a challenge for all levels. Teens can participate in a 40km route, while everyone else can take on the 92km city-wide course. Join the biking community for a thrilling and physically-demanding experience.
Website: https://cyclechallenge.ae/
17. Jazz Garden Series
Date: Friday nights from 24 February 2023
Discover the electrifying sounds of jazz, blues, soul, funk and more at Phileas Fogg Arena with The Big Jam Series.
Every Friday night, indulge in live music performances by a remarkable lineup of artists while savoring delicious food and beverages. Secure your spot by joining the waitlist today and receive exclusive access to special offers. Don't miss out, as tickets will soon be available to the public.
Immerse yourself in a unique musical experience every Friday night.
Time: 8 p.m – 3 a.m.
Duration: 7 hours
Location: Phileas Fogg Arena – Montgomerie Golf Club
Age requirement: all ages welcome; children under 12 don't need a ticket to attend. Must be 21+ with valid ID to consume alcohol
Accessibility: the venue is wheelchair accessible
Price: ticket prices will start at 95 AED
Join the waitlist by clicking here
18. FREE 'Kids Festival' At Global Village
Dates: February 10 – 26
Global Village has brought back its annual Wonderers Kids Fest with its 8th edition at this Spring Break, running from February 10 to 26, 2023, from 4 pm – 10 pm daily. Get ready for free fun-filled outdoor activities as well as a wide range of life-sized board games, live shows, and prizes for all.
Get all the details of Wonderers Kids Fest by clicking here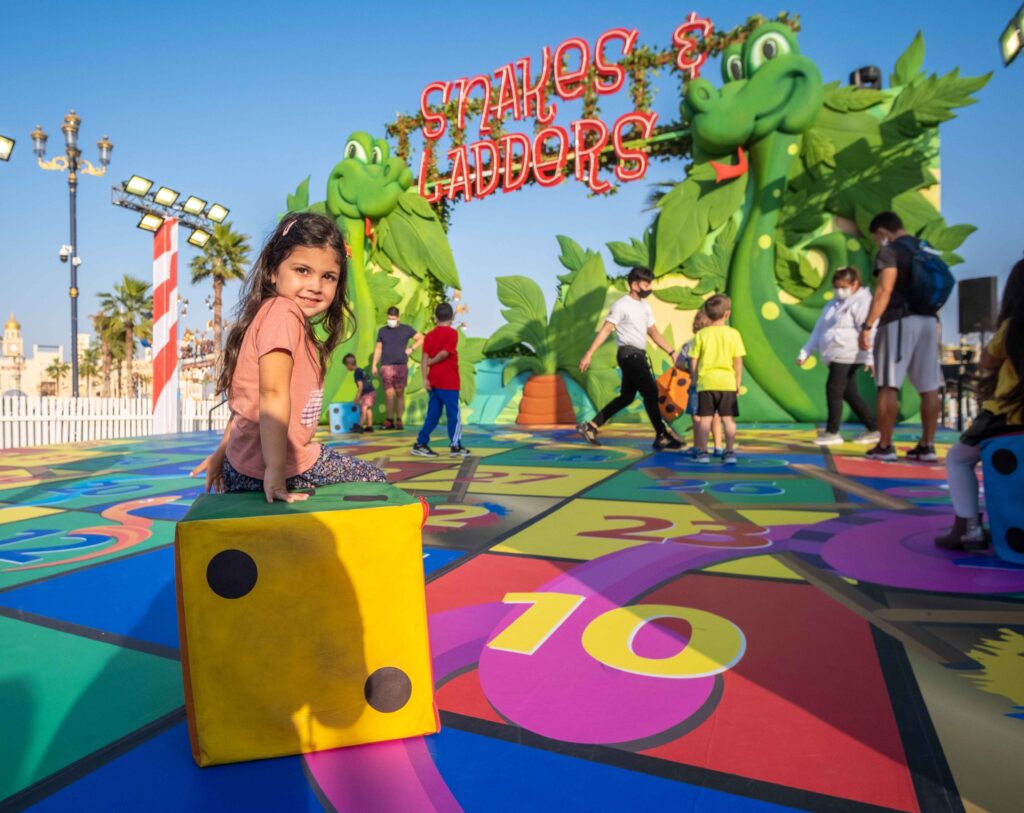 Dates: February 10 to 26
Timings: 4 pm – 10 pm daily
Price: The games itself are absolutely free. You only have to pay the Global Village entry charge. The park entry starts at as low as AED 18 per person
19. Watch A Free Movie At

Yas Marina's Pop-up Outdoor Cinema
Dates: 14th – 18th February
Yas Marina is presenting its much-awaited pop-up outdoor cinema "Movies at the Marina" just in time for the celebration of Valentine's Day. Running from February 14th to 18th, couples and their loved ones can enjoy a unique movie experience under the stars.
Guests can choose from five different films that will be screened every night starting from 7pm. The promenade of Yas Marina will be transformed into a cinema, with red and white themed seating that overlooks the mesmerizing marina. To make the experience even more comfortable, guests will be provided with complimentary noise-cancelling headphones, blankets, and cushions.
Also read: Get Free Taxi Rides In Dubai With This New Scheme
For a classic Valentine's Day date, you can watch "Notting Hill" and appreciate the famous brightly colored façades that define the upscale neighborhood. If you're looking to spend Galentine's with your girl gang, you can watch "Eat, Pray, Love," followed by a beverage of your choice at the marina-wide Ladies' night at Penelope's, Stars N Bars, or Iris, among others. If you're in for some laughs, you and your partner can enjoy the screening of "Date Night" featuring Tina Fey and Steve Carell. To end the week on a high note, you can watch "Beauty and the Beast" or "Breakfast at Tiffany's" and impress your loved one with a romantic movie night.
To complete the movie experience, you and your partner can choose from a range of dining options available at Yas Marina, including Ishtar, Aquarium, Diablito, Stars N Bars, and Penelope's. Guests can order meals and snacks, including popcorn, straight to their seats. This event is free of charge and all seating is first-come, first-serve, so make sure to arrive early to avoid disappointment.
Dates: 14th – 18th February
Cost: Free