Aaaah, that feeling of unwinding over a drink after a long day, or maybe you'd prefer catching a game with your friends, or a pre-drink before a romantic dinner – whatever the situation, as long as you are in Dubai, you're going to be filled with options for the best bars in the city.
But BECAUSE you are in Dubai, you also know that something new is always opening, with a crazier view, or an interior like never before. So here you go – our list of the best newly opened bars in Dubai that you have to add to your to do!
Also read: #GulfBuzz Approved : 5 Best Bars In Dubai With The Best Views
CouCou Dubai At The Palm Jumeirah
Mysterious and wild, expect a spectacular 360-degree panorama of Palm Jumeirah, the Dubai coast and beyond. The spectacular new bar, that just newly opened on December 1st 2022, is 52 stories or 240 metres high on the rooftop of The View at The Palm.
CouCou rooftop offers ample space for dancing, evening socializing and cocktail sampling. As for the interiors, think chic neutrals with the glistening skyline of Dubai for company. There will also be a 360 degree bar, as well as comfy sofas & booths.  The cuisine is Mediterranean inspired. There are quite a few dishes on the menu that sound mouth watering like the 72 Hour House Smoked Salmon Carpaccio or the Reversed Tiramisu or the Grilled Mediterranean Seabass, Zucchini & Artichoke Puree.
There's also a myriad of cocktails to choose from, a live DJ, a shisha lounge & plenty else to definitely make you want to come in and experience this for yourself.
Details:
Address: The Palm Tower Level 52 – St. Regis – The Palm Jumeirah – Dubai – United Arab Emirates
Timings: 9pm – 2am
Phone:+971 4 565 3244
Reservation: opentable.ae
Also read: Weekend Deal: K-West Sports Bar Is Offering Bites & Brews At AED 125
2. Asia Asia At Dubai Marina
The recently opened restaurant at Dubai Marina promises to be a journey through the spice route. This is their second outlet outlet in Dubai, as promises the same vibe & ambience as their first multi-award winning restaurant.
Overlooking the glittering waters, the highlight of the place is their Spice Route Drunch, their fab offers for ladies night, aptly called the Go Geisha Ladies Night and the delectable food.
The interiors of the newly opened Asia Asia are whimsy & dark themed – almost like entering a beautiful museum – with food & the drinks adding a pop of colour.
 No brownie points for guessing that the menu is Asian and the menu is loaded with mouth watering sushi, delicious drinks with an Asian twist. The beef and truffle dimsum is a must have. Also try the grilled asparagus, shrimp tacos and the California maki rolls.
A recent review by a guest said that, "they take such good care of allergies or any special requests. As long as it is something they can accommodate they go above and beyond to get it done for you."Pro Tip: Try to get a table outdoors on the marina side for the best experience.
Details:
Address:Dubai Marina Mall, 6th Floor, Pier 7 – Sheikh Zayed Rd – Dubai – United Arab Emirates
Timings: 6pm – 1am
Reservation: asia-asia.com
3.

Tiki's Rooftop by Canary Club At JLT
Escape to this hidden gem tucked away on Canary Club's second floor. A tropical forest in the middle of the desert, engulf yourself in a pocket of lush foliage overlooking the city. We particularly recommend the place to all the sunset dwellers & golden hour enthusiasts. The newly opened rooftop on the second floor of the Canary Club offers an unparalleled cocktail experience for thoughtful discussions, lively reunions or even a romantic date. It's a place to sip on a drink best-enjoyed under the grass hut of the bar or cozy up at a table looking out to panoramic views.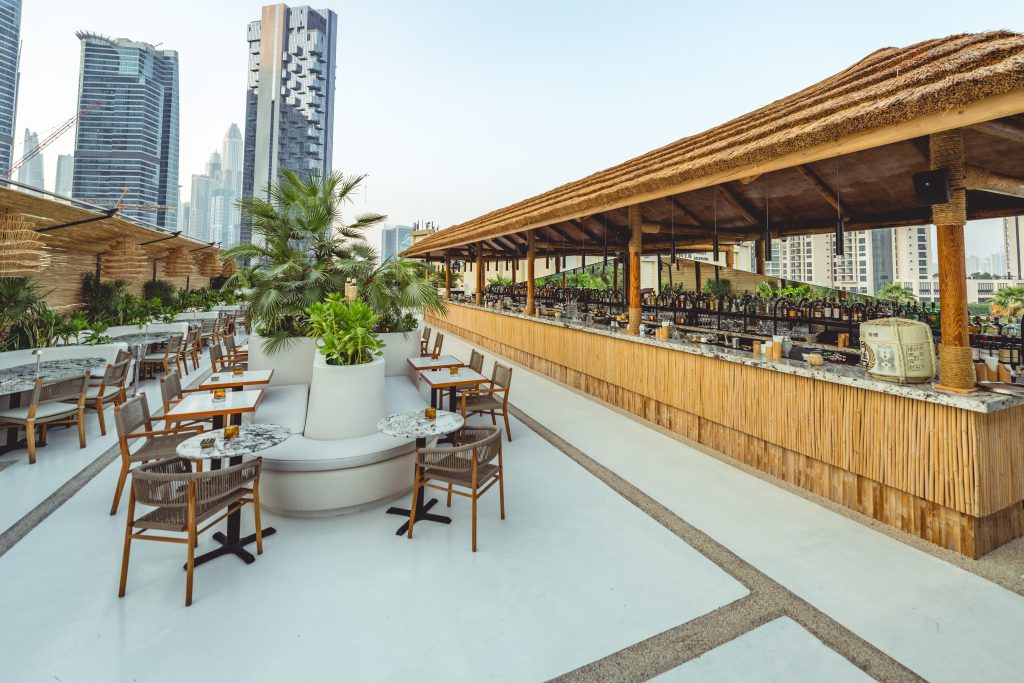 The Cocktail selection at Tiki's is particularly exciting with a beverage menu that features a rotating selection of Canary Club's classic and 12 new cocktails exclusively available at TIKI's bar. We'd suggest starting out with the Geisha Flower, Paloma Robusta & the El Diablo.
And while all of those are fun, it's the large format drinks that steal the show – the Big Kahunas are absolutely perfect to share with your friends.
Details:
Address

:

 
Banyan Tree Residences – Dubai – United Arab Emirates
Timings: Monday to Thursday 12pm – 1am
Friday and Saturday 12pm – 2am
Sunday 12pm – 1am
Email:

book@canaryclub.com


Call:

+971 4 584 5999
4. Verde Dubai At

 Jumeirah Beach
In the heart of the most beautiful palace in Dubai, the Four Seasons Jumeirah Beach Hotel, Verde Dubai is the latest beach club that offers you a unique and immersive experience. Verde hails from the land of fashion & food – Paris, and is all about sharing-style plates, sparkler shows and pumping DJ sets. The vibe itself is Boho inspired, and has a chilled out beachy feel.
Inspired by the Mediterranean, combining creativity and quality of service, the menu is a real culinary discovery.  Part beach club, part restaurant, the menu will be overseen by executive chef Julien Lee Thibault.
Also read: World's Tallest Residential Tower Burj Binghatti To Be Built In Dubai ; Apartment For AED 10 Mn
Details:
Address: Restaurant Village Four Seasons Resort Jumeirah Beach Road – Dubai – United Arab Emirates
Timings: 7 pm – 3am
5.

Chanca By Coya Dubai at Jumeirah Beach
When the night calls for an atmosphere of chic sophistication, sound tracked by incredible music, chanca by COYA answers… raising the bar, as well as the roof. Discover the spirit of South America and enjoy a truly unique, multi-dimensional experience. The vibe of Chanca is exclusive, intimate and elegant, and as you may have probably guessed by now – perfect for party lovers.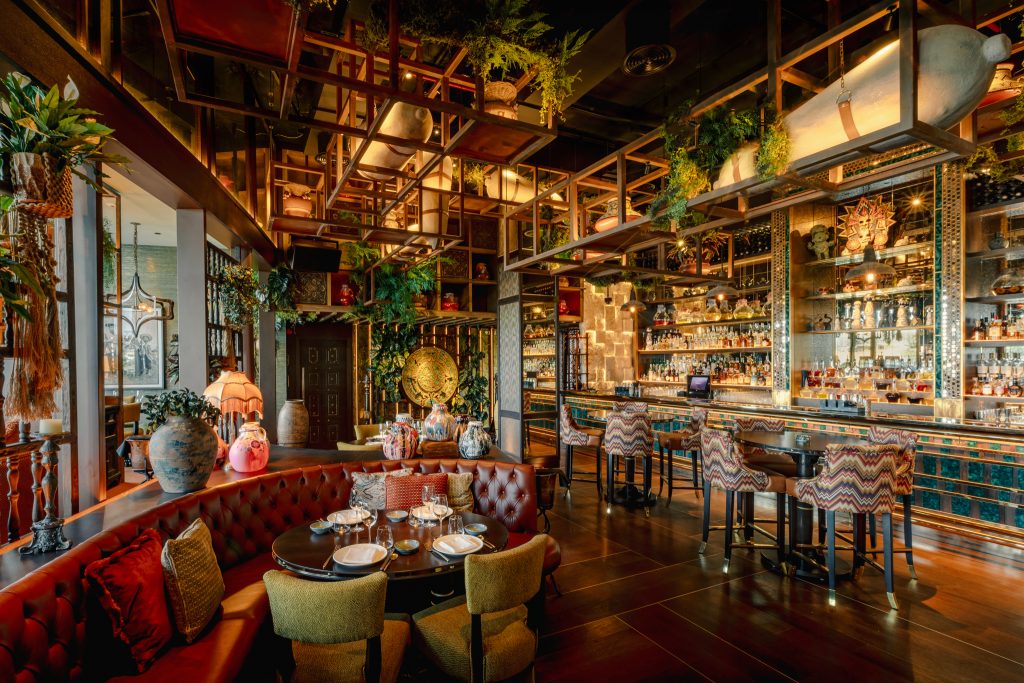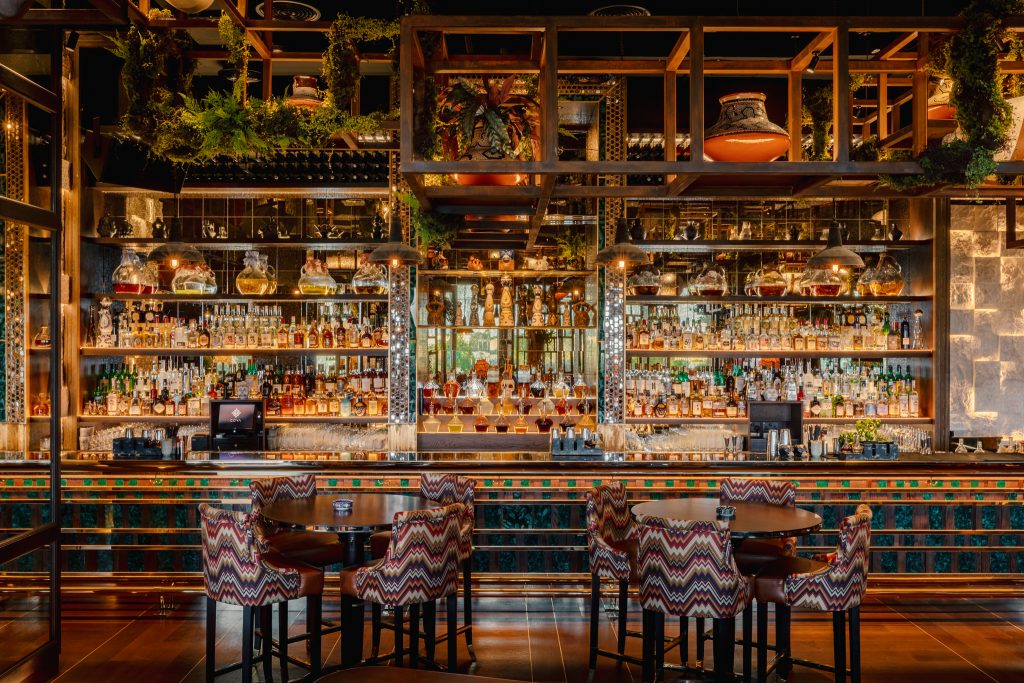 The launch of the newly opened bar in Dubai also features a designed bar menu with colourful cocktails. Global bar manager, Sany Bacsi, said: "We named the signature cocktail of Chanca after the Goddess of the Moon, the third power of the Incan Mythology, Mama Quilla. Naturally, this is a Pisco-based cocktail in which we combine homemade pineapple liqueur, clarified lemongrass cordial, Pisco Quebranta and ginger ale. It is a clever twist on the classic Peruvian Chilcano, refreshing, well balanced and will be your perfect companion while dancing the night away with us." Additionally, Chanca also boasts of a collection of rare piscos, rums and tequilas.
Details:
Address: Restaurant Village Four Seasons Resort – Jumeirah Beach Rd – Jumeirah 2 – Dubai
Contact: +971 (0)58 194  5873
chancadubai@coyarestaurant.ae
Timings: 6 pm until late
6. Peaches & Cream At Palm Jumeirah
Stretched across the palm Jumeirah beachfront, breathtaking views of the Persian Gulf pull you into its crystal-clear waters. A secluded oasis taking you back to summertime eras you've yet to live. The newly opened bar calls itself a perfect summer escape – a feeling in summer when the air is fresh, the sand is warm, and the plan is for everyone to do as they please.
The restaurants lets you think global, eat local. Indulge in the most refreshing meals, immersed in a retro mood like no other. Cuisines from all over the globe are authentically prepared and served to satiate your biggest craving.
Details:
Address: Clubhouse Al Nafura, Palm Jumeirah, UAE