You may have heard of camping and glamping, but have you ever heard of suspended glamping? Well, Sharjah has taken the rugged adventure sport game a notch higher (quite literally), and introduced suspended glamping tents, where you'll be camping suspended between 2 mountains. Read on to know all the details!
The Floating Retreat In Sharjah
Looking for an unforgettable camping experience? Look no further than the Floating Retreat by Ardh Architects, set in the mountains of Sharjah in the United Arab Emirates. This innovative and unique camping experience offers you the chance to stay in a tent suspended in mid-air, providing you with breathtaking views and an exhilarating opportunity to test your bravery.
The Dubai-based company is working in collaboration with Sharjah's developmental leaders to promote environmental awareness with the design of this campsite. Sharjah is known as the third-most populous city in the UAE and while it offers popular tourist destinations like the Al Noor Mosque and Al Majaz Park, the Floating Retreat offers a chance to see the city's natural beauty in a whole new way.
Also read: Sharjah Will Now Allow Full Real Estate Ownership To All Nationalities
What Does Each Pod Look Like?
The campsite's design includes colorful overarching facades that can store up to 10 pyramid-shaped pods. Each lodging is set back off a long walkway, stretching from one mountain to another, and is attached to a set of suspension cords. The pods boast a simple design, made of only fabric and chromoly steel, and are designed to hold their shape with just two people inside. The lightweight, fireproof, breathable, and waterproof materials used for the tents are also UV stable.

How Safe Is The Floating Retreat?
The pods can each be lowered around 330 feet (100 meters) in calm wind conditions. When the wind picks up, they'll be lifted to prevent damage. You can adjust the suspension of the tents yourself using the provided controls. Designed with privacy in mind, the lodgings feature blur fabric on its sides, while the front of the tents are made of clear material to provide uninterrupted views. You can switch up the layout of your floating abode, with options geared toward work, rest, and exercise.
Also read: UAE: Comet Seen Only Once In 50,000 Years Can Be Spotted From Feb 1-5
Safety is also a top priority, with hotel staff and engineers on-site trained to handle risks such as fire hazards, wind blow, or stuck pods. In the event that a tent becomes stuck, the cables allow the pod to swing to the side of the mountain, where guests can be safely retrieved by the mountain climbing team and brought down to safety.
Amenities At The Floating Retreat
These tents also offer a host of luxe amenities that rival your favorite upscale hotel suite. Room service and entertainment, as well as Wi-Fi access via headsets and tablets, are all included. Each pod even has its own private bathroom as well as access to a five-star spa facility at the top of the mountain. During the winter months, you can stay in the tents for 24 hours at a time, while from May to September, the tents are only available for day use, allowing you to enjoy the views and access the spa in pleasant conditions. A restaurant and concierge are located at the ground floor reception area, where you can also book private guided tours of the area.
Also read: UAE Scraps Visit Visa Extension Rules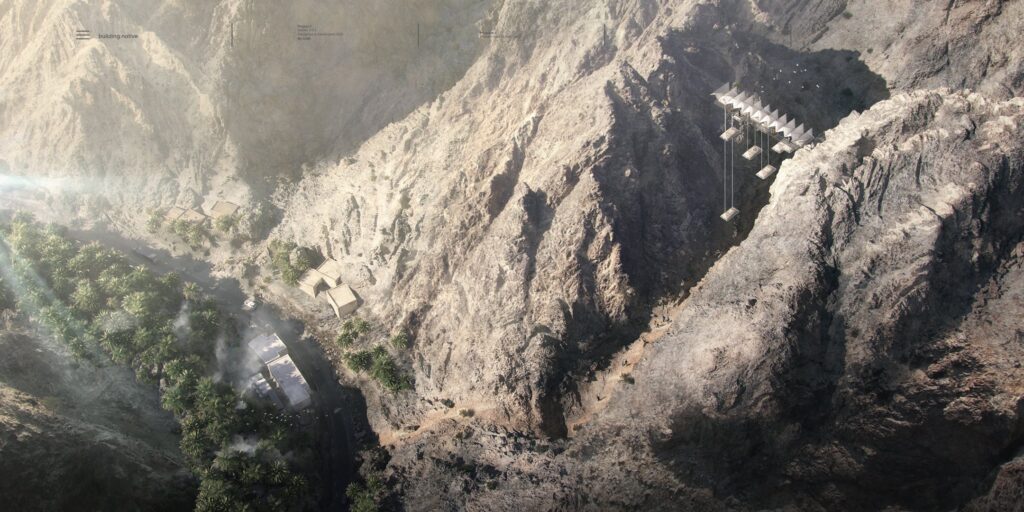 The Floating Retreat is designed to provide a sense of calm and serenity, with natural features and activities free from disturbance from manmade ones. The surrounding area offers traditional camp activities like mountain climbing, hiking, cycling, and more, all with that same mountain-capped view.
Also read: Sharjah To Build New Mosque At Al Hirah Beach
The Floating Retreat is just one of many new glamping adventures that are set to open for business. Oculis Lodge and Four Seasons' first adults-only tented camp are also offering luxurious and unique camping experiences that you won't want to miss.
How To Book?
Check out the Ardh Architects website for more information