The month of love is getting closer, and you know you've got to start planning that grand gesture. The problem? Everything gets booked out & sold out & UGH, you don't want to be that person struggling for last minute reservations. But don't you worry! We at Gulf Buzz have it all sorted out for you. Whether you're single, celebrating love with that special someone, have a family or just want to hang with your friends, here are some amazing options and the best places to celebrate Valentine's day in Dubai:
Also read: #GulfBuzz Approved : 5 Best Bars In Dubai With The Best Views
1. Spill The Bean's Galentine's Day Offer
Perfect For: Singles, Group of friends
Date: 13th Feb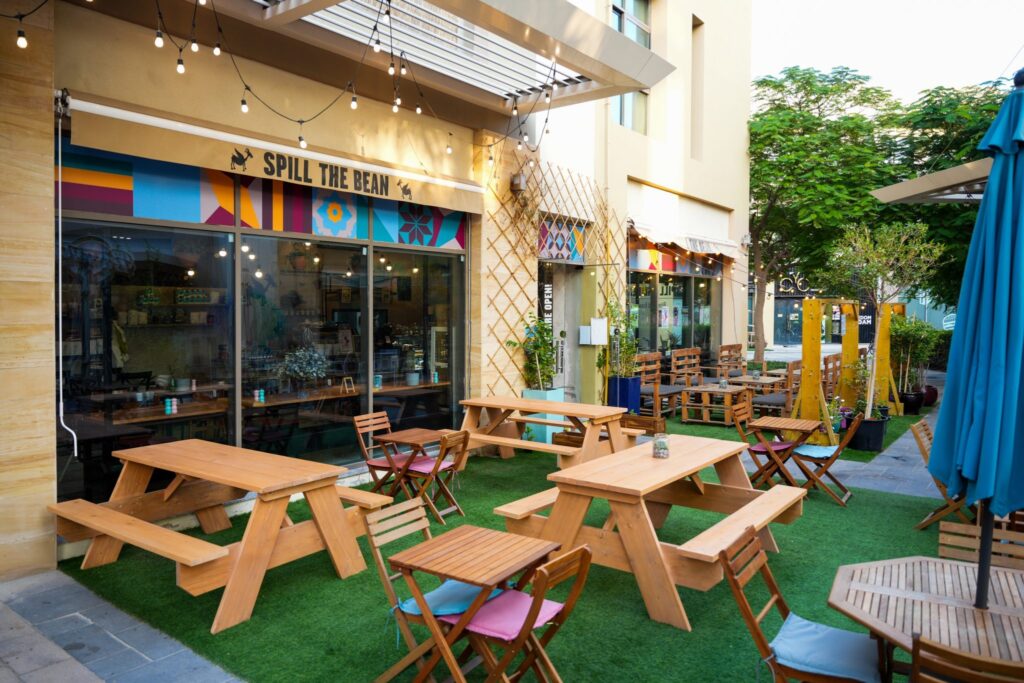 To all the single ladies out there, Galentine's Day is the perfect time to celebrate the friendships that make life all the more meaningful. To mark the occasion, sustainability-minded café, Spill the Bean, has proudly designed an impressive lunch date offer from their menu of  melt-in-the-mouth sandwiches, salads, burgers and more. Enjoy a piquant sandwich, a healthier twist on a burger, or a nutritious bowl of  salad with a drink of your choice.
Catch up with those friends  that you miss the most over wholesome meals, such as their much-loved Mama's organic egg sandwich, made with organic egg omelette, labneh, tomatoes, olives, Rocca leaves, and olive oil on organic whole grain sourdough bread and their delectable classic chicken avocado sandwich with a too-good-to-be-true secret sauce to pop your tastebuds. The cafe also offers a long list of lip-smacking salads that are
guaranteed to hook even the most discerning of meat lovers out there and to make sure you and your gals come back for more.
The perfect spot for specialty coffee, wholesome treats, and community gathering, Spill the Bean's menu offers everything from appetizing light bites to perfectly crafted brews and healthy vegan alternatives that are guaranteed to take guests on a fuss free yet unforgettable epicurean adventure. So what are you waiting for? Take your Galentine's Day celebrations with the gals up a notch!
Timing: 7 AM – 8 PM
Location: Shop No.#07, Block, The Sustainable City – Dubai
Contact Details: 052 505 9022
Date: 13th February
Also read: 7 Best Vegan Restaurants In Dubai That You Have To Try Once
2. '
Pinch of Love' Afternoon Tea
At
Address Beach Resort
Guests looking for a daytime romantic escape can savour the "Pinch of Love" Afternoon Tea in The Lounge. With an extremely appealing ambience, this afternoon tea can be availed of for AED 288 per set between 3 pm and 7 pm. Adorned in appealing décor, the whole venue will come alive with the magic of love during the month of February.
With a range of taste sensations on offer, plus a tantalising selection of teas and coffees, each couple will be well looked after during their tea time ritual. For guests looking to make the day even more special, surprise your Valentine by adding a mixed flower bouquet for AED 380.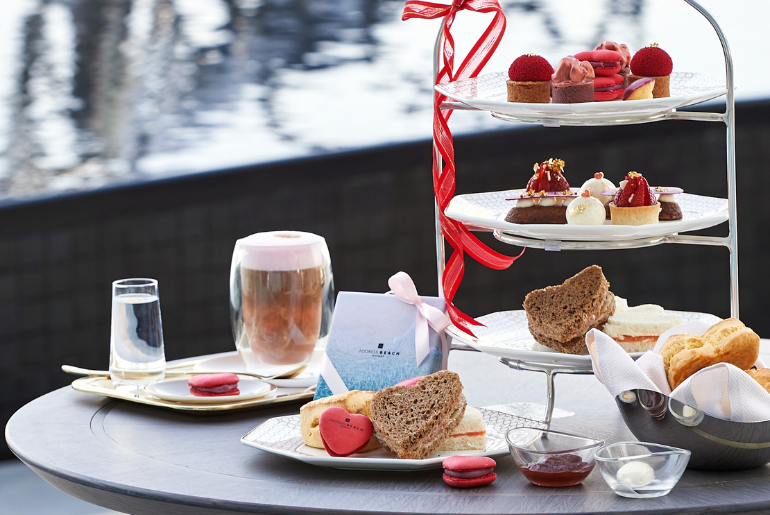 Offer: "Pinch of Love" Afternoon Tea 
Time: Daily from 3.00 pm to 7.00 pm from February 1st to 28th 
Price: AED 280  per set
Offer: Add on Mixed Flower Bouquet for AED380 
For reservations: contact +97148798866 or email dineatbeachresort@addresshotels.com
3. Floating Hearts Breakfast At Zeta Seventy Seven
The ultimate way to start your day has got to be the incredible Floating Hearts Breakfast at Zeta Seventy Seven. Tuck into a delicious breakfast as you float above the clouds and marvel at the glittering Dubai skyline. Available between February 10th and 14th, guests will be treated to a range of culinary delights all washed down with two glasses of bubbly to truly kickstart their day in the most spectacular fashion.The ideal start to a day of romance, the Floating Hearts Breakfast can be availed between 9 am and 11 am for AED 698 per couple.
Also read: Best Newly Opened Bars In Dubai That You Have To Check Out Immediately
Offer: Floating Hearts Breakfast
Time: 10th to 14th February from 9 am to 11 am
Price: AED 698 per couple for breakfast plus two glasses of bubbly
4. Valentines Buffet Dinner At The Restaurant
The Restaurant has something special in store to spice up your Valentine's week. It's time for you and your loved one to prepare to get wrapped up in an unrivalled selection of delicious international eats served buffet style. Those looking for exquisite flavours to savour need look no further as every palate is catered for.Guest can tuck into an endless array of delights for just AED 298 per couple on each night with a special romance theme permeating the whole venue.The perfect date night location for those that can never just pick one thing from the menu, make The Restaurant your destination of choice and fall in love with the abundance of appetising cuisine with a new style of cuisine served up on each night of the week.
Psst, here's a V Day playlist to get you in the mood!
Offer: Valentines Buffet Dinner
Time: 13th to 20th February from 6.30 pm to11 pm
Price: AED 298 per couple with a different theme and style of cuisine every night
International Night – Every Monday, Tuesday & Wednesday
Indian Night – Every Thursday
Seafood Night – Every Friday
Family International Night – Every Saturday
Italian Night – Every Sunday
For reservations: please call+9714 879 8866or email
Also read: 11 Things to Do In Dubai In February 2023 – Live Concerts, Food Festivals, Dance – Across All Budgets
5. Valentine's Degustation Menu At Armani/Hashi
The essence of Italy is brought to life at Armani/Ristorante where a natural passion for the finest ingredients, exquisite flavour combinations and contemporary presentation come together in an exclusive environment that delights the palate and leaves gourmet dining enthusiasts wanting more.
A signature tasting experience for all the senses; Italian culinary excellence is paired with uniquely personalised service, taking diners on a memorable journey from a classic aperitivo to the subtle nuances of the degustation style menu and expert recommendations from the restaurant's own sommelier.
This Valentine's Day guests will be taken on a journey of discovery as they enjoy a range of Italian classics. With a menu boasting the likes of Per Amore, Scampo, Risotto Riserva, Astice, Sfumature Di Rosso, along with tasty desserts, diners' taste buds will be well and truly treated. All this can be enjoyed for just AED7 49 per person, making it the perfect date night location on the most romantic night of the year.
When: 14th February 2023
What: 7-course degustation menu
Price: AED 749 per person
6. Valentine's Day at Barfly 
Book a Valentine's Day to remember with an ultra-romantic dinner and drinks experience at Dubai's hottest rooftop restaurant and lounge.
Couples are welcome to enjoy a 4-course set menu of Barfly's most delectable dishes while sipping on sparkling or bubbly beverages. The picturesque views along with the energetic entertainment from Barfly speak for themselves, as the rooftop overlooks the stunning land- and seascape of Palm Jumeirah, with a backdrop of Dubai Marina and JBR's skyline.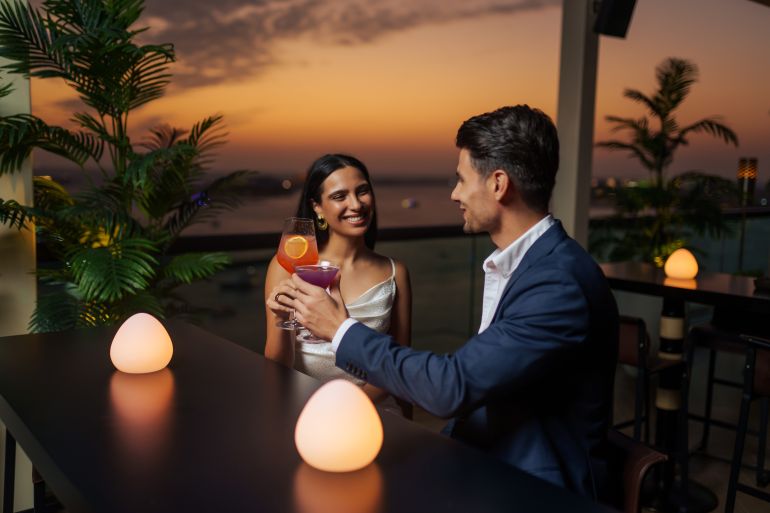 Sure to elevate your tastebuds, the menu includes decadent dishes such as Kunafa Prawn, Oyster Ponzu Pearl, Tropical Miso Black Cod, Lamb Chop and Caramel Hazelnut Chocolate Mousse.  
Packages: AED 749 – 4-course menu & bottle of prosecco; AED 1,349 – 4-course menu & bottle of champagne (Moët or Chandon Impérial)
Timings: 14th February, 5 pm onwards
Location: Barfly by Buddha-Bar, Hilton Dubai Palm Jumeirah, Palm West Beach
Website: www.barflydubai.ae 
Reservations:  restaurant.palm@hilton.com; +971 4 230 0073

7. Cupid's Cocktails at Blind Tiger
Enjoy an evening of cocktails, live entertainment and bites at the secluded speakeasy, Blind Tiger as they offer an exclusive cocktail menu for the week of Valentine's Day. Starting February 13th to 19th, guests can try three limited edition cocktails as well as vote on their favourite to stay on the menu permanently. Run towards the Red Flag, a delicious mix of Strawberry Fortified Grape and sparkling. Move on to Love Potion, a perfect concoction of Rum, Coconut & Raspberry Cordial with a Citrus twist. Finally, you'll enjoy being Ghosted, with a blend of Gin, Violet and Blackberries and a hint of Citrus. Made reservations at Summersalt for Valentine's Day? Guests can also enjoy a special offer of 20% off the cocktails on the 14th at Blind Tiger by showing their booking reservation to the server upon bill payment. Perfect for the start of the evening or an after dinner nightcap.
Packages: Three limited edition cocktails available for the week; Red Flag, Love Potion, and Ghosted. Each cocktail is priced at AED70 per drink
Timings: February 13th – 19th, 5pm to 2am
Location: Blind Tiger, Turtle Lagoon, Jumeirah Al Naseem
Website: https://www.jumeirah.com/en/dine/dubai/al-naseem-blind-tiger
Reservations: https://www.sevenrooms.com/reservations/blindtiger | Call: 800 323232 | Email: reservations@jumeirah.com
8. Valentine's Day at CÉ LA VI
Take the most romantic day of the year to another level this year – specifically to CÉ LA VI at Level 54 of Address Sky View Hotel. The iconic venue is inviting sweethearts to experience love through gastronomy, with their exquisite à la carte menu or a delectable 4-course set menu curated by Chef Howard Ko.
The set menu includes dishes such as smoked chocolate foie gras, black truffle "sushi rice" risotto, pan roasted sea bass, and CÉ LA VI's signature vanilla cheesecake. A live violinist and pianist will amplify the romantic atmosphere, encouraging couples to dine and dance in the most intimate setting.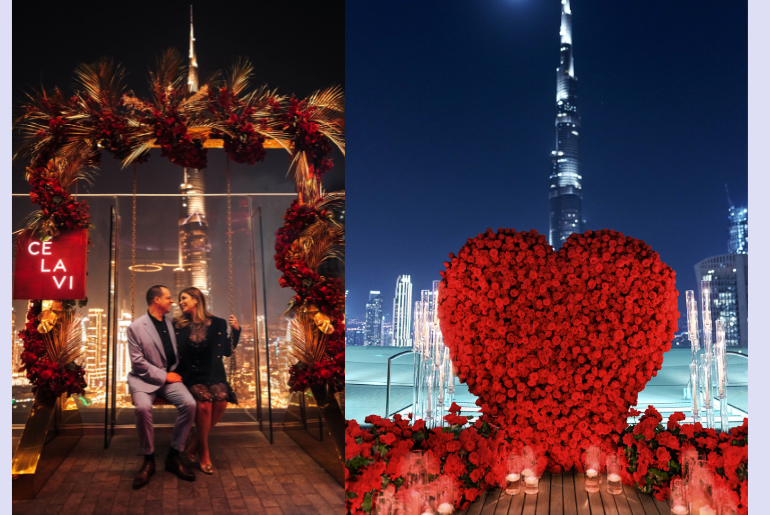 Those wanting to experience CÉ LA VI's romantic journey with a front seat view of Burj Khalifa can upgrade to an outdoor table for AED 5,000 per couple, fully redeemable on food and beverages. Ladies leave pleased with a gorgeous box of red roses presented to them at the end of the evening as a token of the experience.

Packages – AED 2000 minimum spend per couple for indoor and lounge seating, AED 5000 minimum spend per couple for outdoor terrace seating. Options of à la carte dining or set menu (AED 500 per person, remainder redeemable on à la carte spend).
Timings – 14th February, 7pm onwards
Location – CÉ LA VI, Level 54, Address Sky View Hotel
Website – http://www.secret-parties.com/ www.celavi.com
Reservations – reservations-dxb@celavi.com ; +971 4 582 6111

9. Valentine's Movie Night Under the Stars at Ernst
Do something a little different this Valentine's Day and spend the evening watching romantic movies with your special someone. Or why not grab the girls and enjoy a night with your Galentine's!
From 6pm until midnight, Ernst at the 25hours Hotel will be showing romantic movies outdoors on the terrace under the whimsical stars with views of the Burj Khalifa.
Along with special wintery drinks on offer for the evening, guests can also order from the a la carte or snack menus at the tables, including sharing platters starting from AED 120 for two.
Grab a comfy bean bag, munch on some popcorn and snuggle in for an evening of love at the Ernst outdoor cinema. 
Packages – Ernst will be offering special hot beverages, including; Mulled Wine (AED 35), Amaretto Mulled Wine (AED 45), and Hot Chocolate (AED 25) as well as complimentary popcorn.
Sharing platters start from AED 120 for two as well as a snack menu with a variety of Bavarian favourites to order.
Timings – 14th February, 6pm till 12am (midnight)
Location – Ernst, 25hours Hotel
Reservations – +971 42 102 511 ; dubai@ernstbiergarten.com
10. Turkish Valentine's Day at Hayal
Transport your better half to Istanbul with a Valentine's Day experience at Hayal. A special, and highly affordable, set menu featuring Hayal's best offerings will be served, while live entertainment and surrounding vibrant artwork will encourage deeper connection.
The experience commences with cold and hot starters such as baked prawns with butter and garlic and beetroot with goat cheese and blood orange dressing, followed by main dishes such as chargrilled spicy lamb minced kebab and baked eggplant with gruyere cheese and tahini yogurt, and ends sweet with a special Valentine's Cake.
With prices starting at just AED 390 per couple, Hayal is the perfect venue for those who want to celebrate the special day without breaking the bank!
Packages – Prices per couple. AED 390 – Soft Beverages; AED 490 – House Beverages; AED 590 – Champagne
Timings – 14th February, 6pm till late
Location – Hayal, The St. Regis Downtown Dubai
Reservations – +971 54 793 0931

11. Flavours Of The World At La Mezcaleria

If it's a lively Valentine's Day celebration you're after, look no further than La Mezcaleria. Couples are invited to celebrate the special day at the popular restaurant, serving flavours of the world by a 3-course set menu and a bottle of choice (depending on the package).
Lovers can indulge together in starters such as grilled calamari, shrimp tempura, surf & turf rolls, beef carpaccio, corn salad, main dishes such as grilled salmon, penne arrabiata and beef tenderloin, and end the journey sweet with desserts such as chocolate lava cake and deconstructed crème brûlée to share. Couples can choose from three distinct packages which will offer them drinks of their choice – either soft drinks, a bottle of grape, or go all out with a bottle of bubbly. La Mezcaleria's locations in Downtown and JBR each create a romantic atmosphere in their own way, with the Downtown location offering the best views of the heart of Dubai, and JBR offering frontal views of the mesmerizing Ain Dubai.

Packages: Prices per couple. AED 580 – Soft Beverages; AED 780 – Bottle of House Wine; AED 1,280 – Bottle of Champagne
Timings: 14th February, 6pm till late
Location: La Mezcaleria, Pavilion, The Beach across JBR
Reservations: +971 50 423 4044
12. Rooftop Valentine's at Mi Amie
At the newly opened Mi Amie rooftop at the Jumeirah Emirates Towers Hotel, spend Valentine's Day with your special someone with unparalleled views of the Museum of the Future.
Enjoy a specially curated HIM & HER three-course dinner, including; Atlantic Lobster, Burrata and tomato salad, Grilled Halibut, Apple Wood Grilled US prime Beef Tenderloin, as well as spiced Liquid Chocolate Cake and Assiette of Passion fruit and Raspberry. The perfect spot for a romantic evening with your Valentine (and the best Instagram opportunities in the city). 
Packages: Three Course menu, starting from; AED 696 per couple for food only; AED 999 including a 3-course dinner, Bubbly & Cocktails; AED 1,399 – Upgrade to Laurent Perrier Champagne; AED 5,499 – Upgrade to Dom Perignon Champagne (drinks will flow for 2.5 hours from being seated)
Timings: February 14th, 5pm – 2am
Location: Mi Amie, Jumeirah Emirates Towers Hotel
13. Hermes & Aphrodite Themed Dinner At QWERTY
QWERTY is pulling out all the stops this Valentine's Day, with a beautiful Hermes & Aphrodite themed dinner for couples. QWERTY is the perfect venue to take your better half.
Couples can indulge in a delicious 4-course set menu featuring specially created dishes such as Blinis Trilogia, Heart Symphony Exotic Prawn Salad, Lobster with Strawberry Risotto and Asiago Cheese and Warm Heart Duo Cake.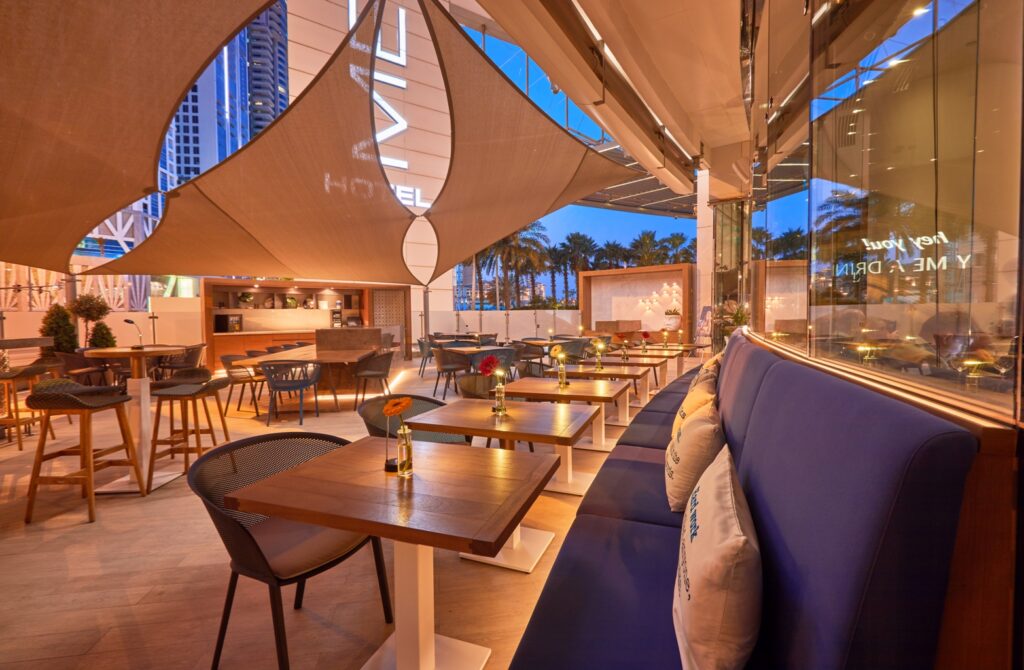 As Media City's favourite neighbourhood gastrobar, QWERTY will ensure each guest feels the love this Valentine's Day.
Packages – AED 249 per person or AED 498 per couple, includes 4-course menu and cocktail pairings
Timings – 14th February, 6pm onwards
Location – Qwerty, Media One Hotel
Reservations – qwerty@mediaonehotel.com / +971 50 777 9247

14. Cook Together At Larte
Deepen the connect with a special evening at Larte, where couples make their own pizza and pasta, learn all about the Slow Food Movement – where chefs use ingredients that are natural, local and in season – and chat to the wandering Italian Chefs Giuseppe Patti and Geualdo Faulisi, flown in for the evening, to teach guests about Italian Heritage and Sicilian homegrown food! Couples can enjoy a 4-course set menu and a complimentary bottle to share, and go home with a special goody bag from a one-day pop-up, packed with treats from homegrown brands.
Package: AED 499 per couple – 4-course set menu and bottle of fizz
Timings: February 14, 6pm onwards
Location: Larte, Studio One Hotel
Reservations: ciao@studioonehotel.com ; +971 58 863 2575

15. Japanese Valentine's Day at TABŪ
Romance is in the air at the upscale Japanese restaurant, TABŪ. Dine with your sweetheart in the midst of avant-garde, roaming entertainment, while feasting on mouthwatering Japanese delights. Guests enjoy a 5-course set menu curated by Chef Roberto Segura, and drinks of their choice.
The menu includes tantalizing Japanese dishes such as; Black Cod Croquette, Patagonian Toothfish Skewers, 50-hour Slow Braised Wagyu Beef Short Rib, Salmon Usuzukuri Style, Seabass Ceviche, Wagyu Beef Kushiyaki, and Vegan Tres Leches.
Couples wanting to elevate their special dinner can enjoy a 12-course tasting menu with grape and sake pairing crafted by Chef Roberto Segura and will be given preferred seating with stellar views of Burj Khalifa. Music by a live DJ and exciting theatrics, paired with delectable dishes, are sure to ignite a spark.
Packages – Prices per couple, includes 5-course set menu; AED 295 – Soft Drinks; AED 395 – including bottle of grape or sparkling; AED 495 – including bottle of bubbly; AED 975 – 12-course tasting menu with grape and sake pairing
Timings – 14th February, 6pm till late
Location – TABŪ, The St. Regis Downtown Dubai
Reservations – +971 4 456 9455

16. Valentine's Day at Trader Vics
Nothing says romance like sipping on a glass of bubbles while enjoying a decadent Polynesian spread at the legendary Trader Vics. Join the island escape restaurant this Valentine's Day and feast on an array of 5 courses!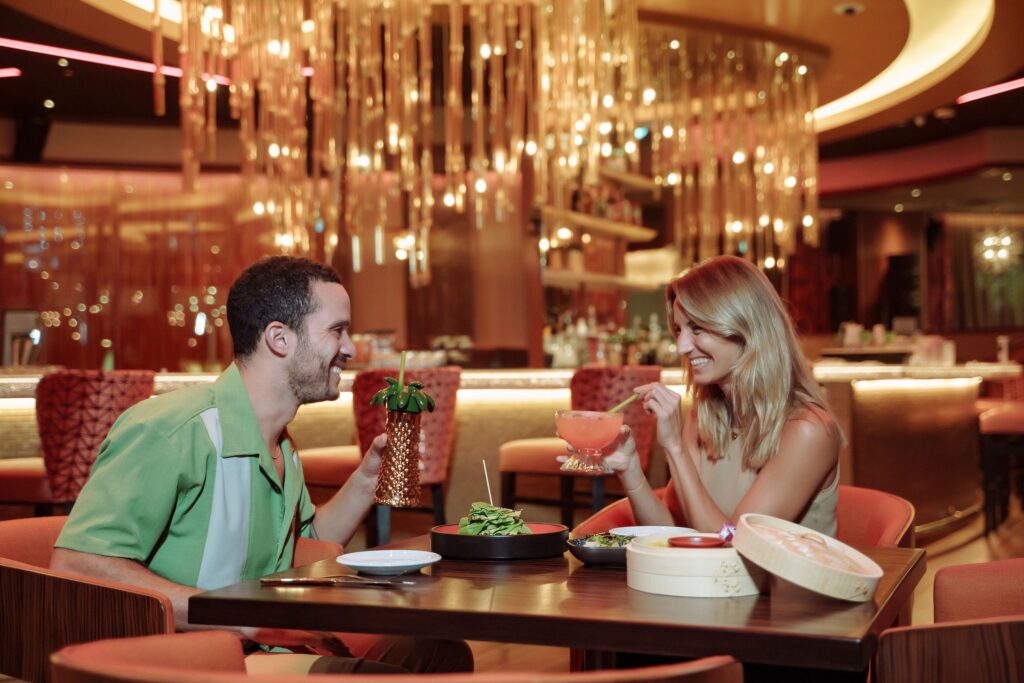 The menu includes an amuse bouche consisting of a Trio of Oysters, a choice of starters including; Braised Beef Short Ribs; Seared Duck Breast with spicy garlic sesame dressing; Prawn Rice Paper Roll, or Salmon Lomi. To break up the courses, guests are welcome to cleanse their palate with an exotic Dark Cherry Sorbet. For the main event, the entrees are a unique Asian Surf and Turf concept consisting of Wagyu Tenderloin Beef Cubes & Baked Half Lobster, Honey & Soy Sauce Glazed King Oyster or Mushroom and Asparagus, served with Chili & Pepper Butter Sauce for vegetarians. For the sweet ending, couples can go nuts for Warm Chocolate Lava, Peanut Butter Ice cream, and Mango Cream – divine!  
Packages – AED 750 per couple – 5-course menu & bottle of prosecco; AED 1,500 – 5-course menu in private cabana & bottle of champagne
Timings – 14th February 6-11 pm
Location – Trader Vics, Hilton Dubai Palm Jumeirah, Palm West Beach  
17. Valentine's Day 'Desi' Style At Bombay Bungalow
Revel in the colours and flavours of India with your beloved this Valentine's Day and celebrate the beauty of love desi-style at Bombay Bungalow. Sink your teeth into succulent meaty and delish vegetarian offerings with a set, three-course menu. With sumptuous starters and a divine main course topped off by a delightfully handcrafted classic dessert with a modern twist, guests will be in for an enlivening treat for the senses this Valentine's Day at Bombay Bungalow
From crunchy mouthfuls of pani puri with guacamole to crispy soda batter fish and chips, fiery five-spice chicken and Jhinga Kalimirch to the best of desi cuisine in the mains like mustard jumbo prawn curry, lamb korma, butter chicken, dal makhni, steamed rice, and assorted breadbasket, the menu will delight even the most discerning of gastronomes.
That's not all. Bombay Bungalow's Valentine's Day vegetarian menu promises to take epicureans on an adventure with its exquisite cottage cheese steak, piquant kadhai bhindi, savoury vegetable jalfrezi, and lip-smacking wild mustard seed potatoes served with irresistibly aromatic biryani rice and an assorted bread basket.
The majestic, mesmerising, and inviting ambiance of the gorgeous venue overlooking the iconic Ain Dubai, the ravishing Bluewaters Island, and the endless horizon is bound to make your Valentine's Day even more romantic with your significant other. There's no better place to make the most of this special day and Dubai's mild winter months except at Bombay Bungalow.
Priced at just AED 300 per couple for the meaty menu and at AED 250 per couple for the vegetarian variety, as always, the Valentine's Day offerings are set to be a smashing hit. Big on taste and variety, this Valentine's Day, Bombay Bungalow is the place to be.  
When: Tuesday, February 14
Contact: 044270758
Address: The Beach Mall, JBR
18. Anti-Valentines at La Mezcaleria
The most romantic day of the year…or as some of us know it, just another Tuesday. Valentine's Day isn't just for the love birds – singletons can take advantage of La Mezcaleria's ANTI-VALENTINE'S party! While the couples schmooze each other downstairs, the single ladies and gents can head upstairs for an epic evening of mingling, dancing, drinking and lots of tacos. Guests can take advantage of their popular Taco Tuesday offer, sip on special themed cocktails, snap some unforgettable photos with their heart-shaped pinata and fun photo props, and large groups can enjoy special discounts on drinks (so, get mingling!).
Packages – All packages include unlimited chef's dinner selection; AED 120 – Soft beverages; AED 220 – Margaritas or unlimited house wine & prosecco; AED 320 – Open bar with spirits, margaritas, wine, beer and prosecco
Timings – 14th February, 7pm till late
Location – La Mezcaleria, Pavilion, The Beach across JBR
Reservations – +971 50 423 4044

19. Anti-Valentines Bingo At Garden On 8
Without a date this Valentine's Day? Head to Media One's garden on 8 for an epic night of Anti-Valentine Bingo! The venue is encouraging guests to come in threes or above – so third wheels are not only welcome, but they're also celebrated.
Guests will enjoy a steak dinner (made with lots of onion and garlic, so hold off on post-dinner kisses) and a dessert in the shape of a broken heart for AED 119 per steak. Singletons can also enjoy garden on 8's delicious à la carte menu if steak isn't what they're craving. There will be several fun and feisty games for the singles, with prizes including complimentary drinks and more.
Packages – AED 119 per person – Steak and dessert
Timings – 14th February, 8pm till 10pm
Location – garden on 8, Media One Hotel, Dubai Media City
Reservations – +971 4 427 1000 ; gardenon8@mediaonehotel.com

20. Galentines At The Screening Room
Gals, this one is for you! Head to Studio One's private cinema to enjoy a night in with the girls (and hide out from the boys). Book in between February 10th and February 13th for the most personalized Galentine's offer where ladies get to enjoy their favourite chick flick while munching on popcorn and washing it down with a bottle of fizz. It's set to be a seriously cozy night in with Studio One's robes and slippers at the ready, too! Ladies leave with a complimentary voucher for one hour of karaoke (for their next visit) and an amazing goody bag.
Package: AED 299 for two people – includes a large pizza & a bottle of prosecco to share, plus popcorn
Timings: February 10th – February 13th
Location: The Screening Room, Studio One Hotel
Reservations: ciao@studioonehotel.com ; +971 58 863 2575
21.

Unlimited Drinks on House for Galentine's Day Celebrations at Mogao
While you certainly can and should show love to your besties all year round, there's also a semi-official day to celebrate your best friends — Galentine's Day! Simply put, Galentine's Day is like Valentine's Day, but for the gals! 
Pan-Asian Restaurant Mogao is honouring this day of friendship with a night of special offers. 

Ladies you are in for a real treat! Mogao is offering unlimited House Beverages for 3 hours straight on 13th February from 7-10pm! Yes, you heard us right! 

Grab a bite and get 20% off on food with a minimum spend of AED 100 per person on food!
Move your body and immerse in groovy beats with a Live DJ from 7 to 10 pm. Make memories to remember with this night out with your girlfriends as you celebrate the women in your life.
Galentine's Day Deal 
Timings: 13th Feb, 7-10pm 
Unlimited House Beverages for three hours, 20% off on food with a minimum billing of AED 100
Address: Digital Park, Street 73, Dubai Silicon Oasis, Industrial Area, Dubai
Contact details: +971 4 554 8220
22. Dine Under The Stars At The Palm Beach 
For a truly magical dinner under the stars, couples can book a private gazebo on The Palm Beach or Imperial Club Beach with uninterrupted views of the iconic Atlantis resort, Palm Island, and the fountains at The Pointe.
The exclusive offer is limited to just six couples, and only one of them can go for the platinum experience, ensuring an intimate and romantic open-air evening.
Upon arrival, guests who chose the most exclusive dinner will be treated to an Amuse-Bouche, followed by a sumptuous seven-course set menu featuring fresh seafood, delicious Crudo di Hamachi, and a signature Wagyu Angus sirloin. The meal will be complemented by a bottle of premium bubbles and will end on a sweet note with a chocolate dessert and petit fours. Live music will enhance the ambiance and create a romantic vibe.
Date: Tuesday, 14th February 2023
Booking 72 hours in advance
Gold Package: AED 7,000 per couple including a seven-course set menu, a bottle of Ruinart Brut, a selection of wine & unlimited soft beverages, a romantic dinner set up, and a live saxophonist
Platinum Package: AED 30,000 per couple, including a seven-course set menu, a bottle of Crystal champagne, a selection of wine & unlimited soft beverages, an exclusive romantic dinner set up on The Palm Beach, a premium giveaway gift, and a live violinist
Entertainment: Live violinist for Platinum Package and live saxophonist for Gold Package
23. BOWL Her Over At Wavehouse
Wavehouse truly believes that couples who bowl together stay together, and what better way to spend Valentine's Day than with a little friendly competition followed by a delicious meal and a toast to love?
The region's premier entertainment destination is offering a special package, priced at AED 400 per couple, which includes a game of bowling, a three-set menu, and two glasses of Prosecco. Guests can also enjoy live music from the venue's talented band while they dine and drink.
Date: Tuesday, 14th February 2023
Timings: 12:00pm – 12:00am
Price: AED 400 per couple, including three mains, a glass of prosecco per person, and a round of bowling
Entertainment: Live music from 8:00pm
24. Anti-Valentine's Evening at Rayana Latin Tapas Bar
Calling all Singles, for a night of finding their match! Rayana Latin Tapas Bar is offering a perfect combination of drink and dine, starting at just AED 69!
Enjoy a funky cocktail from the exclusively curated Anti-Valentine Cocktail Edit along with a choice of select Tapas bite and Latin music for everyone to groove!
There's more to the evening with pool-deck city and gulf views from 19th floor above the ground, interactive games and maybe a chance to meet someone!
Date & Timing: February 11, 7.00 PM onwards
Contact: 056 544 8158