Dubai is a culinary paradise that has something for everyone. Even as you're still experiencing and experimenting with the food scene in Dubai, a host of new restaurants keep opening up. But don't you worry, we've got you covered with the best new restaurants in Dubai that have opened up just this year. Plus, we're doing you a solid and going one step ahead by only recommending the best among the lot. So here goes – our list of the best new restaurants in Dubai in 2023.
Also read: 5 Best Places To Celebrate Valentine's Day In Dubai
1. PIN CODE By Celebrity Chef Kunal Kapur At Dubai Hills Mall
Debuting in the iconic Dubai Hills mall, PINCODE is an Indian restaurant that takes its inspirations from the iconic foodie destinations in India best identified by their Pincodes. 
The collection of Pincodes of these exemplary food destinations, comes together to make a pan Indian menu featuring dishes from the North to the coastal South of India. The menu at Pincode offers creative chaats, salads & desserts besides showcasing classic Indian kebabs, fragrant Biryani & robust Curries.
Chef Kunal recommends Chaat Hummus which is the classic hummus with chaat flavours served with crisp bread. Other must try are Dhokla Chaat, Pressure Cooker Chicken Curry, Malai Prawns, Chicken Biryani, Lamb Seekh Tawa Masala, Falooda & Old Delhi Style Bread Pudding. 
Speaking of the thought process behind the creation of PINCODE, Chef Kunal Kapur explains, "Each meal is thoughtfully crafted following age-old recipes to produce something vibrant, distinct, and distinctly regional. The goal is for each dish to evoke nostalgia within and make you feel as though you've traveled back in time. PINCODE brings you time-tested recipes that were crafted to tingle all your senses, using only the finest ingredients to bring you closer to home."
Accommodating 90 pax, PINCODE makes you feel at home. The ambience spells modern-day India with the warm, inviting feeling of a traditional Indian welcome. The see-through kitchen gives you a glimpse into the finesse with which your dishes come to life. Located in Hill Mall, it's the perfect spot for all your post-shopping cravings and topping our list of the best new restaurants in Dubai in 2023.
Address: PINCODE, First Floor, Next to Cinemas, Dubai Hills Mall
Contact:+97145661424
Cost for Two: AED 200-250
Also read: 11 Things to Do In Dubai In February 2023 –  Live Concerts, Food Festival, Dance – Across All Budgets
2. Aamara In VOCO Hotel Sheikh Zayed Road
Passion F&B group behind the Award-winning restaurant Trèsind and Michelin Star restaurant Tresind Studio has now opened a new fine dining concept called 'Aamara' in VOCO Hotel – a place where lux and magnificence merge. Another great addition to our our list of the best new restaurants in Dubai in 2023.
This newest licensed restaurant on Dubai's culinary map is the epitome of fine dining and culinary extraordinaire where it takes you on a culinary journey through the ancient trading route spread from Far East to Mediterranean region known today as the Silk Route. 
The name Aamara has multiple meanings in multiple languages. In Arabic, it translates to Forever Beautiful; in Sanskrit – being immortal; in Latin – everlasting; and in most parts of Africa – Grace. 

Paired with a selection of in-house crafted finest beverages menu, Aamara takes pride in displaying the flavours promised to  take you on an unparalleled culinary voyage. With Chef Malik Basha at its helm, dishes at Aamara are a work of art and an expression of patience, richness, quality, and master blend.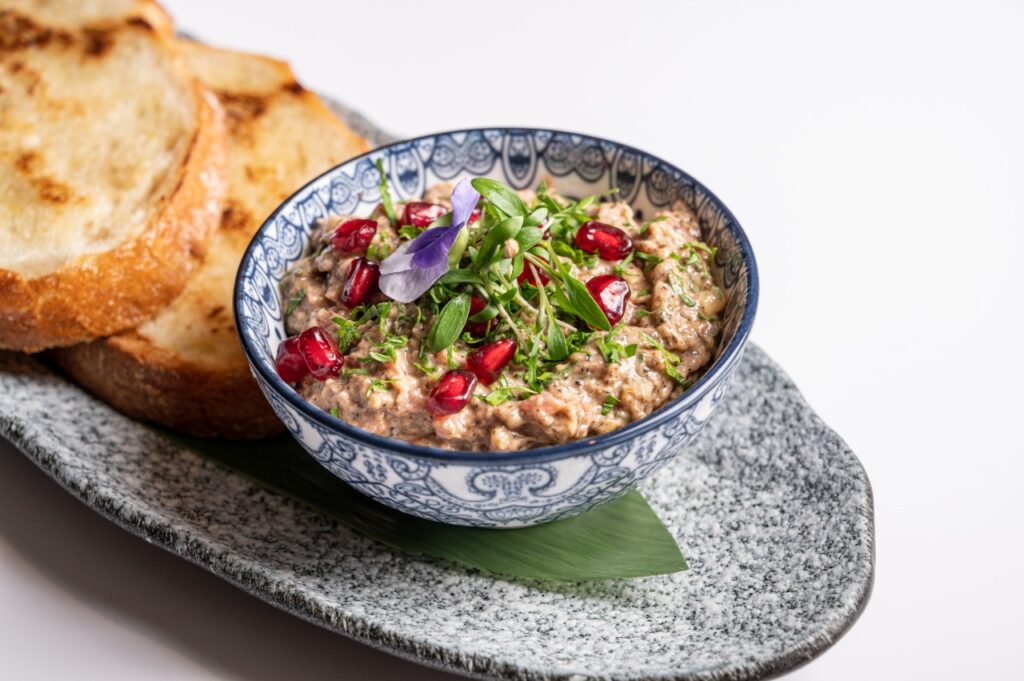 The menu inspired by the oldest trading route in the world includes cold plates, small plates, big plates, and sides that span meat, fish, and vegetarian dishes. 
Chef Malik Basha, Executive Chef at Aamara said, "We have embarked on a journey to create a menu that transports historical discoveries from the Silk Routes and fascinations into a new and evolving modern dining experience. And if you want to discover more about its history and want it to delight you with all its dishes, we are waiting for you at Aamara." 
Some of the menu highlights include Chaat sundae (from Southern Asia), Crispy okra, Turkish yogurt, pickled onion relish (From Middle East Region), Bang bang cauliflower, saffron yogurt, black truffle , Ratatouille samosa, cherry mozzarella, fried basil (Mediterranean  region), Spinach & shrimp dumpling, onion & tomato chutney (Eastern Asia), Malabar shrimp curry en-papillote, lemon rice, Stuffed pimento, Egyptian rice, buttermilk curry, Palak corn burrata, pickled beetroot onion – (fusion of Mediterranean & southern Asia flavors) and more. 
Finish the meal with an eloquent selection of desserts on the menu such as Opera, almond mousse, coffee ice cream, Baklava, pistachio crémeux, rose gelato, Shahi Tukra, saffron ice cream and more. 
Keep your cameras ready. Every dish brought to the table will wow you. Whether it's the presentation or the live cooking theatricals, the team at Aamara is determined to offer you an elevated dining experience to cherish. 
To offer a small taste of their vast delicacies, Aamara is running a limited period 'Lunch Set Menu.' For the cost of AED 95++, this set menu offers 5-Course which includes their Hummus, fresh za'atar pesto, onion focaccia as Amuse Bouche and Aamara finger salad, lettuce cream, pomegranate molasses in Salad, Green chili charcoal chops, garlic mayo, hummus, shoestring fries, and King oyster kushiyaki, tandoori aioli, chives, and garlic chips as Starters. For the Main Course, immerse in the rich Palak corn, Bocconcini, beetroot pickled beetroot onion or Lamb nihari. End your set menu with some Sorbet and Dulce Pannacotta, katafi pastry, and cream cheese ice cream for Dessert.
Address: VOCO Hotel – Level 2 – Sheikh Zayed Rd – Trade Centre – Trade Centre 1 – Dubai
Website: www.aamara.ae
Contact: 052 573 5723
Timings: 12noon-11.30pm
Cost for Two: AED 550
Also read: Best Newly Opened Bars In Dubai That You Have To Check Out Immediately
3. Modern Pan-Asian Restaurant 'Mogao' at Digital Park, Dubai Silicon Oasis
A modern Pan-Asian restaurant 'Mogao' has opened at Digital Park, Dubai Silicon Oasis. The name-sake 'Mogao' is inspired by the Mogao caves in north-western China which illustrates the significance of culture, art and the aspect of coming together. With over 20 years of experience, Chef Nim Budha is the brain behind the concept of the restaurant and its menu.
A few menu highlights include Korean Chicken Wings, Tsukune – Japanese-style minced chicken skewers, Har Gau – a Cantonese-style classic prawn dumpling, Beef gyoza – Japanese style beef dumpling, Crystal Veg – Jewel-like translucent veg dumpling, Shrimp Tempura Roll – Tempura fried shrimp, flying fish roe, avocado, uniform daikon & bonito mayo, and Baked Yogurt – Signature dessert featuring a delicious blueberry compote. 
Mogao's menu pairs the Pan Asian dishes with exquisite hand-crafted cocktails & beverages for its patrons to relish. 
Mogao will be following a quarterly menu cycle which will allow the restaurant to keep releasing new dishes based on seasonality and customer feedback resulting in a more personal and tailored dining experience.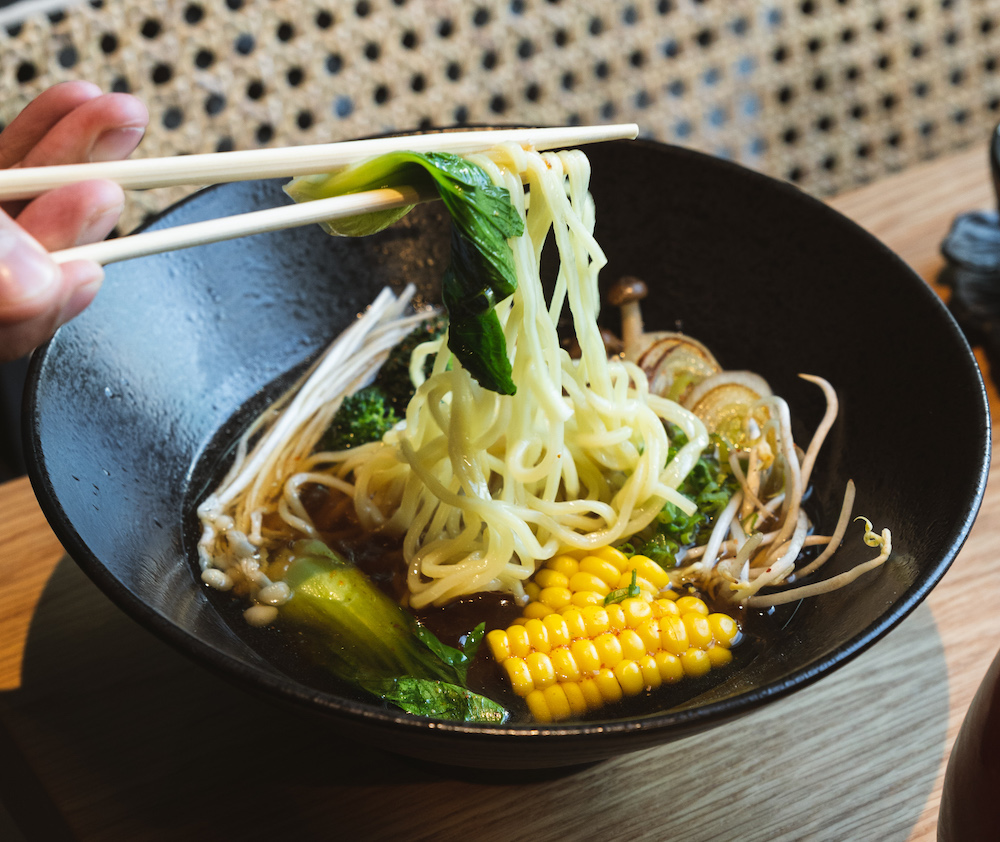 You can expect Sunday brunches, Ladies' Nights, Art activities, Family-friendly brunches and a host of different activities. Hold on and gear up for loads of excitement coming towards you in 2023 only at Mogao.
Address: Digital Park – Street 73 – Dubai Silicon Oasis – Industrial Area – Dubai – United Arab Emirates
Contact: +971 4 554 8220

4.

The Saffron Boutique At The Oaks Ibn Battuta Gate Hotel
Stationed within the entrance of the heritage hotel- the Oaks Ibn Battuta Gate Hotel, The Saffron Boutique is set to captivate the hearts with its outstanding display of Indian culture & tradition right from the moment you lay your eyes at the venue. Definitely one to add to our list of the best new restaurants in Dubai in 2023.
With a seating capacity of 65 pax, the space takes you back to India with its classy yet vibrant display of tasteful artwork, a high ceiling roof, a splendid top bar emanating bright hues of saffron colour that is symbolic to the theme and the represent saffron as a rich spice famously used in the Indian kitchens on special occasion. An Indian bell chandelier intermixed with LED loops, dramatic lighting gives the space a rustic feel and a modern outlook.
Along with its elaborate menu with dishes from across India with a Modern & West Meets East Touches, The Saffron Boutique pairs the dining experience with Live Sufi music & a in-house chef-curated cocktail menu. Executive Head Chef Praveen Singh has beautifully crafted an eclectic menu that will take you on a journey through a unique combination of the process & quintessential Indian ingredients selection and cooking techniques.
Some of the menu highlights include Kurkure Raw Banana (Banana Crisps with date chutney, Savory Mango, and Tamarind Caviar) , Mango Burst Puchkas (Street Style Pani Puri with Aam Panna Shots with stuffing of Masala Paneer / Chicken), Tandoori Avocado's (Clay Oven roasted avocado with lemon butter pearls), Masala Chaanch Kebab (Dried nuts and cheese filled pan shared yogurt kebab with masala cotton candy), Madrasi Podi Salmon (Roasted Lentil, asafoetida, Sesame, and chills marinated chargrilled Salmon with orange and pineapple chutney, Lucknowi Chicken Korma, Sigdi Chicken, Malabar Fish Curry, Caramel Kalakand Pudding & More.
Pair the dishes with the special curated cocktail menu by the in-house mixologists that includes; The Bengal Tiger, Mumbai Margarita, Pink City, Chola adventure and more. 
Address: Ibn Oaks Gate Hotel, Lobby Level – Dubai – United Arab Emirates
Contact: +971 50 254 6178