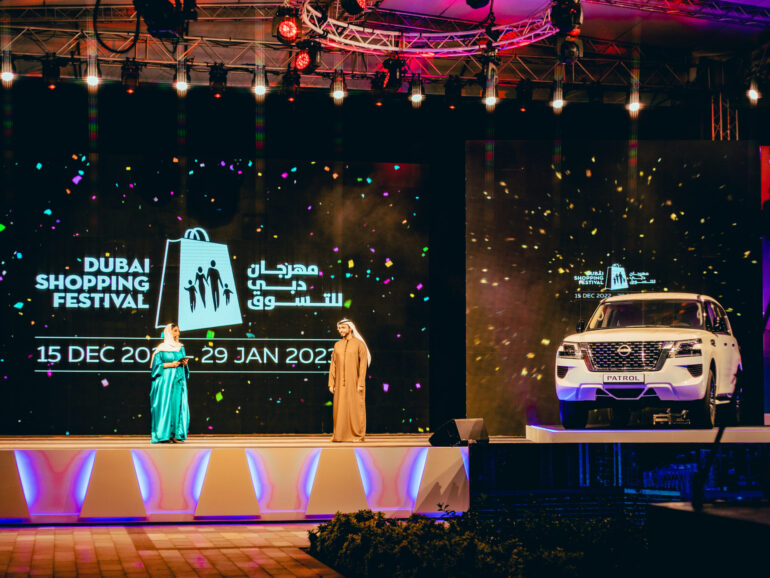 Dubai Shopping Festival is in full swing and since the start of the citywide extravaganza on December 15, 2022, thousands of dirhams have been saved and hundreds of winners have been made. Amongst them are Eisa Alabdouli, winner of 1,000,000 Dirhams; Talal Ahmad based in Oman, winner of 500,000 Dirhams; Shibith Vattakkandiyil, an Indian based in Bahrain, winner of 300,000 Dirhams and Vincent Vavachan, the winner of the grand prize of a 200 winners' campaign, all of whom had their lives dramatically changed by Idealz, the exclusive digital raffles partner of DSF, during the 28th edition of the festival.
That's not all, there are still so many amazing prizes still up for grabs so if you have not participated yet, this is your reminder to join the joy of winning this DSF with Idealz. 
Amongst the prizes still to be won is the DSF Grand Prize. In partnership with Dubai Festivals & Retail Establishment (DFRE), Idealz is giving one lucky winner a chance to own their very own home in the heart of this majestic city. As for all the car lovers, the Nissan Mega Raffle is still live alongside many other cash, electronics and luxury lifestyle prizes! With more than AED8 Million worth of prizes given to over 300 people so far this season, you still stand a chance to be amongst these lucky winners! 
Own A Home In Downtown Dubai For Only AED 50 
Idealz, in partnership with DFRE, is powering  this year's Dubai Shopping Festival Grand Prize that can legit change your life. All you have to do is visit Idealz and purchase a Rosa set for AED 50 to get a ticket for the prize draw. Enter the campaign, and you might win an apartment in glistening Downtown Dubai. Stand a chance to wake up to the stunning views of the world's tallest building, Burj Khalifa. 
Participate In The DSF Mega Raffle To Win A Nissan Patrol & AED100,000 Cash
Another insane deal on offer is the chance to win the UAE's darling SUV, the Nissan Patrol, plus AED100,000 in cash! With the winner being announced live on January 29th, spend AED200 on www.idealz.com or the Idealz app and get a chance to win a brand-new Nissan Patrol and AED100,000 cash.
And if you want to win more this year, stay tuned; tons of exciting prizes will be launched during the remaining days of DSF. Live draws are hosted 
every Tuesday, Thursday and Saturday at 8 pm on stage in Deira Gold Souk Extension. You can also watch them live on the Idealz App, their YouTube Channel and on Sama Dubai TV. 
Everything You Should Know About The Campaigns
If you are planning to participate in the Apartment campaign, keep these things in mind. 
The campaign is the official grand prize of the Dubai Shopping Festival

You can only participate through the Idealz app or website

www.idealz.com

  

You need to purchase a Rosa Set for AED50 to enter campaign

You can participate and win from anywhere in the world 
If you want to participate in the Nissan Mega Raffle, keep these things in mind. 
You can participate online through the Idealz app or website

www.idealz.com

 

You need to purchase the Twain Set for AED200 

The maximum draw date for the campaign is January 29, 2023. 

You can participate and win from anywhere in the world
Make the most out of this year's DSF deals and start shopping at Idealz.