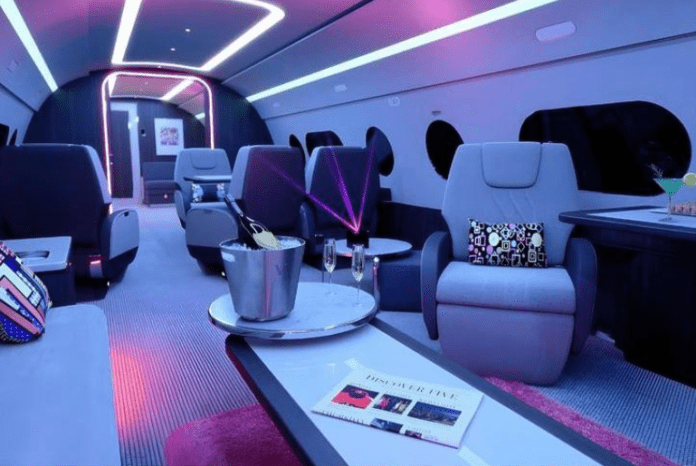 Welcome to your ultimate guide to an unforgettable party experience! Get ready to embark on an extraordinary adventure that will take your love for celebrations to new heights—literally! The Five Hotels and Resorts group's latest masterpiece has just been announced—a private plane transformed into the greatest party hotspot. Yes, you heard it right! This really is a party in the sky. Now sit back and have a drink and get great to party above the clouds, surrounded by breathtaking views and an atmosphere charged with pure excitement. Here is everything you need to know about this EXTRA-ordinary party experience.
Also read: Dine With A View: These Are 21 Of Dubai's Highest Restaurants
Which Hotel Is Offering This?
Get ready for a sky-high extravaganza as The Five Hotels and Resorts group in Dubai is set to take partying to new heights—literally! Picture this: parties soaring above the clouds on their exclusive private plane, which can comfortably accommodate up to 16 passengers. And here's the exciting news: these epic flights won't be limited to hotel guests only! According to Bloomberg, anyone can now book a plane for an unforgettable journey lasting up to 12 hours.
Does It Really Cost $14,000?
Okay we get it, you want to talk prices now. Strap in for a thrilling adventure then, because a trip on this magnificent plane will cost you between $13,000 to $14,000 per hour of flight time. Keep in mind, though, this doesn't include various transportation costs. So, if you're up for a round trip between London and Dubai, get ready to set aside approximately $195,000. That's almost the same as splurging on a luxurious first-class ticket with Emirates Airlines!
Also read: 10 After Dark Delights: Extraordinary Experiences In Abu Dhabi And Dubai
The Ultimate Airborne Party Experience
But here's the best part: the plane was specially designed to transform into the ultimate party hotspot. It's all about non-stop fun and unforgettable experiences up in the air. Behind this visionary concept is Five Global Holdings, the mastermind behind Five Hotels and Resorts, led by none other than the founder and CEO, who happens to own this amazing aircraft.
Speaking of parties, let's not forget about Five Palm Jumeirah, the group's first hotel. Known as one of the most legendary party destinations in Dubai, it's the ultimate playground for those seeking unforgettable experiences. They regularly roll out the red carpet for superstar DJs and host mind-blowing beach parties that will keep you dancing till dawn. It's safe to say that Five Global Holdings is well on its way to becoming an entertainment institution in its own right.
So, buckle up and prepare for the most sensational parties in the sky as The Five Hotels and Resorts group takes celebrations to soaring new heights. Get ready to dance, mingle, and create memories that will leave you floating on cloud nine!
You may also like: 13 Things To Do In June In Dubai & Abu Dhabi 2023; Events, Concerts, Kids Activities & More