Vegan lovers unite! When you live in Dubai, everyday is Veganuary. With more and more people finally understanding the importance of veganism, Dubai now has a range of restaurants with a fabulous vegan menu and we are here to let you know about all of them! So read on to get all the details of the best vegan restaurants in Dubai:
Also read: Best Newly Opened Bars In Dubai That You Have To Check Out Immediately
List Of The Best Vegan Restaurants In Dubai 
 1. Spill The Bean
Known for serving scrumptious yet healthy meals, fuss free speciality coffee, and wholesome bites using simple, natural ingredients, The Sustainable City-based venue never ceases to impress and is definitely number 1 on our list of best vegan restaurants in Dubai.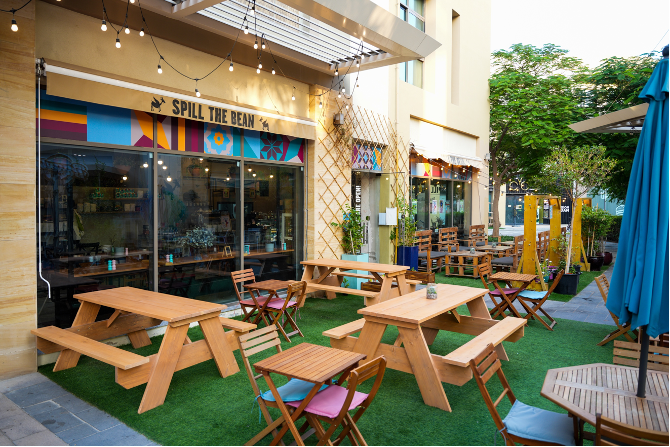 Offering appetizing bites and brews, their new vegan breakfast menu includes vegan savory staples like avocado toast on organic whole wheat sourdough country bread with spinach, pomegranate and mixed seeds, all drizzled with pomegranate molasses reduction, as well as vegan sweet staples like a broad range of acai offerings. The Berries and Fruits Acai bowl is a refreshing twist of fruity fun, the Tropical Acai bowl comes with coconut shavings, banana slices, almond sticks, and a lot of goodness finished off with berry sauce, and the Chocolate Peanut Butter Acai is perfect for those with a thing for everything nutty and chocolaty. 
From vegan omelettes to vegan shakshuka and scramble on portobellos, patrons can sink their teeth in all their top favourites in one place. 
From French toast to pastries, cakes, sweet treats, bites, and balls, this glorious menu is a true masterpiece with something for everyone. 
Spill the Bean's comfort food menu also offers outrageously healthy and simultaneously fun and quirky salads and bowls. Their Antioxidant Lentil and Pomegranate salad, sprouted quinoa and veggies salad, and orzo salad is a case in point. 
Also read: There's A New Drunch Deal At The Palm Jumeirah For Just AED 199 Every Saturday
 Delivering a vegan twist on well-loved classics, vegan mains include glorious sandwiches that are sure to be winners when it comes to matching all palates. Its Portobello Mushroom Burger with its vegan whole grain bun, whole grilled portobello mushroom on a bed of mixed leaves, topped with caramelised onions, sundried tomatoes, avocado, and mustard promises to transport guests to a world of delight. 
The venue's spaghetti and meatballs are crafted to perfection using whole grain pasta, homemade mushroom and bean meatballs, and Spill the Bean's special bolognese sauce, sprinkled with vegan parmesan for that cheesy contentment. 
Timing: 7 AM – 8 PM
Location: Shop No.#07, Block, The Sustainable City – Dubai
Contact Details: 052 505 9022
2. China Bistro
The Pan-Asian cuisine restaurant, China Bistro, located at multiple locations across UAE, is proud to be pitching into the movement of Veganuary. And to do so they have geared themselves up with  dishes which are vegan without the loss of flavour, texture, or fun.
Aside from its extensive non-vegan menu, China Bistro offers exclusive VEGAN dishes that will satisfy anyone's cravings. Be sure to bring an appetite for their succulent vegan dishes such as Vegetable Basil Dumplings (35), Sauteed zucchini broccoli ginger soy (42), Cui Cui chilly corn (42), Crispy Vegetable Konjeenaro (42) and Crispy Lotus Stem Singapore style (44) in Appetizers. Vegetable Croquettes chilli soy (42) in Mains and Mixed Vegetable OR Burnt Garlic fried rice (38) in Staples.
Also read: Dubai's Newest Adventure Sport : Self Drive A Seakart Across The Arabian Sea
China Bistro lets its patrons indulge in the flavours of local produce in a meticulously curated plant-based menu that is wholesome and utterly delicious.
What: China Bistro VEGAN Menu
Price: Dishes priced between 35 AED – 44 AED
Contact details:
Sharjah: +971 52 134 2859
Al Barsha: +97145485111
Al Karama: +971 4 393 1010
Discovery Gardens: +971 4 579 1999
Studio City: +971 543072988
3.

Old Castello Jumeirah
For this month-long celebration of all things vegan, Old Castello Jumeirah has announced their first-ever plant-based Veg Royal Platter which will be available throughout the month of January and beyond. The Veg Royal Platter includes mouth-watering dishes such as Soya Chaap Khurchan and Kadhi Pakori in Starters, Shahi Paneer, Dal Makhani, Khamiri Kulcha and Veg Dum Biryani in Mains, Kachumber Salad, Raita, Papad and Pickle in Sides and Rasmalai with Rabdi in Dessert as the perfect ending to your royal platter! Perfect addition to our best vegan restaurants in Dubai.
Old Castello Jumeirah has curated this delicious and crave-able platter with dishes you know and love. Delivering a culinary experience that shatters the expectations of what plant-based & veg food can be. Priced at 59 AED, this platter represents the Indian flavours in glory with the full potential of ingredients on the show without replacing the same wow taste factor. The Platter is available all day for dine-in.
Also read: GulfBuzz Recommends: Hidden Breakfast Date Spot In Al Quoz Dubai
Price: AED 59
Address: Jumeirah Beach Rd – behind JUMEIRAH PLAZA – Jumeirah – Jumeirah 1 – Dubai – United Arab Emirates
Contact: +971 52 942 2000
4. Avatara
The menu is inspired by humble seasonal ingredients that are pure, clean, natural, and energy-containing. The cuisine uses fresh produce and dairy products from the local farms. The restaurant is driven by the culinary maestro, Chef Rahul Rana, who has a rich background in curating vegetarian, vegan and patisserie concepts in culinary arts. This Michelin star restaurant is among the best vegan restaurants in Dubai
The menu at AVATARA will showcase a modern avatar of the techniques, philosophy, and story of soulful Indian food. Indian cuisine originally was predominantly vegetarian & vegan However, the perceptions around vegetarian food have been that of limitations. The idea is to break through these perceptions and curate a unique vegetarian fine dining experience that showcases the endless possibilities vegetarian food can offer.
Contact: +971 5814 32867
Address: Second Floor, Voco Hotel, Sheikh Zayed Raod 
5. Bread Street Kitchen & Bar
Bread Street Kitchen & Bar is sure to entice Veganuary diners with an extensive plant-based à la carte offering, including pumpkin risotto and a grilled cauliflower steak with chimichurri.
The beetroot wellington with wild mushrooms and black truffle offers a vegan alternative to Gordan Ramsey's cult-classic beef wellington.
Date: 1st to 31st January 2023
Lunch: Sunday – Friday, 12:00pm – 5:00pm
Dinner: Sunday – Friday, 5:00pm – 12:00am | Saturday, 6:00pm – 12:00am
Price: Vegan dishes start from AED 85
6. En Fuego
Atlantis, The Palm's newest South American social dining restaurant, En Fuego offers a wide range of vegan à la carte dishes for guests to explore this January. Highlights include vegetable ceviche, Peruvian Kerzner business use rice with avocado, baby corn, and huancaina sauce, as well as grilled sweet potato with almonds, chili marinate, and coconut sauce.
Date: 1st to 31st January 2023
Lunch: Saturday & Sunday, 12 pm – 5 pm
Dinner: Sunday – Thursday, 5 pm – 1 am | Friday & Saturday, 5 pm – 2 am
Price: Vegan dishes start from AED 70
To find out more about Veganuary at Atlantis, The Palm, click here, or to make a reservation, please call +971 4 4262626.
7. Wavehouse
Guests can join in the Veganuary fun at Wavehouse whilst enjoying a spot of bowling or surfs up. Keeping in line with the beachy vibes, a range of a la carte dishes are available such as padron peppers with plant-based aioli, impossible nachos, and a pineapple carpaccio.
Date: 1st to 31st January 2023
Time: 12:00pm – 1:00am
Price: Vegan dishes start from AED 50