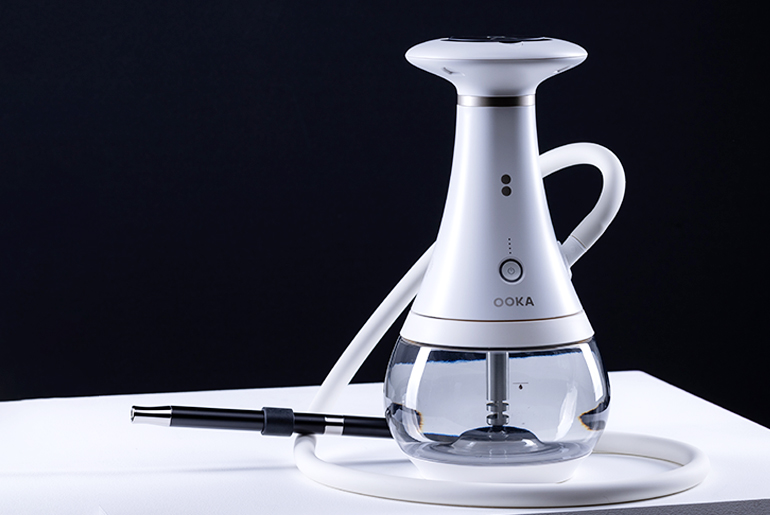 If you're a fan of shisha, then you know that the traditional way of preparing it can be quite a hassle. But what if we told you that there's a new and modern way to experience the diverse flavors of shisha, without the need for charcoal? Introducing OOKA – a revolutionary device that is set to change the shisha game forever.
Also read: Iftar Guide 2023 – Best Places To Break Your Fast In Dubai & Abu Dhabi This Ramadan
No Charcoal Or Mess – Just A Great Shisha Experience
Designed in the UAE, OOKA is the result of four years of research and development, backed by more than USD 50 million. The device is innovative, stylish, and portable – perfect for shisha lovers who are always on the go. OOKA's state-of-the-art pod system and heating technology allow you to enjoy your favorite shisha flavors without the inconvenience of preparation, ash, and mess.
OOKA – Convenience Personified
OOKA takes only five minutes to heat up and provides about 70 minutes of enjoyment per pod. When fully charged, the device lasts up to three hours. OOKA was designed to be intuitive and easy to set up and clean, minimizing hassle and set-up time so you can spend more time enjoying your shisha.
Also read: Dubai Announces New Ramadan Souq 2023 For Holy Month – Get All Details Here
Diverse Flavors
OOKA pods are sold under three brands: Al Fakher, Shisha Kartel, and Zodiac. Al Fakher is known for its world-renowned flavors, while Shisha Kartel features their own fantasy flavors. Zodiac, on the other hand, is a non-tobacco, tea-based shisha. Each pod has an intelligent microchip that automatically programs the device to heat up to a specific temperature profile, ensuring that each pod delivers its optimal flavors and sensations.
Al Fakher
The flavors under the Al Fakher Brand include:
1. Two Apples
The king of kings and a true classic that delivers the freshest apple flavors built on layers of exquisite juicy taste with undertones of anise (black licorice).
2. Grape with Mint
The taste of freshly picked grapes complemented by a touch of mint for a lingering fresh finish.
3. Lemon with Mint
A zesty mix of fresh lemons and mint for a truly invigorating session.
4. Blueberry
The sublime taste of fresh blueberries with a blend of sweet and slightly sour notes that elevate your experience.
5. Gum with Mint
A subtle and light mix that delivers fresh minty undertones that soothe the senses.
6. Magic Love
A tropical mix of passion fruit, melon and mint for an unforgettable session.
Shisha Kartel
Criminally awesome flavours from a brand with bold flavours and the attitude to match them.
1. Macho Maniac
This blend fires flavorful shots of cooling mango and passionfruit.
2. Silly Scientist
A specially formulated concoction brimming with the sinful pleasures of icy pear and lemon sweetness.
3. Zodiac
The wonders of relaxation with unique, NICOTINE-FREE, tea-based shisha.
1. Aurora
The perfect blend of cherry, elderberry, lime and guava with ice to calm your senses.
2. Perseus
The soothing mix of lemon, black grape, elderberry and mint for a peaceful and enjoyable session. 

Clean, Safe, and Environmentally Friendly
One of the most significant benefits of OOKA is that it eliminates many of the toxicants from the cloud and surrounding atmosphere by removing charcoal from the shisha experience. This makes OOKA the cleanest, safest, and most environmentally friendly way to enjoy shisha.
Elevate Your Experience With OOKA Accessories 
In the near future, OOKA users will be able to purchase an array of accessories to elevate their experience. The OOKA travel backpack is a perfect example. It is designed using premium, water-resistant materials and features a base that is sculptured to hold OOKA in place. Perfect for those on the go, this backpack will make the device truly portable.
"Shisha is and will always be about sharing moments with people around you. By keeping this at the heart of OOKA, and through a range of flavors that is consistent and made from high-quality molasses, we are elevating experiences through an innovative device that is truly portable, safe, and clean. With OOKA, we are providing a new dimension in relaxation and enjoyment. It is a portal to many worlds that you can share and enjoy with your friends," said Reinhard Mieck, CEO of AIR (Advanced Inhalation Rituals).
If you're looking for a modern and convenient way to enjoy your shisha, then OOKA is the device for you. Try it out and experience shisha like never before.
Get your OOKA experience here