Dubai's Ramadan Markets are a testament to the country's rich culture and heritage, attracting residents and tourists alike every year. These markets offer a unique experience that's full of color, vibrancy, and exclusive discounts on a range of offerings from traditional clothing to mouth-watering food.
As the holy month of Ramadan approaches in 2023, it's time to gear up for another round of bustling markets that come alive after sunset. Let's take a closer look at what's in store for the upcoming Ramadan Night Markets in Dubai.
Also read: Things to Do In & Near Dubai In March 2023: Food, Concerts, Markets, Kids Activities – Across All Budgets
Dubai Ramadan Markets 2023
1. The Cultural Extravaganza at Dubai World Trade Center
The Dubai World Trade Center will host the upcoming Ramadan Night Market, set to take place from 9 to 18 April 2023. This 10-day event will be open from 5 PM to 2 AM and is the perfect destination for those looking to indulge in a unique shopping experience during the holy month.
The Ramadan Night Market is set to kick off on 9 – 18 APR 2023, running daily from 5 pm to 2 am at @DWTCOfficial, the market will host multicultural retailers from across the world, showcasing a varied canvas of services and products to visitors. #Dubai pic.twitter.com/lnnhxhWUeN

— Dubai Media Office (@DXBMediaOffice) March 19, 2023
Located in Hall 7, the market will feature multicultural merchants from all over the world exhibiting a wide range of services and goods to customers. From fashion and handicrafts to jewelry and household goods, the Ramadan Night Market experience offers a glimpse into the distinctive history and culture of the UAE.
With over 25,000 visitors expected, this year's market promises to celebrate the latest innovations in Arab culture and offer an unforgettable experience to visitors.
2. Experience the Magic of Ramadan at Expo City Dubai
For those looking for an immersive cultural adventure, the Hai Ramadan event at Expo City Dubai is the perfect destination. Taking place from March 3 to April 25, the festival promises to be a celebration of the holy month with an attractive environment, wonderful food, and thrilling activities.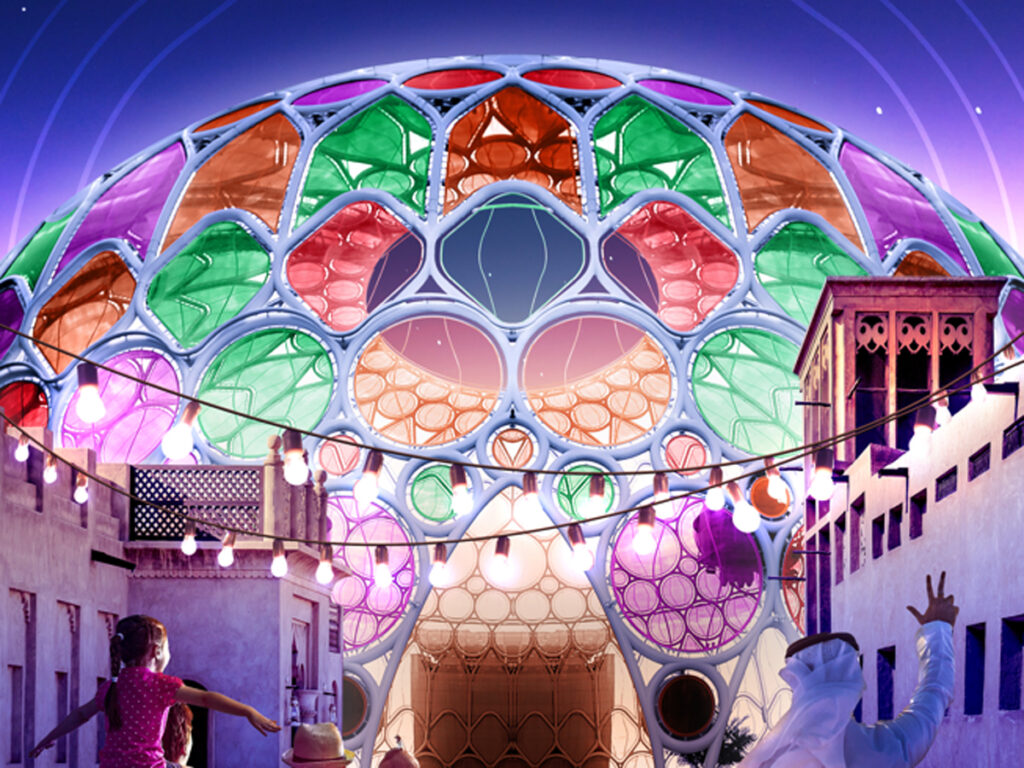 Visitors can enjoy a range of food and beverages, from regional cuisine to worldwide gourmet and intriguing street food. They can also participate in Al Wasl entertainment, sporting events, and a night market selling fragrances, gifts, and custom-made apparel. The festival also features a dedicated mosque offering Isha, Taraweeh, and Tahajjud prayers.
Traditional Arab storytelling and the long-standing custom of Misaharati will add to the festivities throughout the day, providing visitors with a unique insight into the rich culture of the UAE.
Read more here: Iftar Guide 2023 – Best Places To Break Your Fast In Dubai & Abu Dhabi This Ramadan
3. Celebrate the Holy Month at the Ramadan Souq Event
The Dubai Municipality has announced the start of the Ramadan Souq event, a celebration of the approaching holy month. The event, which will take place from March 5 to March 15 at Old Municipality Street in Deira, aims to preserve the special traditions, legacy, and rituals of Ramadan preparations while highlighting the local marketplaces and goods and enticing shoppers to them.
The event features a conventional souq, a tiny souq with 20 kiosks, and food trucks dishing up regional and traditional cuisines. There will also be live children's activities from 4 to 8 PM and a range of public and entertainment services.
In conclusion, the Ramadan Night Markets in Dubai are a must-visit attraction that offers a unique cultural experience, delicious food, and exclusive discounts during Ramadan. Whether you're a resident or a tourist, make sure to immerse yourself in the vibrant atmosphere of Dubai's Ramadan Night Markets and celebrate the holy month in style!
Read more here: Dubai Announces New Ramadan Souq 2023 For Holy Month – Get All Details Here
4. Ramadan Market At Old Deira Souk 
Get ready to immerse yourself in the festive spirit of Ramadan, as the Old Deira Souk in Dubai has already started its celebrations with a vibrant and exciting Ramadan market. This bustling market is filled with lights, endless stalls of Ramadan treats and entertainment, making it an extension of the already captivating Old Souk.
Highlights of Souq Ramadan's opening organised by #DubaiMunicipality on the occasion of the holy month. Visit us until March 15 at Old Municipality Street from 10 AM until 9 PM. pic.twitter.com/xLYzykJQzx

— بلدية دبي | Dubai Municipality (@DMunicipality) March 7, 2023
As you stroll through the lanes of this enchanting market, you will be greeted with the irresistible aroma of Fresh Omani Halwa being sold by local vendors. Don't hesitate to indulge your taste buds as 500g of this delicious treat will only cost you AED 30, and 250g AED 15.
Dubai Municipality has pulled out all the stops to maintain the traditions and customs of Ramadan festivities, promoting traditional marketplaces and goods. The Souq Ramadan in Old Deira Souk is a testament to this, offering up to 20 kiosks with different Ramadan goods, entertainment events, and local art and dance performances.
To add to the excitement, there is a food truck and several conventional food stalls where you can enjoy local specialties and satisfy your hunger. So come on an empty stomach and let your taste buds be delighted!
How To Get To the Souk?
Getting to the Souk is easy and hassle-free, with the Al Fahidi Metro Station and the Al Ghubaiba Metro Station close by. If you're feeling adventurous, you can take the Abra from Deira, which will cost you only AED 1 and offer a magnificent perspective of the city as you shop.
Ramadan is just around the corner, and there is no better way to get into the spirit of the holy month than by experiencing the excitement of the Old Deira Souk's Ramadan market. Don't miss out on this amazing opportunity to immerse yourself in the festive spirit of Ramadan and shop for all your holiday season requirements. Get ready to be captivated by the charm and magic of this market, and let Ramadan bring joy and blessings to your life.
Also read: Things to Do In & Near Dubai In March 2023: Food, Concerts, Markets, Kids Activities – Across All Budgets