Can you imagine a world where you can breeze through airport check-in and immigration without ever reaching for your passport? Well, it's no longer just a dream. Dubai's Terminal 3 at Dubai Airports is set to introduce an exciting change later this year, offering passengers a passport-free travel experience. The magic behind this transformation? Biometrics and facial recognition technology are rapidly becoming the new standard in global travel. Here is everything you need to know about it.
Also read: Emirates Introduces Pre-Arranged Visa Options For Tourists Travelling To Dubai
Emirates Leads The Way
Leading the charge towards this futuristic travel experience is Emirates airline's Chief Operating Officer, Adel Ahmed Al Redha. According to him, by November-December, Emirates will unveil a system that allows passengers to check in and board the aircraft using their own identity, eliminating the need for physical passports altogether.
A Seamless Transition
Major General Obaid Muhair bin Suroor, Deputy Director General of the General Directorate of Residency and Foreigners Affairs (GDRFA), emphasised that the new system, set to debut in November at Terminal 3, will leverage biometrics to streamline all passenger procedures. He expressed, "We are going to replace electronic gates with smart gates for easy and seamless travel."
Years Of Innovation At Dubai Airports
Dubai Airports has dedicated years to perfecting this groundbreaking project, harnessing cutting-edge biometric technology to create a fully touch-less travel journey for passengers. The future of air travel promises to be smoother, faster, and more seamless as passengers' faces and fingerprints become their identity instead of traditional passports.
Also read: UAE Airlines Etihad Airways And Emirates Recognised Among Top 10 Airlines Globally
Data Sharing For Expedited Travel
While the prospect of passport-free travel is thrilling, officials stressed the importance of data sharing between airports to expedite passenger flow. Sheikh Ahmed bin Saeed Al Maktoum, chairman and chief executive of Emirates Airline and Group, highlighted the need for integration of passenger information across every touch point. Sharing data among countries could significantly ease the entry and exit process, making international travel even more efficient.
The Role of AI & Biometrics
In this brave new world of travel, artificial intelligence (AI) will play a pivotal role in collecting and utilising data to enhance processes. Miguel Leitmann, co-founder and group CEO at Vision-Box, emphasised that biometrics, especially facial recognition, are becoming the norm. Governments, businesses, and travellers alike are increasingly accepting the concept of free-flowing, secure, and efficient travel.
Changing Roles For Humans
Major General Obaid shared a glimpse of the future, where technology will replace human factors at ports and airports, creating new job opportunities in monitoring and analysing other processes. The ultimate goal is to establish a common database among different countries, allowing international passengers to use their biometrics for seamless travel between nations.
Also read: Emirates Airlines Goes Digital: Say Goodbye To Printed Boarding Passes At Dubai Flights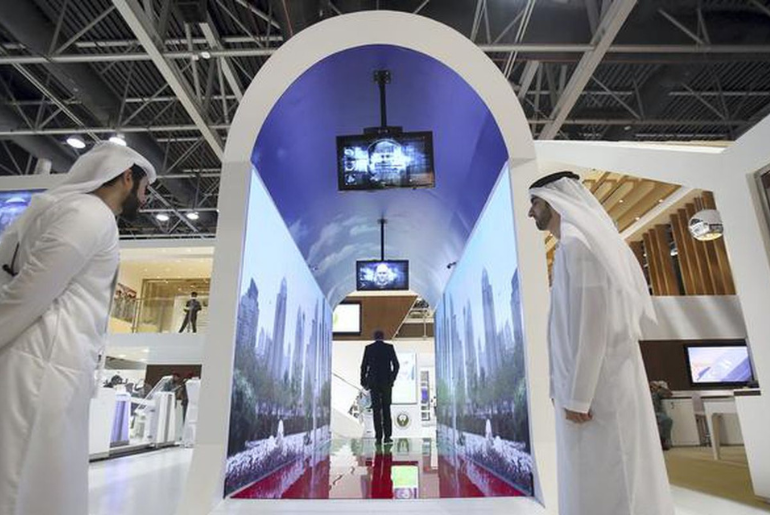 Technology As The Solution
Adel Al Redha underlined that technology is the key to addressing the challenges faced by the aviation sector. As airport infrastructure remains limited, seamless operations through reliable technology are the answer. The future envisions a travel landscape where 90 percent of operations are automated, reducing reliance on human interaction significantly.
In a rapidly changing world, Dubai and Emirates are at the forefront of ushering in a new era of passport-free, tech-driven air travel. As we move forward, biometrics and facial recognition promise to redefine the way we explore the world, making journeys smoother, more efficient, and incredibly exciting. You can expect to see this change integrated into the Emirates Check-In systems by November-December. What an exciting time this is for global travel and the future of technology!
But Thats Not All…
Dubai is constantly on the look-out for where they can improve and make their services better for the people. Which means alongside new touch-less check-in services by Emirates, DXB is also getting some massive new changes to keep inline with the ever growing demand for air travel. This is an AED 6 billion to AED 10 billion revamp onto the DXB airport and will include upgraded facilities and so much more. Click the link below to keep reading and find out more.
You may also like: Dubai International Airport Is Expanding & Here's Everything You Need To Know