Are you ready to unleash your inner artist? Look no further! Abu Dhabi is bursting with exciting creative classes this month that will help you tap into your artistic side. Let's explore these engaging opportunities to embrace your creativity together.
Also read: Abu Dhabi: Unlock Discounted Food – Groceries With Your Emirates ID For UAE Citizens
1. Art House Café
Head over to the Art House Café, where you can indulge in delicious treats while painting your own plate, brick, or even your face. For just AED 20, you get all the materials you need. Let your imagination run wild, create something special for your home, or surprise a loved one with a unique gift. Plus, you can savour some of the finest breakfast options in Abu Dhabi. Breakfast with a side of art? Yes, please!
Quick Deets
Location: : Al Huwelat street, Bateen Area – Abu Dhabi
Timings: Open daily from 9 AM–10:30 PM
Contact: 02 666 0175
2. Louvre Abu Dhabi
Surprisingly, the Louvre Abu Dhabi isn't just a gallery; it's also a hub for unleashing your creative potential. Every Sunday, you can immerse yourself in a themed painting session at the Art Studio, drawing inspiration from the magnificent artworks within the Louvre. Before unleashing your artistic talents on canvas, engage in a 30-minute skill development activity. There are also kid-friendly drop-in sessions on Saturdays and Sundays when exhibitions are on display.
Also read: These 28 Locations Around UAE Have Been Nominated For The 'Remarkable Venue Awards'
Quick Deets
Location: Saadiyat Island – Abu Dhabi
Timings: Open daily from 10 AM–6:30 PM | closed on Mondays
Contact: 600 565566
3. Design & Dine
Design & Dine brings you unique pop-up events throughout Abu Dhabi and Dubai, and this month, they have a full-day retreat scheduled. Happening on Sunday, September 24, this ladies-only retreat at West Bay on the Corniche promises meditation, an emotional intelligence workshop, personalised card readings, a manifestation workshop, and a vision board workshop. The creative side of this retreat includes a motivational mantra painting workshop, all while enjoying a sumptuous Sunday brunch. The whole day experience costs AED 650 and includes all activities along with AED 100 in food and beverage credit.
Quick Deets
Location: Abu Dhbai
Timings: Open daily from 9 AM–11 PM | Sunday 9 AM–9 PM
Contact: +971 56 612 7064
4. Art Central
Art Central isn't just about selling art supplies; it also offers drop-in sessions for painters and potters. Prices start at AED 65 for one hour of acrylic, oil, or watercolour painting (paint included; canvas available for an additional fee) or one hour of pottery (clay not included; firing available for an extra charge). Get your creative juices flowing here!
Also read: Abu Dhabi: Indulge In These 14 Business Lunches All For Under AED 200
Quick Deets
Location: Boutik Mall, Sun & Sky Tower, Ground Floor, Al Reem Island – Abu Dhabi
Timings: Open daily form 10 AM–10 PM
Contact: +971 56 201 7970
5. Abu Dhabi Pottery
Abu Dhabi Pottery has been a haven for thousands of aspiring potters. Classes run from Sunday to Friday, offering wheel throwing, hand building, and glazing classes. If you're already familiar with pottery, personalised courses from four to twelve sessions are available to refine your skills. Adult single sessions, which last two hours and include half a kilogram of clay, are priced at AED 195. You can also book four sessions for AED 640 or a term with twelve sessions for AED 1,800.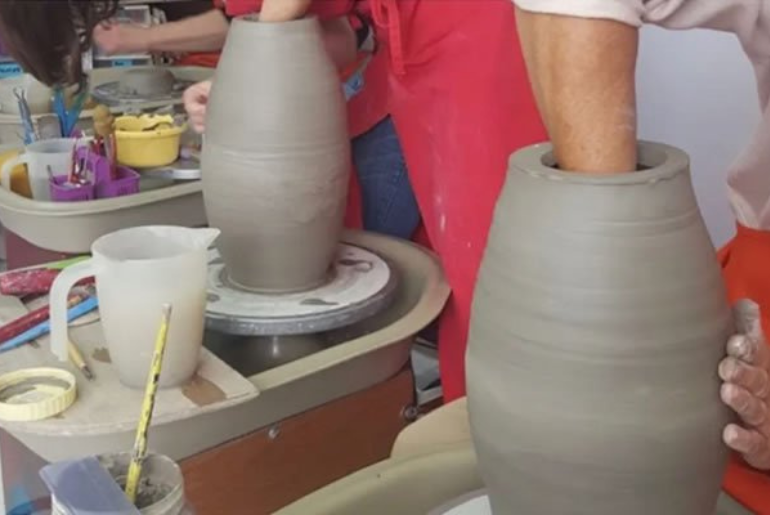 Quick Deets
Location: Dabbas St. (16th Street) – Abu Dhabi
Timings: Open daily form 10:30 AM–8:30 PM | closed Saturdays
Contact: 02 666 7079
6. Ether Art Studio
Ether Art Studio, located at Yas Mall's Cloud Spaces concept store, is brimming with inspiration. Besides offering a wide array of local and international brands, you can attend workshops here. Discover wheel throwing, hand building, and glaze painting workshops, all conducted in collaboration with Studio COE. To secure your spot, simply call 050 578 4397, providing details like date, time, number of participants, and your preferred workshop. Wheel throwing classes accommodate up to 5 people, while other classes can host up to six.
Also read: These Are Abu Dhabi's Top 11 Most Instagramable Places To Visit
Quick Deets
Location: Saadiyat – Sheikh Khalifa Bin Zayed Al Nahyan Hwy – Abu Dhabi
Timings: Open daily from 10 AM–8 PM
Contact: 02 657 5807 / +971 50 578 4397
7. Korean Cultural Center
At the Korean Cultural Center on Yas Island, you can explore various workshops, from cooking to music to painting. These workshops cater to one-off sessions as well as short-term courses, perfect for those eager to expand their skills. Keep an eye on the Korean Cultural Center's website for the latest course offerings.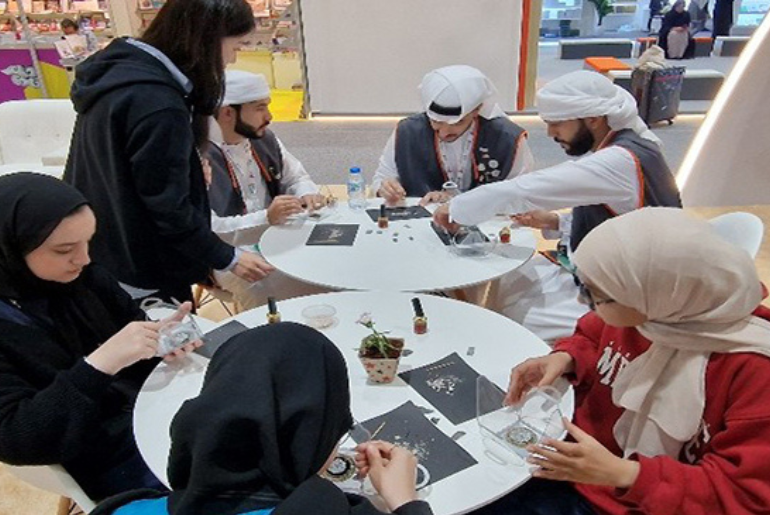 Quick Deets
Location: Yas Creative Hub Yas West – Abu Dhabi
Timings: Mon-Thur 10 AM–7 PM | Fridays 10 AM–2 PM | closed on Saturday – Sunday
Contact: 02 491 7227
Also read: Your Ultimate Detailed Guide To Navigating The F1 Abu Dhabi Grand Prix 2023
8. Candelaria Candles
Candle making is both an art and a science, and you can learn the ropes from experts at Candelaria Candles. Their workshops go beyond the basics, offering a wide range of creations, from cereal to summer-themed and stackable candles. You can even book a private workshop for your special event.
Quick Deets
Location: Al Seef Villave Mall – Abu Dhabi
Contact: +971 50 117 7445
9. Fleurology
Floral enthusiasts, Fleurology in Sheikha Fatima Park is your go-to spot. While enjoying a cup of coffee and admiring the beautiful flowers, you can also partake in workshops such as Ikebana (the Japanese art of floral arrangements) and flower imprinting clay. Fleurology also collaborates with The Cucina Edit to host pasta workshops. Stay updated with their latest news by following the café on Instagram.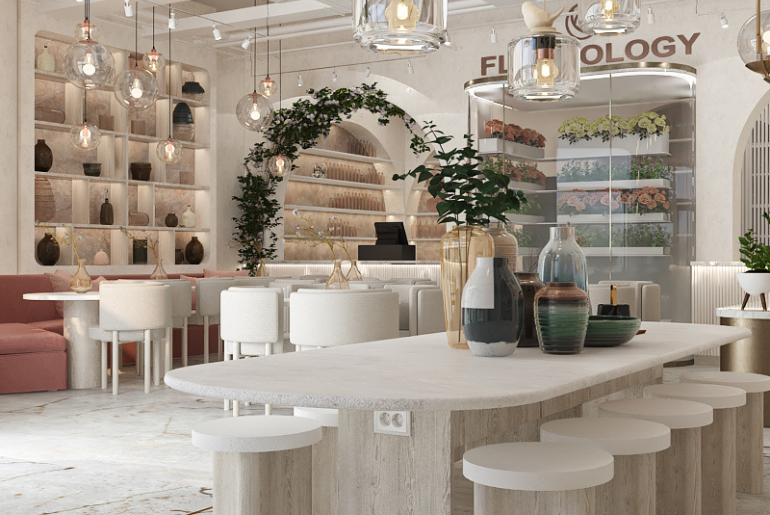 Quick Deets
Location: Al Danah – E18-03 – Abu Dhabi
Timings: Open daily from 9 AM–9 PM
Contact: 02 644 0505
You may also like: Your Insider's Guide to Dubai And Abu Dhabi's Art Scene: Art Studios, Exhibitions & Museums