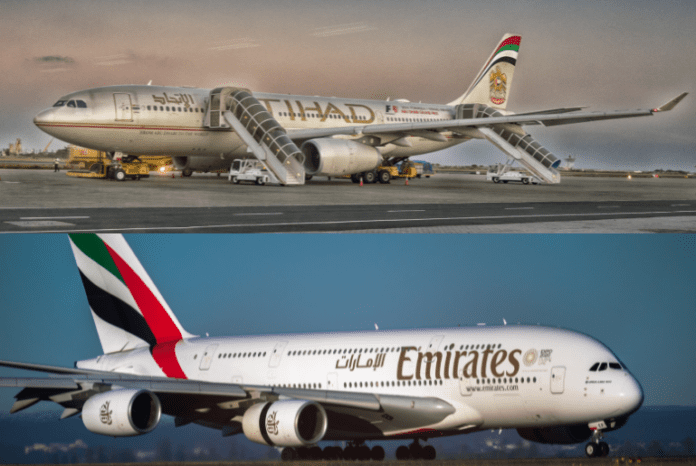 fasten your seatbelts, raise your tray tables, and get ready for takeoff! These UAE carriers have proven that when it comes to delivering world-class service and making flying an unforgettable experience, they truly soar above the rest. Welcome aboard everyone, let's where brilliance meets extraordinary!
Also read: Travel Made Easy: Five Countries Offering eVisas to UAE Expats
What Position Have Etihad Airways And Emirates Secured?
Etihad Airways and Emirates, two airlines based in the UAE, have secured positions among the top 10 airlines in the world, as per the latest rankings by AirlineRatings.com. Etihad Airways, the national carrier based in Abu Dhabi, has been ranked third, while Emirates has earned the 10th position on the list. Whilst the top spot has gone to Air New Zealand.
Emirates, the flagship carrier of Dubai, has also received top honours for its excellent in-flight entertainment and premium economy offerings. Meanwhile, Qantas from Australia has been recognised for having the best lounges.
The evaluation conducted by AirlineRatings.com encompasses 12 essential criteria, including fleet age, passenger reviews, profitability, investment rating, product offerings, and staff relations. UAE airlines have been investing billions of dirhams in revamping their facilities, upgrading their services, and introducing new features.
Emirates recently announced its decision to phase out traditional printed boarding passes for flights departing from Dubai, instead requiring most passengers to utilise mobile boarding passes. Additionally, the airline has unveiled free Wi-Fi access for all passengers across all travel classes.
Etihad Airways has also introduced new Wi-Fly packages called 'Chat' and 'Surf.' Passengers can enjoy complimentary messaging through the 'Chat' feature during the entirety of their flight by signing in with an Etihad Guest membership or enrolling online beforehand. The messaging service includes popular platforms such as WhatsApp, Messenger, and WeChat, among others.
What Are The Top 25 Premium Airlines?
AirlineRatings.com has listed:
Also read: Airline Special Promo: Travel For AED 59 To These 4 Cities
– Air New Zealand
– Air Canada
– Alaska Airlines
– All Nippon Airways
– British Airways
– Cathay Pacific Airways
– Delta Air Lines
– Emirates
– Etihad Airways
– EVA Air
– Hawaiian
– JAL
– JetBlue
– KLM
– Korean Air
– Lufthansa/Swiss
– SAS
– Singapore Airlines
– TAP Portugal
– Turkish Airlines
– United Airlines
– Vietnam Airlines
– Virgin Australia/Virgin Atlantic
– Qantas
– Qatar Airways
You may also like: Dubai's New Palm Jebel Ali Mega Project: Waterfalls, 110km Beaches & More