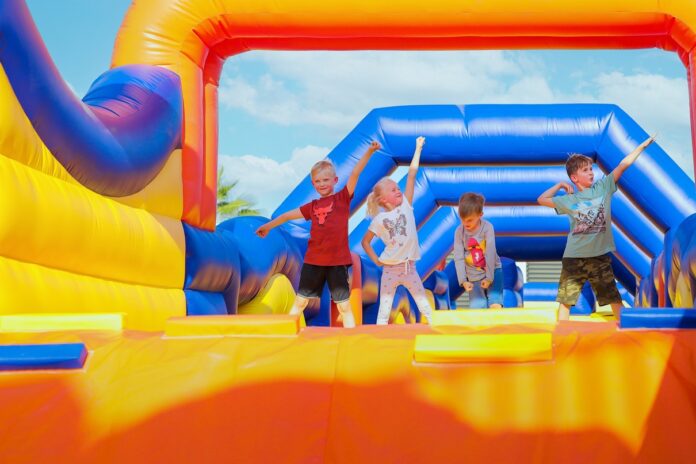 Spring break is just around the corner, and you know what that means? The perfect bonding time with your little munchkins. Now if you're wondering how to keep your little ones engaged, then look no further. Dubai Parks™ and Resorts, the largest theme park destination in the Middle East, is bringing an exciting new adventure to its guests. Read on to know all the details.
Also do check out our list of Kid-Friendly Places In Dubai That You Must Visit During Spring Break. 

Why Must You Visit Massive Outdoor Inflatable Park JumpX?
JumpX, a massive outdoor inflatable park, is set to launch on February 17, promising endless fun and enjoyment for all ages. Located at RIVERLAND™ Dubai, the enormous new attraction features adventure zones, climbable walls, tunnels, obstacles, and sensory environments spread over multiple levels, offering an active adventure in a safe outdoor environment.
Also read: Global Village Is Hosting A FREE 'Kids Festival' During Spring Break & You Have To Go
JumpX is the perfect destination for families with children aged five and up. Kids can perfect their jumping skills and enjoy the thrill of exploring the park's various sections. There is also a brand-new café serving hot drinks, snacks, and treats for those looking to put their feet up.
Dubai Parks™ and Resorts is taking the launch of JumpX to a new level by attempting to break the GUINNESS WORLD RECORDS™ title for the 'Largest Inflatable Bouncy Castle'. The park's CEO, Fernando Eiroa, stated that the company is continually striving to provide the best-in-class activities and entertainment experiences to guests of all ages.
Visitors can avail of special rates if they hold annual passes or tickets to any of the Dubai Parks™ and Resorts theme parks, including MOTIONGATE™ Dubai, BOLLYWOOD PARKS™ Dubai, LEGOLAND® Dubai Theme Park, and LEGOLAND® Water Park. Guests staying at any of the hotels within the resort can also enjoy JumpX as part of their package.
Also read: 19 Things to Do In Dubai In February 2023 – Live Concerts, Food Festival, Dance – Across All Budgets
Day visitors to RIVERLAND™ Dubai can purchase tickets directly at JumpX, with prices starting from AED 60 per hour or online on their website. The addition of JumpX follows the recent introduction of 'Dino Mania,' a 45-minute free dinosaur parade for children and adults at RIVERLAND™ Dubai.
JumpX Details
Name: JumpX
Location: Riverland™ Dubai at Dubai Parks™ and Resorts
Launch Date: Friday, 17 February 2023
Price: AED 60 per hour