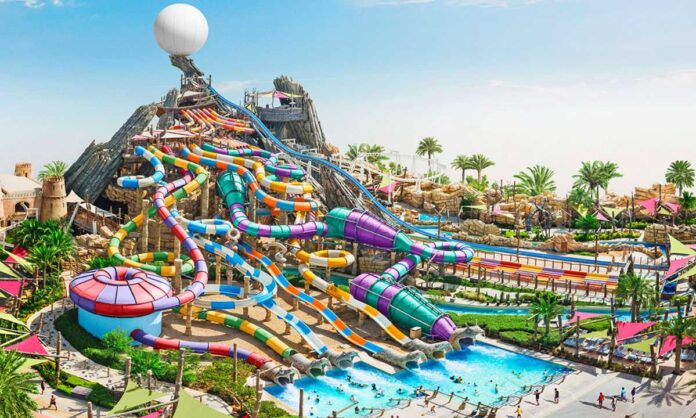 If you're visiting Dubai, or have been living here for a while then you know that you haven't really spent time in the city, unless you visit the best water parks in Dubai. Firstly, let's break the myth – waterparks are NOT just for kids. It's for anyone, of any age, who is looking for a fun time out. So get ready to make a splash with the best water parks in Dubai 2023.
Also read: 8 Beautiful Places With Free Entry In Dubai That You Must Visit Once
The Best Water Parks In Dubai 2023
1. Wild Wadi Water Park
Wild Wadi Water Park is situated in the area of Jumeirah and is in close proximity to the iconic Burj Al Arab and the Jumeirah Beach Hotel. The park is themed around the tale of Juha, a character from Arabian folklore, and offers 30 rides and attractions for visitors of all ages. Wild Wadi Water Park provides a fun-filled day for families and is a popular tourist destination in Dubai.
The park is committed to environmental conservation and recognizes the importance of being environmentally conscious. Visitors can enjoy the park's facilities while being assured that the park is taking steps to protect the environment. TripAdvisor suggests a duration of 2-3 hours to enjoy the park's facilities fully. We'd definitely rate this as one of the the best water parks in Dubai 2023.
Must Visit Rides At Wild Wadi Water Park
Jumeirah Sceirah – A High-Speed Free-Fall Adventure One of the park's main attractions is Jumeirah Sceirah, a 120m tall free-fall slide that takes you down at a speed of 80km/h. Climb the 32m tall tower and admire the breathtaking views of the Burj and the serene beach before experiencing a surreal thrill ride. This is the tallest and fastest free-fall slide outside the Americas and is a must-try for adrenaline junkies.
Master Blaster – The Fastest Aquatic Roller Coaster Wild Wadi also boasts the fastest aquatic roller coaster, Master Blaster. With its 15m high jumps, this ride will get your heart racing. Choose your favourite Master Blaster from a variety of options, including Falaj Fury, Jebel Lookout, Falcon Fury, and Wadi Basher.
Burj Surj – A Thrilling Spiral Downhill Adventure Burj Surj is another thrilling ride at Wild Wadi. The two large spiralling downhill water slides end with a mini pool splash, making it an exciting experience for visitors.
Tantrum Alley – A Tornado-Filled Adventure Tantrum Alley is a tornado-filled waterslide adventure that takes you through two tornadoes and ends with a pool splash. The downhill waterslide leads you into the first tornado where you go forward and backwards several times before spinning in circles and finally falling into the pool.
With its 30 rides and attractions, Wild Wadi offers a sensational experience for the whole family. Whether you're looking for a high-speed thrill ride or a more relaxed experience, this park has something for everyone.
Address: Jumeirah St – opp. Burj Al Arab – Umm Suqeim – Umm Suqeim 3 – Dubai – United Arab Emirates
Tickets: Click here, Prices start at AED 109
Contact: +971 4 348 4444, +971 4 406 8374
Timings: 10 AM to 7 PM from January to October, 10 AM to 5 PM in November and December

2. Atlantis Aquaventure – The World's Largest Waterpark
Atlantis Aquaventure in Dubai is a must-visit for several reasons. Thrill-seekers can enjoy record-breaking waterslides, families with young children can enjoy the safety of Splashers Kids Play Area, and animal lovers can get up close with dolphins, sea lions, sharks and stingrays. It is also highly rated by travelers, who describe it as a "must visit". Additionally, entry to the park is free for guests staying at the Atlantis the Palm Hotel. With its convenient location within the Atlantis the Palm Resort, it is the perfect place to add a splash of adventure to your holiday or weekend.
Must Visit Rides At Atlantis Aquaventure
Leap of Faith – THIS RIDE is why we call Aquaventure one of the best water parks in Dubai 2023! For the ultimate rush, visitors can brave the Leap of Faith, a 98-feet mega-slide that drops at an alarming speed of 60 km/h in 3 seconds, through a clear acrylic tube surrounded by sharks and rays. Another daring experience is the Poseidon's Revenge, one of the most terrifying waterslides in the Middle East, which sends riders through loops at a speed of 60 km/h and plunging 31 meters down.
Shark Attack – For a different kind of safari, the Shark Attack is a heart-pumping ride that begins 13 meters up the Ziggurat. Step into a one or two-person tube, before emerging through an underwater lagoon filled with sharks and enjoy a 360-degree view of the surroundings.
Atlantean Flyer – The Atlantean Flyer is a must-try for those who want to soar high above the water park and enjoy breathtaking views of Dubai. It is the longest zip-line in the Middle East and the first to be integrated into a waterslide tower. It offers an experience that mimics sky-diving and hang-gliding, reaching top speeds of 15 km/h and taking just one minute to travel end to end.
The Rapids – For those who love water adventures, The Rapids is the perfect choice. It is the longest water park river in the Middle East, a 1.6-kilometre river ride with gushing rapids that send you twisting and spinning through the rapids, delivering an adrenaline rush around every turn. Along the Rapids, guests can enjoy large pools with spacious sun decks and take dips in and out of the water at their leisure.
Address: Atlantis The Palm – Crescent Rd – Dubai – United Arab Emirates
Tickets: Click here ; Prices start at AED 225
Contact: +971 4 426 0000
Timings: Daily 9.15 am – 5.30 pm
3. Splash 'N' Party Kids – Kids Waterpark Dubai
Splash 'N' Party is a kids-friendly water park in Dubai, ideal for families looking to have fun and make memories together. The park is designed to cater to both kids and adults, providing activities and facilities for everyone. It's an especially great place to celebrate kids' birthday parties. Designed for family fun, this one definitely makes it our list of the best water parks in Dubai 2023.
Here are some reasons to visit:
Exciting water activities: Little ones can have a blast on the park's splash pads and water slides, while parents can relax at the restaurant and juice bar.
Great parties: Splash 'N' Party is known for hosting fantastic parties, with in-house catering and entertaining shows.
Family-friendly atmosphere: The park is designed to cater to the entire family, making it the perfect destination for a day out with kids.
Also read: Museum Of The Future In Dubai ; Everything You Need To Know About It
Address: Al Safa 2, Street 8A, Villa no.1, Jumeirah – Dubai – United Arab Emirates
Tickets: Click here
Contact: +971 4 388 3008
Timings: 9am – 8pm (Weekdays) ; 9am – 9pm (Weekends & Public Holidays)
4. Legoland Water Park – Exclusively for Kids Between 2 – 12
You should visit Legoland Water Park in Dubai because it is specifically designed for kids aged 2-12 and their families, offering a unique and enjoyable experience. While water parks for both adults and kids have their advantages, the Legoland Water Park offers exclusive experiences & rides catered specially for your little ones. The height restrictions are quite literally the opposite of what you see in other water parks.
It features more than 20 water slides, a lazy Build-A-Raft River, Joker Soaker playground, and a Duplo Splash Safari for toddlers. The park provides a huge range of kid-friendly attractions, with rides that allow you to race against others or go in groups.
Address

: 
Dubai Parks & Resorts – Sheikh Zayed Rd – Abu Dhabi – United Arab Emirates

Tickets: Click here ; Tickets start at AED 295
Contact: +971 4 820 0000
Timings: 10 am – 6 pm (shut on Wednesdays)
5. AquaFun Water Park – Dubai's Largest Inflatable Water Park 
AquaFun Water Park is a popular tourist attraction located in JBR Beach, Dubai. It is known for being the largest inflatable water park in Dubai, covering a total area of 2,700 square meters and extending 25 meters into the sea. The park boasts over 110 different games and activities for visitors to enjoy, including inflatable obstacles to climb, jump, and slide on
AquaFun is a multi-award-winning park that holds the Guinness World Record for the largest inflatable water park. The park offers all-day passes for visitors to enjoy unlimited fun in the sun and escape from the scorching heat of Dubai and is definitely the perfect add on to our list of best water parks in Dubai 2023.
Also read: Dubai's Newest Adventure Sport : Self Drive A Seakart Across The Arabian Sea
The games at AquaFun Water Park in Dubai include an inflatable obstacle course, wiggle bridges, slides, monkey bars and ramps, blockades and casual parties.
Address: The Beach, opposite of – Jumeirah Beach Residence – Dubai – United Arab Emirates
Tickets: Click here ; Tickets start at AED 295
Contact:+971 54 522 6663
Timings: 9 am – 5.30 pm
Well, we hope you enjoyed our list of the best waterparks in Dubai 2023. Some points to note:
Always make sure you check the website before booking a slot. Sometimes waterparks may be closed for annual maintenance
Always ensure you wear appropriate swimwear. While Dubai is quite liberal with its clothing, its preferable to wear a one piece (for women) instead of a bikini. Each water park has its own set of rules, so please read them carefully before you visit.
The basic hygiene etiquette remains the same as in anywhere in the world. No spitting in the water, do not leave kids unsupervised, cover sneezes or coughs and always shower before you get on a slide.
Outside food & drinks are not allowed in any of the waterparks