What if we told you that the land of crazy adventure – our very own Dubai – has a brand new adventure sport that absolutely anyone can do and requires no special skill set. Yep, that's right! You can now self drive a boat across the Arabian Sea for 45 minutes AND take 4 people along with you while you do it. Next group outing, maybe?
Also read: GulfBuzz Recommends: Hidden Breakfast Date Spot In Al Quoz Dubai
Self Drive A Seakart Across Dubai Harbour
Recently Naomi and I heard that we could self drive a sea cart and we knew we had to try it out. So here's our first hand experience, and everything you need to know about it.
What Is A Seakart?
The Seakart is a unique hybrid combining the speed, thrill and excitement of a jet ski with the safety and comfort of an inflatable boat. You need no special skill set, other than a thirst for fun and adventure to ride the seakart.
Also read: 7 Insane Sky-High Adventures In & Around The UAE You Need To Try
Seakart With Adventure Zone Dubai
Most people explore Dubai on land, but you can actually have a better experience coursing through the sea. Here's our experience. We reached Dubai Harbour at about 4pm for a sunset ride.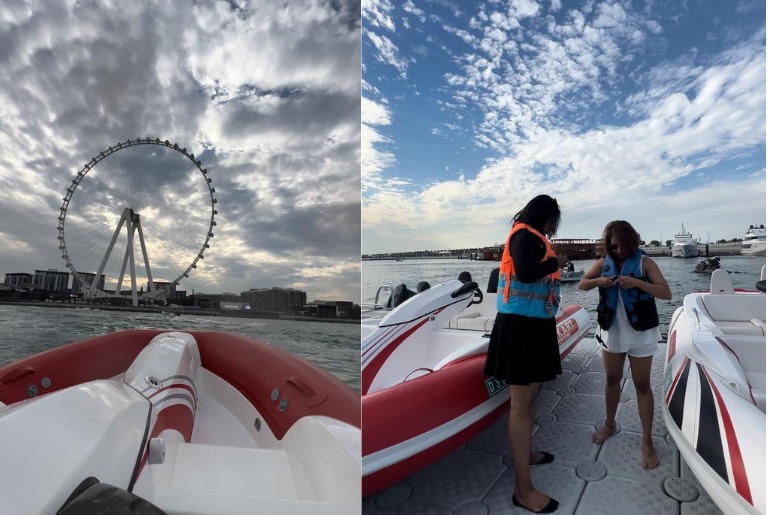 We were escorted by Herimio who took us all the way to the seakart. Just the walk to the seakart is gorgeous, with Skydive Dubai serving as the backdrop. Once we reached our location (a 5 min walk), we signed our waiver forms (everyone who rides, has to compulsorily sign it), put on our life jackets, and got a quick 10 minute briefing on how to use the seakart. And well that's it! We jet setted out into the Arabian sea.
The Adventure Zone Seakart is a 45 minute ride and you can go across Ain Dubai and Atlantis. The photos are absolutely phenomenal & you'll love every minute of driving it. It's just as fun for the passengers though. 5 people can sit in a single Seakart, and believe me when I say it's just as thrilling.
Also read: You Can Soon Experience Yas Island In The Metaverse
Seakart With Adventure Zone Dubai Details
Price: AED 650 for 5 pax
Website for booking: Adventure Zone Dubai
Contact: +971 523549090
Location: Dubai Harbor Marina : AH:38