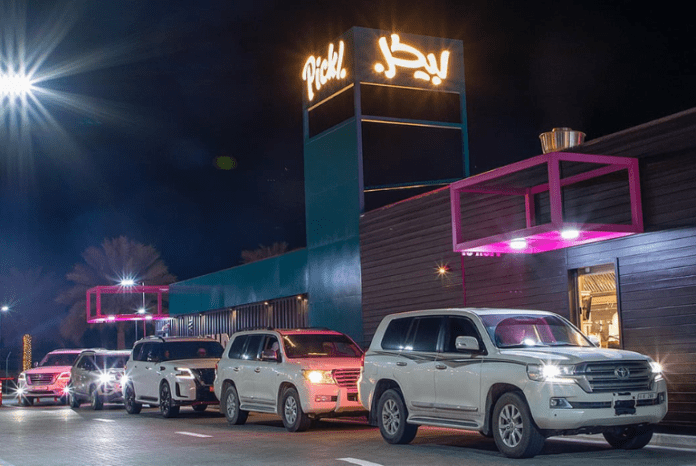 This one is for all the food lovers out there! When the UAE-born burger sensation, Pickl, made its debut in the capital last year, it caused a frenzy. We're talking queues-around-the-block levels of excitement! And it's no wonder why – the burgers they serve up here are absolutely top-notch. And there is news that they have opened up a new spectacularly convenient location in Abu Dhabi. Here is everything you need to know about this award-winning burger joint!
Also read: Dubai Opens Its Doors To Its First Ever Water Bar
Zakher Drive Thru Park: A New Home for Pickl's Culinary Delights
Fret not, my friends, if you have been experiencing FOMO (fear of missing out) this whole time over Pickl then get ready to jump into action, because the wait is finally over! Pickl has just set up shop at Zakher Drive Thru Park, bringing their mouthwatering cheeseburgers and irresistible fried chicken sandos right to your car window. And if you prefer to savour your meal in a cosy dine-in setting, they've got you covered too with freshly flipped patties served hot and delicious.
Limited-Time Specials: Indulge In Pickl's BBQ Menu
Now, let's talk about the tantalising limited-time specials that Pickl has in store for you. Alongside their renowned signature dishes, they've introduced a barbecue menu that will have your taste buds dancing with delight. These exclusive offerings are not to be missed!
Open All Day, Every Day: Pickl Al Ain Satisfies Your Cravings
Hungry for more? Pickl Al Ain is now open daily from noon until 2 am, ensuring that your cravings are satisfied whenever they strike. And if you're looking for the ultimate convenience, soon you'll be able to order Pickl's delectable creations for delivery through Deliveroo and Talabat.
Also read: 10 After Dark Delights: Extraordinary Experiences In Abu Dhabi And Dubai
The Burger Brand That Keeps On Winning
In case you've somehow missed out on the Pickl phenomenon (we're not sure how that's even possible), let us fill you in. Founded by the visionary Steve Flawith back in 2019, Pickl has quickly risen to culinary stardom, accumulating a slew of prestigious awards along the way. With 11 branches spread across four emirates, including a presence at Time Out Market Dubai, their popularity knows no bounds.
Also read: 13 Things To Do In June In Dubai & Abu Dhabi 2023; Events, Concerts, Kids Activities & More
Are There Any More Abu Dhabi's Pickl Locations?
But of course. Right here in Abu Dhabi, you can experience Pickl's culinary wonders at Mamsha Al Saadiyat, which is now even licensed for your enjoyment. And if you're in the mood for some retail therapy, head over to WTC Mall for your Pickl fix.
So, don't wait another minute! Make your way to Pickl Al Ain at Zakher Drive Thru Park, pronto. Discover for yourself what all the buzz is about and prepare for a burger experience unlike any other. With their doors open daily from noon until 2 am, there's no excuse not to embark on this mouthwatering adventure. Trust us, your taste buds will thank you!
Pickl Quick Deets
Timings: Daily from noon until 2 am
Location: Zakher Drive Thru Park, Al Ain
Contact: 03 734 4639
And for more information visit their website
You may also like: COYA Abu Dhabi & Dubai are Hosting A legendary White Party & Here Are All The Details