Dubai is known for its innovative and one-of-a-kind concepts, and the latest addition to the scene takes uniqueness to a whole new level. Introducing AQUA Water Bar by LUQEL, Dubai's first-ever "gourmet water bar." With its extensive selection of 30 different types of water, this café-like venue is making waves in Dubai Media City.
Also read: 10 Unmissable Dubai Events This Week: International Concerts, Brunches And More
Step into AQUA Water Bar any Monday to Friday between 9am and 6pm, and prepare to immerse yourself in a world of water like never before. Alongside the option to order still or sparkling water, you can also indulge in a range of teas, coffees, and delicious snacks provided by Kitopi.
Crafted For Purpose: Water Blends Designed By Experts
But what sets this water apart from what you'd find at your average café? Well, let's start with the fact that you'll have a menu featuring 30 unique water blends to choose from. With names like "natural beauty," "recovery," and "kick start," each drink offers its own distinct properties. Crafted by water sommeliers with specific purposes in mind, these blends are tailored to suit your needs and mood. Need a post-run pick-me-up? Try the refreshing "runner's heaven," specially designed to hydrate you even more effectively than regular water. These custom water blends are created by adjusting the levels of calcium, magnesium, sodium, potassium, chloride, and sulphate, resulting in unique tastes and performance. AQUA Water Bar, operated by the renowned German water filtration company LUQEL, takes pride in offering water free from harmful chemicals or plastic bottles.
Hydration On The Go – Refillable Glass Bottles
Not only does AQUA Water Bar have a strong commitment to Chemical-Free beverages, they also strive to be Eco-Friendly. The water Bar provides refillable glass bottles, allowing you to take your favourite water blends with you wherever you go.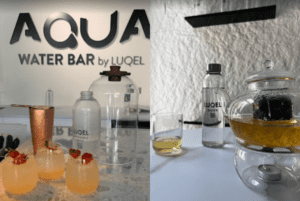 If you're ready to experience the wonders of these extraordinary water blends, make your way to AQUA Water Bar and savour a glass of perfectly chilled, still or sparkling water.
AQUA Water Bar Quick Deets
Location: Loft Building 2 – G06, Dubai Media City
Timings: open Monday to Friday, from 9am to 6pm
Contact: 04 529 8236
See their website here
You may also like: A List Of Dubai's Best Happy Hours: Offers, Discounts, Bar Deals And More