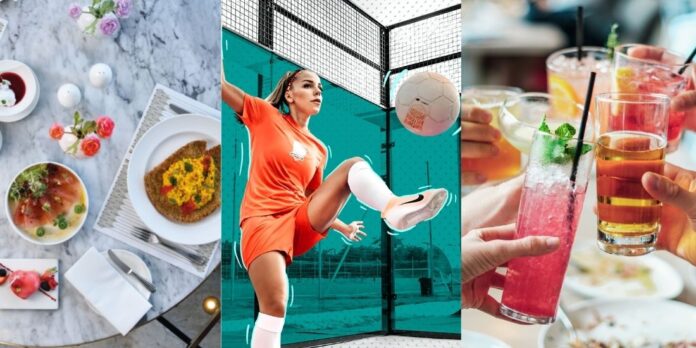 The weekend is the time to unwind and press pause. Working for the entire week is not easy, it is hectic and stressful. Hence it is a must that your weekends are full of fun time and relaxation. So here are some things you can do this weekend in the UAE:
1. New Poolside Sunday Brunch:
Head over to the newly-open Pool and Sky Lounge, High Note at Aloft Mina to spend your Sunday with free-flowing drinks and a delicious international buffet including live barbeque & pasta stations, pizzas,  desserts and much more along with a live band / DJ  spinning the tunes to get you grooving. Take a dip in the pool and enjoy the breathtaking gorgeous views of the Dubai Downtown Skyline. Every Sunday from 2 pm -6 pm.
 2. Light Festival In Sharjah: 
The Sharjah Commerce and Tourism Development Authority is hosting the 2022 Sharjah Light Festival, which runs from Sunday, February 9 to Thursday, February 20. The vibrant festival, which has been going on for over ten years, is the region's first and only of its sort. It draws tens of thousands of tourists each year to up to 20 places in Sharjah. The designs are influenced by the culture, legends, and customs of the area.
3. Indian Coolants For AED 1 at Dhaba Lane: 
Dhaba Lane, known for serving Dhaba (Roadside shacks on Indian Highways) style delicacies in an urban and chic ambience, is celebrating the occasion by giving away popular Indian coolants at AED 1 only. Diners can now order Lassi (a yoghurt-based sweet drink) and Shikanji (Lemonade) for AED 1 throughout February at Dhaba Lane's Karama and Garhoud branches. Enjoy these coolants with your meal for AED 1 only at a minimum spend of AED 50.
4. Xposure Photography Festival At Expo Centre: 
The sixth Xposure International Photography Festival will kick off its 7 days run in Sharjah on February 9. The event, which will include more than 55 globe photographers, will include exhibits, presentations, seminars, and equipment booths for everyone.
5.Cafe Society: 
Allow time to stand still this Valentine's Day at Café Society, one of Dubai's most beautiful establishments. Indulge in a two-course set menu with a variety of options for a romantic breakfast or a nice lunch. If you want to eat in luxury for lunch or supper, try their Roasted Beetroot Soup with Mascarpone, Paiilart Parmigiana Tenderloin with Saffron Rose Risotto, and Raspberry Bavaroise Heart with Chocolate Hot Sauce. Couples may also enjoy Café Society's Valentine's set dinner, which includes a Macaron box and is available for takeaway and delivery.

6. Complimentary Brownies at Yummy Dosa: 
Yummy Dosa is offering a heart-shaped dosa at AED 28 for all the couples, Jugal Parekh, Director at Yummy Dosa is looking forward to celebrating the day with all single diners as well who would visit Yummy Dosa on 14th February by offering them all complimentary brownies.

 7. Emirates Pad Pro Launch: 
EmiratesPadPro (EPP) is a sports facility formed by three persons, Kabir, Hussein, and Samir, that will administer and operate one of the world's newest and fastest growing sports. The infrastructure of Padbol is divided into three phases: court, ball, and flooring. The court is 6×10 metres in size, both indoors and outdoors. The floor is a one-of-a-kind, high-tech surface that is intended to prevent players from joint issues. Padbol's ball is somewhat smaller and lighter than a football. The sports centre is open from 7 a.m. to 12 a.m. and is equipped to accommodate events, tournaments, camps, and training sessions, with lots of parking directly outside the complex. The property also has a café, a lounge space, and bathing facilities that adhere to all hygienic requirements.
8. Sizzling Hot Three Course Menu At Yoko Sizzlers: 
Starting at AED 85 you'll get anyone sizzler, a soup, anyone dessert and a soft drink. Choose the sizzler of your choice; veg, meat, beef, prawns or chicken. At Yoko Sizzlers, deep grilled pieces of meat, chicken, fish or vegetable patties are served with french fries, mashed potatoes, mushrooms, tomatoes, carrots and more on a cast iron plate, kept on a wooden base.
9. AED 29 Parties At India Bistro & China Bistro: 
Celebrate at India Bistro and China Bistro at AED 29 only from 4 pm to 7 pm any day of the week with a minimum booking of 10 kids. A special kid's menu of mocktails, starters, main course, and desserts has been curated by experienced chefs.
10. Vegetarian Marwari Thali At Sagar Ratna: 
Visit homegrown vegetarian Rajasthani restaurant Sagar Ratna in Dubai to indulge in its pure vegetarian Marwari thali inspired by the Rajasthani food culture in India.  Priced at AED 30, the thali comprises very authentic Rajasthani dishes of  Dal Batti Churma, Gatta Curry, Mirchi Kutta, Garlic Chutney (accompaniment) and rice along with a glass of yoghurt-based drink, lassi.
11. Staycation At Al Jaddaf Rotana Suite Hotel: 
Celebrate your other half at Al Jaddaf Rotana Suite Hotel, a romantic setting that brings the delights of love to life. Treat your one and only to a delicious evening at Timo restaurant, the 5 star hotel's premier dining destination, with a scrumptious BBQ meal. If you're seeking for a romantic break with your sweetheart, the hotel offers a 'Romantic Escape' package, which is ideal for spending quality time together. The staycation package includes afternoon high tea, in-room breakfast, a romantic bathtub made up with roses and balloons, and a 20% discount on massage services at Bodyline Wellness.
12. Valentine's Day at FORM Hotel:
FORM Hotel Dubai, one of the most luxurious hotels in Dubai has announced a special Valentine's Day offer for couples who are looking forward to a romantic weekend getaway. The stay includes a luxurious room that is decorated with hearts and roses. The package also includes a set breakfast for two, from 11th to the 14th of February for just AED 349, taxes all included.
13. Sofitel Abu Dhabi Corniche:
From staycations to food and beverage, here you can treat your loved one with almost everything! From roses to chocolates to berries, enjoy a theme that brings bliss to your afternoons.Savour rich flavours with dishes like Boston lobster, divers'scallops, Wagyu beef cheek with TrufflePotato, asparagus and Merlot reduction, Tasmanian lamb rack, Raspberry Tiramisu and Gianduja Chocolate Creameu.
14. Ladies Day Out: 
The joyful Zanzibar Beauty Salon has some amazing offerings that get your heart beating.The AED 550 Valentine's Special package was created to generate a loving glow with their groundbreaking Moroccan Bath, Glam Glow Facial, Full Bikini Waxing, Under Arms Waxing, L'O real Hair Treatment, and Beach Waves. With their Advanced Hydra Facial and Opera LED Light Therapy, the 'Love My Skin' package, priced at AED 700, will instil a desire for love in you. The all-in-one 'Love My Body' package, priced at AED 500, will have you in full gear for the romantic day. The package includes a Moroccan bath, a full body massage (1 hour), a Hungarian face massage, and a blow dry.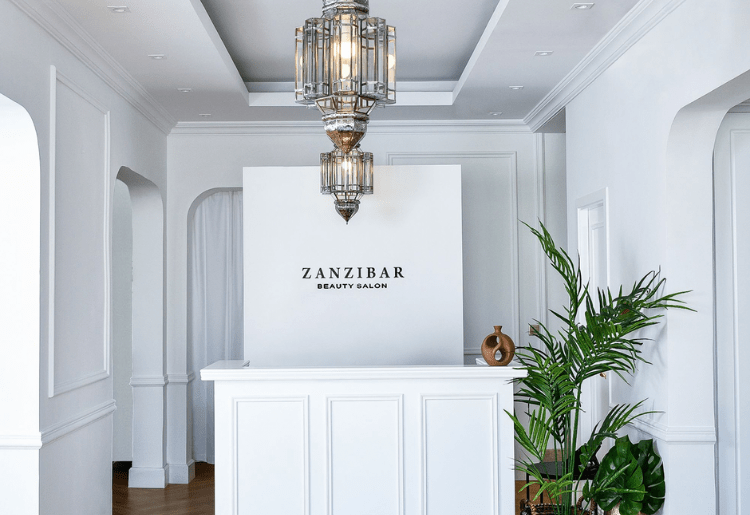 FOLLOW US ON OUR SOCIALS