This 5 Litre mug of coffee is my interpretation of what the doctor means when he says to "cut my caffeine down to just one cup a day" Like of course doctor, I know exactly where to go to get my daily fix. We tried out the UAE's biggest Croissant & Cappuccino at The Bohox on Sheikh Mohammed Blvd and here is everything we thought about it and everything you need to know about it.
Also read: Dubai: 10 Restaurants That Sheikh Mohammed & Sheikh Hamdan Have Visited
How Big Is The Biggest Cappuccino and Croissant You Ask?
Well if you didn't already know this, a regular croissant is around 20cm long (or 9 inches for those of you who are metric system impaired… juts kidding we love you too, but seriously get with the rest of the world) but The Bohox's extra large croissant is over 4 times bigger than that at a whopping 90cm in length (35 inches). That's definitely more than enough bread for one person.
If you thought that was a lot wait till you hear how much bigger the Bohox extra large cappuccino is compared to a regular sized one. In a standard cup of coffee you'll find around 177ml (equivalent to 6 ounces) but The Bohox said no thank you that is way too small for us. So what they did is take 28 cups of coffee, put it in gigantic mug and woe and behold we now have a 5 Litre cup of coffee right here in Dubai for us to enjoy. Pair these two together and we would definitely call that a match made in heaven.
Also read: 12 Saturday Brunches In Dubai To Gorge On With Your Friends & Family ; Good Vibes Guaranteed!
So What Did We Think?
Truly nothing can prepare you to see a ginormous cup of coffee and croissant come towards you, and know that its all for you to consume. But I do not regret a single bite of that croissant or sip of that coffee. All 90cm were simply delicious, the croissant was soft and flakey but still had a nice crunchy bite to it and tasted like buttery goodness.
Also read: 10 Apps That Can Save You Big Bucks While Dining Out In Dubai
The coffee was brought back the life in my eyes after the first sip and i couldn't stop myself from drinking as much as I could. And I know what you all must be thinking, isn't that way too much coffee for just one person? Yes you're right but thats exactly why this is also the first cup of coffee that all of you and your friends can share. You simply have to pour out the hot hot coffee into everyone cup, sit back, relax, and enjoy a nice summer afternoon again.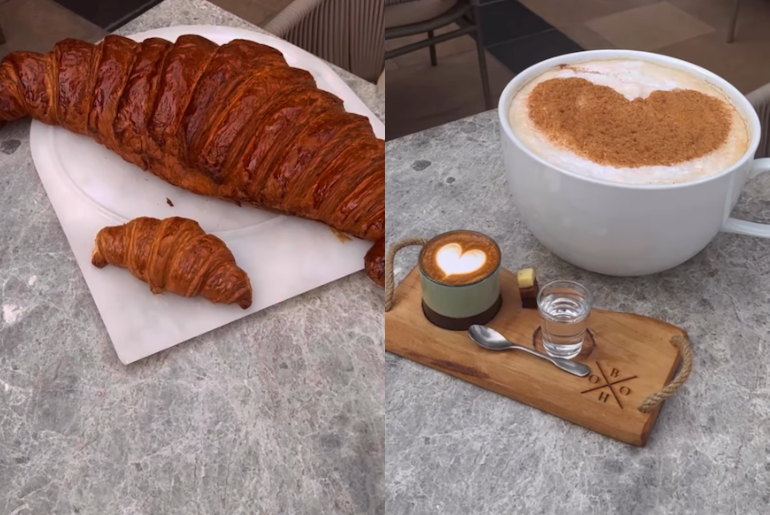 Just like us you'll definitely enjoy this experience. And if you are planning on coming down to try out these extra large delights you have to contact The Bohox and let them know two days in advance.
Need To Know Deets About The XL Delights at The Bohox
Location: Mohammed Bin Rashid Boulevard G floor – Sheik – 55 Sheikh Mohammed bin Rashid Blvd
Timing: Daily 9am to 1am
Price: AED 340
Contact: +97152 103 2646
Instagram: @thebohox
You may also like: Dubai: 28 Dazzling Date Spots: The Best Places For All Budgets