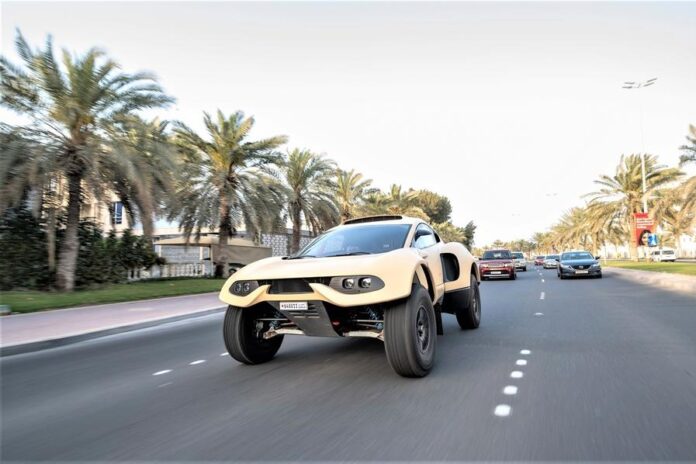 Hey, so do you have a casual AED 5 million just lying around? Well, we've got an idea for you 😀 The world's first all terrain hypercar is making its debut in Dubai in the UAE from 7th – 9th November and prospective buyers will get an exclusive chance to test drive the vehicle when it is unveiled next month.
What Is A Hypercar & What's The Big Deal About It?
The Prodrive Hunter a 600 bhp, four-wheel drive all-terrain adventure vehicle with an ability to scale any landscape. So think dunes, desert sand or just rocky mountains! Oh, and the car will be capable of accelerating from 0-100 kph in less than four seconds, with a top speed of nearly 300 kph.
The car was conceptualised out of the Bahrain Raid Xtreme competition car driven by nine-time World Champion, Sebastien Loeb. In fact, the Hunter is even more extreme than that driven by Loeb, with a 50% increase in power from the 3.5 litre V6 twin turbo engine and more suspension travel to absorb the harshest of terrain.
Prodrive's chairman, David Richards, said: "There are numerous hypercars on the market, however they all need good roads or even race tracks to show their performance. We identified that in certain parts of the world, particularly the Middle East, there are vast expanses still to be explored that go way beyond the access provided by asphalt roads. Therefore why not create a vehicle that gives the opportunity to explore these regions with performance way beyond that offered by any off-road vehicle before."
When Will The Hypercar Be Available In Dubai?
Prodrive is building only a limited number of Hunters in the UK. They will also be creating models to the individual specifications of select super car enthusiasts. Interested buyers will be invited for exclusive test drives in Dubai.
Date: 7-9 November
"We wanted to give serious supercar lovers a unique opportunity to experience the Hunter's performance, alongside a two-times Dakar winner whose input has been important to its development" said Prodrive chairman, David Richards.
"The UAE is a priority market for the Hunter in view of the many luxury car collectors in the country, as well as its mix of beautiful desert terrain, and world-class road systems, where the Hunter is in its element".
"For those who want to explore some of the world's most spectacular desert landscape, it delivers far superior performance and capability compared with other all-terrain vehicles.
"Equally, it has the comfort and style of a luxury road car, making it a joy to drive on the UAE's world-class network of roads and highways, and a head-turner in city traffic."