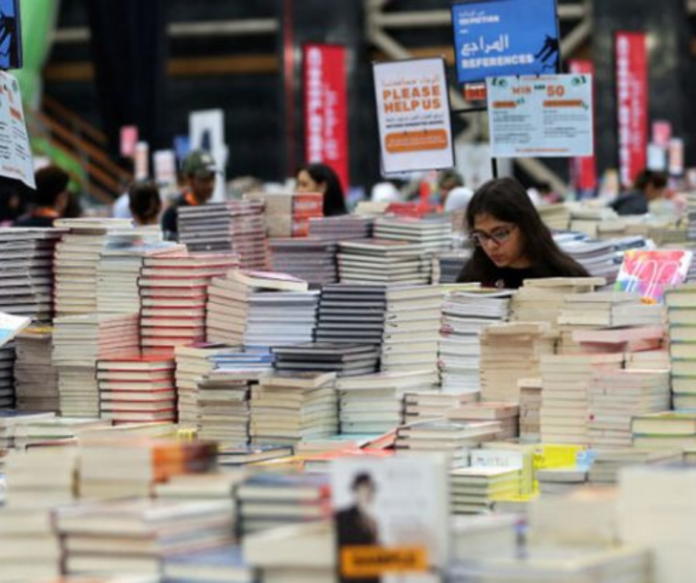 Ladies and gentlemen, get ready to mark your calendars because the Big Bad Wolf book sale is coming back to Dubai, and it's going to be bigger and better than ever before! Book lovers, this is the event you've been waiting for, and trust us, you won't want to miss it.
Also read: Things to Do In & Near Dubai In March 2023: Food, Concerts, Markets, Kids Activities – Across All Budgets
Big Bad Wolf Is Back In Dubai
Thanks to a partnership with Sharjah Book Authority (SBA), the world's biggest book sale is set to take place for 10 glorious days from April 7 – April 16 (previously Friday, March 31 to April 9, 2023) at Sound Stages in Dubai Studio City. Yes, you read that right, ten whole days of book heaven!
The venue will be packed with over a million books, with an impressive range of genres and languages to choose from, including English, Arabic, French, and many more. Whether you're a history buff, science fiction fanatic, or just love a good biography, there's bound to be something for everyone. And the best part? There's no entry fee, so you'll have more money to spend on the books you love.
Also read: Iftar Guide 2023 – Best Places To Break Your Fast In Dubai & Abu Dhabi This Ramadan
Prices At Big Bad Wolf Dubai
Now, we know you're wondering about the prices, and trust us, they won't disappoint. In previous years, readers were able to bag books for as low as AED 4.99. That's right, you heard it here first, folks. The books are incredibly affordable, and you'll definitely want to clear some space on your bookshelf for your new purchases.
But it's not just for book lovers, if you have a friend who loves to read, this is the perfect place to pick up a thoughtful gift. And trust us, your friends will be blown away by your excellent taste.
Also read: 12 Saturday Brunches In Dubai To Gorge On With Your Friends & Family

6 Tips To Make The Most Out Of The Big Bad Wolf Book Sale
With one million books up for grabs, the sale is a haven for book lovers, but the sheer number of options can be daunting. Here are some tips to help you make the most of your visit:
1. Comfortable Shoes are a Must
With a million books waiting for you, you need to be comfortable to explore. Wear your most comfortable shoes to ensure you can last the distance and have a stress-free shopping experience.
2. Scrap the Booklist
While it's tempting to come with a list of books you're looking for, the Big Bad Wolf Book Sale recommends ditching it. By creating a list, you could end up missing out on other books you may like. Keep an open mind and be ready to explore.
3. Take Time to Explore
With a million books on offer, you need to give yourself time to explore the wide variety of genres and authors. You may even discover something new, and at these prices, you can afford to experiment.
Also read: 4 Dubai Ramadan Markets 2023 In The UAE That You Must Visit
4. Choose Your Visit Time Wisely
With the excitement around the Big Bad Wolf Book Sale, expect large crowds, especially after work hours. If you need space, plan your visit accordingly. The venue is open until 2 am, so you can visit in the morning or at night when the crowds should be significantly less.
5. Make Repeated Visits
With a million books, you can't see everything in just one visit. Plan to make multiple visits to fully explore and discover what the sale has to offer. Plus, multiple visits give you more time to browse, and you might even come away with more goodies for your bookshelf.
6. Plan How You Get Home
When visiting the Big Bad Wolf Book Sale, it's essential to come prepared. With deals ranging from 50 to 80 per cent off, it's easy to get carried away and end up with a lot more books than you anticipated. So, bring along a trolley bag to help carry your new literary treasures home.

Big Bad Wolf Quick Details
Dates: April 7 to April 16, 2023
Location: Sound Stages in Dubai Studio City
Timings: 9am to 2am (the following day)
Cost: Free Entry
The Big Bad Wolf Book Sale in Dubai is a fantastic opportunity for book lovers to expand their collection, discover new authors and genres, and grab a bargain. By keeping these tips in mind, you can make the most of your visit and enjoy a stress-free shopping experience. Don't skip any information, follow these tips, and you're sure to have a successful visit to the Big Bad Wolf Book Sale.