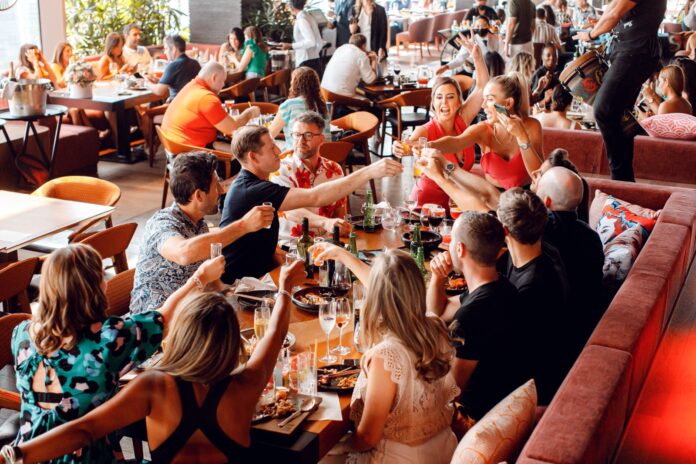 Among the many things that make Dubai unique is its love for brunches, especially on Saturdays. The city has a rich culture of indulging in lavish weekend brunches, where residents and visitors alike gather with friends and family to unwind and feast on delectable dishes. From stunning waterfront views to chic rooftop venues, Dubai has no shortage of fabulous brunch spots that promise to tantalize your taste buds and delight your senses. If you're a brunch enthusiast or simply looking to try something new and exciting, join us as we explore the best Saturday brunches in Dubai!
Also read: Things to Do In & Near Dubai In March 2023: Food, Concerts, Markets, Kids Activities – Across All Budgets
1. Nōh Drama Brunch At TABŪ by Secret Parties
The mysterious TABŪ has relaunched their elevated enigmatic brunch complete with five-star food, impressive live entertainment, and free-flowing beverages. To kick off the weekend, the venue will not only serve guests with Japanese cuisine of dreams but will also put on a show like never seen before every Saturday afternoon, from 2pm till 6pm, with an after-party at The Other Side till late.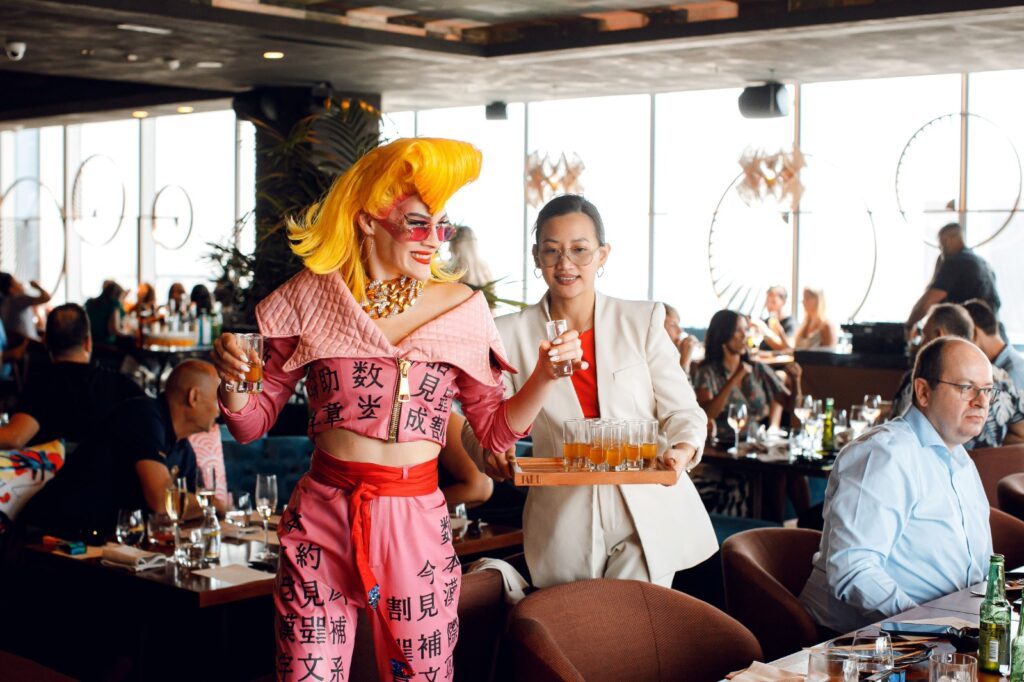 Chef Roberto treats guests to an array of exquisite Japanese dishes, curated by his expert culinary team. Entertainment takes an immersive, dramatic form, with performers such as large Sumo wrestlers or beautifully elegant geishas roaming the venue, enacting a story in intervals. Adding to the entertainment will be a live percussionist and dancers, who will keep the energies high for the afternoon. Guests can keep the party going at the after-party with four house drinks for AED 150 or four cocktails for AED 250.
When: Saturdays, 2pm till 6pm; After-party till late at The Other Side
Price: Non-alcoholic beverages – AED 329; House beverages – AED 399; Premium beverages – AED 499; Champagne – AED 699
Where: TABŪ, 23 rd Floor, St. Regis Downtown
Bookings: +971 4 4569 455; +971 52 950 1309; reservations@tabudubai.com
2. Bavarian Feast At Ernst
Guests can expect a cultural experience as they spend their Saturday afternoon, from 12pm to 4pm at Ernst. It most definitely involves grooving to live entertainment,
dining their incredible brunch menu inclusive of a charcuterie board to start with served at every table, followed by their already famous pork knuckle and sausages served buffet-style, and washing it all down with their choice of free-flowing drinks. A sweet ending follows – apple strudel with ice cream and kaiserschmarn apple sauce and berry compote will be served.
When: Saturdays, 12pm till 4pm
Price: Soft drinks – AED200; House spirits, bottled brews, red and white grape – AED300;
Draught and bubbly package including Paulaner on draught, house spirits, bottled brews, red and white vino – AED400
Where: Ernst Biergarten & Wirtshaus, 25hours Hotel One Central
Booking: +971 4 210 2511; dubai@ernstbiergarten.com
Also read: Check Out These All-You-Can-Eat Offers In Sharjah Under AED 45
3. La Bruncheria At La Mezcaleria
La Mezcaleria's new Saturday brunch – La Bruncheria – is set to reign supreme with an incomparable atmosphere, lip-smacking food and delectable cocktails that are guaranteed showstoppers. The vast menu includes delicious items such as California rolls, beef sliders, salmon tacos, chicken or cheese quesadillas, tenderloin, grilled chicken, seabass, Nutella cheesecake and tiramisu.
After party carries the party on till 8pm, starting from either 5pm or 6pm, and offers free-flow packages.
When: Saturdays, 1 till 5pm; After-party till 8pm
Price: Non-alcoholic beverages – AED 250; Grape and hops – AED 330; House beverages –
AED 395; House beverages and premium spirits – AED 490; After-party – AED 230 (two hours, 6pm-8pm), AED 280 (three hours, 5pm-8pm)
Where: La Mezcaleria, Pavilion, The Beach & La Mezcaleria Downtown, Anantara Downtown
Booking: +971 50 423 4044 (Pavilion); +971 4 582 8849 (Downtown)
4. Puka Puka Brunch At Trader Vic's
Experience a Tahitian holiday in one afternoon with Trader Vic's newest brunch
offering, Puka Puka Brunch! Available to enjoy only at Hilton Dubai Palm Jumeirah, guests are treated to the best Trader Vic's has to offer – from food and drink to entertainment and service.
It's one for the whole family! Guests can indulge to their heart's content in delicious Polynesian- inspired cuisine, including a range of their best-selling dishes (Crab Rangoon, anyone?), while sipping on the smoothest potions offered on the island.
When: Saturdays, 1pm till 4pm
Price: AED 150 – Children's package; AED 350 – Soft package; AED 499 – House package;
AED 599 – Bubbly and Sparkling package
Where: Trader Vic's, Hilton Dubai Palm Jumeirah
Booking: restaurant.palm@hilton.com; +971 4 230 0000
5. All-American Brunch At Claw BBQ
It's not a party if it's not at CLAW BBQ! The famed American dive bar and crabshack is inviting guests to their outpost in Hilton Dubai Palm Jumeirah, to say "howdy!" and get rowdy at their All American Brunch! Expect their mouthwatering selections of abundant
American fare, and free-flowing drinks starting from AED 199. They promise the liveliest brunch, with games galore and a wild, mechanical bull to conquer!
The party continues with an amazing happy hour till 6pm, with selected drinks at irresistible prices.
When: Saturdays, Brunch – 12:30pm till 4pm, Happy hour – 4pm till 6pm
Price: AED 199 – Soft beverages; AED 299 – House beverages; AED 399 – Premium
beverages
Where: CLAW BBQ, Hilton Dubai Palm Jumeirah
Booking: restaurant.palm@hilton.com; +971 4 230 0054
Also read: Iftar Guide 2023 – Best Places To Break Your Fast In Dubai & Abu Dhabi This Ramadan
6. Wonderland Brunch At Atelier M
Atelier M launches a new brunch in their stylish lounge and rooftop, at the top of Pier 7. Wonderland Brunch, which takes place every Saturday from 2pm to 5pm, features a diverse range of sharing platters to feast on, a DJ to have guests grooving to a miscellaneous collection of genres, complete with popular hits and new sounds, and of course free-flowing beverages.
When: Saturdays, 2pm to 5pm
Price: AED 199 – Soft Drinks; AED 299 – House Package; AED 349 – Bubbly Package
Where: Atelier M, Pier 7, Dubai Marina
Booking: +971 4 450 7766; info@atelierm.ae
7. Big Saturday BBQ At Garden On 8
Why experiment with Saturday brunch when you've got a trusted favourite like garden on 8 hosting a grand BBQ brunch every week? Guests can expect meat galore at this newly launched brunch at garden on 8, with a special pork menu being served too.
Dishes include Pulled Pork Taco, Beef Skewer, Lamb Chorizo, Herb Marinated Potato, Green
Peas Gratin, and more. The loved venue will also be serving a delicious suckling pig, along with Toulouse Sausage and Pork Chorizo. Desserts include Caramel Crunch Apple Mousse, Marble Oreo Cheesecake, and Mandarin Baba Rhum. Head over to Dubai's favourite pub at Media One Hotel every Saturday.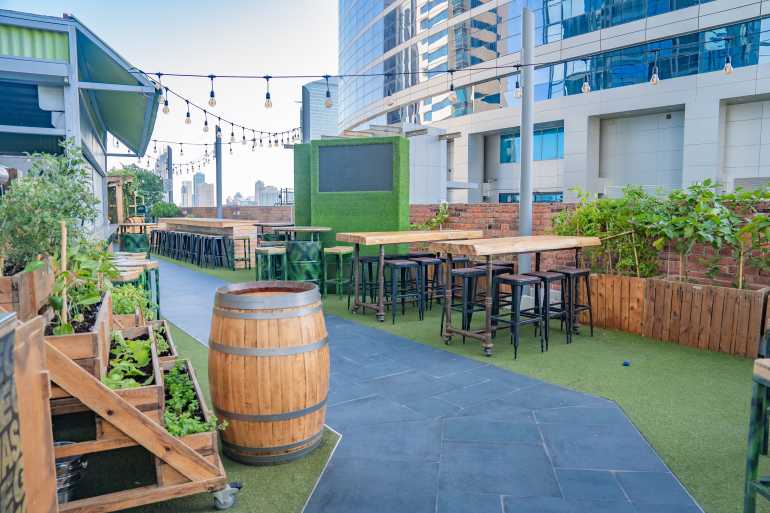 When: Saturdays, 1pm till 4pm
Price: AED 299 – Buffet with house beverages & cocktails; AED 349 – Buffet with premium beverages & bubbly
Where: garden on 8, Media One Hotel, Dubai Media City
Booking: +971 4 427 1000 ; gardenon8@mediaonehotel.com
8. Secret Jungle Brunch At Mama Zonia
A Secret Jungle has been found in the stunning Mama Zonia, in the heart of Dubai Marina, where wild and wonderful creatures reside. Enjoy unlimited drinks and lavish spreads of food to kick the weekend off.
When:
Saturdays, Brunch – 1pm to 4:30pm; Afterparty – 4:30pm to 6:30pm
Price:
AED 299 – Soft Drinks; AED 425 – House; AED 525 – Sparkling & Premium Wine; AED 745 – Champagne; AED 150 – After brunch package (4 house beverages)
Where:
Mama Zonia, Pier 7, Dubai Marina
9. Naughty Noodles Brunch At Maiden Shanghai
Indulge in a premium brunch experience at one of Dubai's hottest rooftop venues, Maiden Shanghai at FIVE Palm Jumeirah. Taste the flavours of Asia, made and plated with utmost perfection, and delight in some of the best views of the Marina and JBR. Secret Parties takes the brunch experience to a new level with dazzling live entertainment including dancers, drummers, a saxophonist, and more.
When: Every Saturday, Brunch: 1pm – 4pm; After-party: 4pm – 8pm
Price: AED 350 – Soft Drinks Package; AED 450 – House Package; AED 500 – Premium
Package; After-party: AED 120 – 3 house beverages
Where: Maiden Shanghai, FIVE Palm Jumeirah
10. Nomad Brunch At Five JVC
Party all day and all night with Secret Parties and FIVE JVC! At Nomad Brunch, guests enjoy the flavours of the world alongside pool access and free-flowing beverages. With a purchase of a brunch package, guests also enjoy a complimentary ticket to Bohemia by Beach by FIVE, along with complimentary shuttle access, where they can continue the party into the night!
When: Every Saturday, Brunch: 1pm – 4pm; Afterparty: 4pm – 7pm
Price: AED 349 – House Package; AED 399 – Sparkling; AED 5,000 – Private Jacuzzi
(minimum spend, packages included); Afterparty – AED 100 – 3 selected house beverages
Where: Soul Street, FIVE Jumeirah Village Circle
Booking: www.secret-parties.com
11. Secret Wonderland Brunch To Tesoro & Treehouse
Brunch fans can head to Tesoro & Treehouse, the abundant lounge and terrace where the legendary party makers, Secret Parties, will ensure each guest is looked after in every regard. Sipping on craft cocktails, indulging in gourmet Mediterr-Asian cuisine, basking in the glittering views of the city skylines, and being serenaded by the dancers, drummers and entertainment on site, guests can start their weekend in style.
When: Saturdays, Brunch: 1pm – 4:30pm; Afterparty: 4:30pm – 8pm
Price: AED 329 – Soft Drinks; AED 399 – House Package; AED 449 – Sparkling; AED 150 – 4x selected House beverages OR tables starting from AED 999
Where: Tesoro & Treehouse, Taj Dubai
Booking: www.secret-parties.com
12. Family Fiesta Brunch At Studio One Hotel
Families can have fun, too! LARTE at Studio One Hotel invites the entire family to come down and elevate their weekend with a fun brunch. Three courses of gourmet Italian dishes and free-flowing beverages for three hours makes this brunch unmissable. Kids are treated to face painting and buddying it up with their mascot and get free access to the pool and games room, so parents can indulge and enjoy without a worry.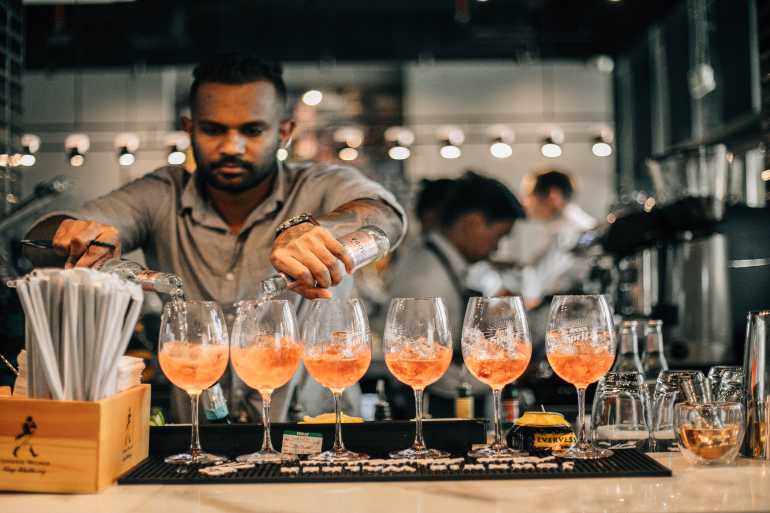 When: Saturdays, 1pm to 4pm
Price: AED 699 – Family package (2 adult house packages and 2 kids under 12); AED 175 – Adult soft package; AED 299 – Adult house drinks package; AED 75 – under 12s
Location: LARTE, Studio One Hotel
Reservations: +971 4 5816870; ciao@studioonehotel.com