It's no secret that women have to juggle many responsibilities every day, from taking care of children, working full time jobs and simultaneously managing the household. However, what's not often talked about is the toll that these tasks take on their sleep patterns. Traditional roles require women to wake up early, which can change their circadian rhythm and disrupt their sleep cycle. As a result, women are missing out on essential sleep, despite doing the same, if not more, work than men. 
Also read: Things to Do In & Near Dubai In March 2023: Food, Concerts, Markets, Kids Activities – Across All Budgets
Sleep – A Chronic Problem Through Time
Women are chronically sleep-deprived because of their work obligations. They're taking care of children, helping them with homework, working full-time jobs and participating more in household chores. In fact, studies show that women get 7,300 minutes of less sleep every year compared to men. This is a significant problem as lack of sleep can have severe consequences for their health and well-being.
The Consequences of Sleep Deprivation
Did you know that depression and insomnia are higher in women due to lack of sleep? Women need good quality sleep to maintain their mental health. It's a known fact that sleep is critical to our physical and mental health. Without enough of it, we can't function at our best. Yet, women are sacrificing their sleep for their family and responsibilities, which ultimately takes a toll on their health.
Also read: Iftar Guide 2023 – Best Places To Break Your Fast In Dubai & Abu Dhabi This Ramadan
How Can WE Help?
We need to address this issue and support women in getting the rest they need. Sleepwell aims to bring attention to this issue and encourage women to prioritize their sleep and you can do your part for the woman in your life (or for yourself). Do your bit to champion the cause of quality sleep for women and highlight the lack of equity in the current system.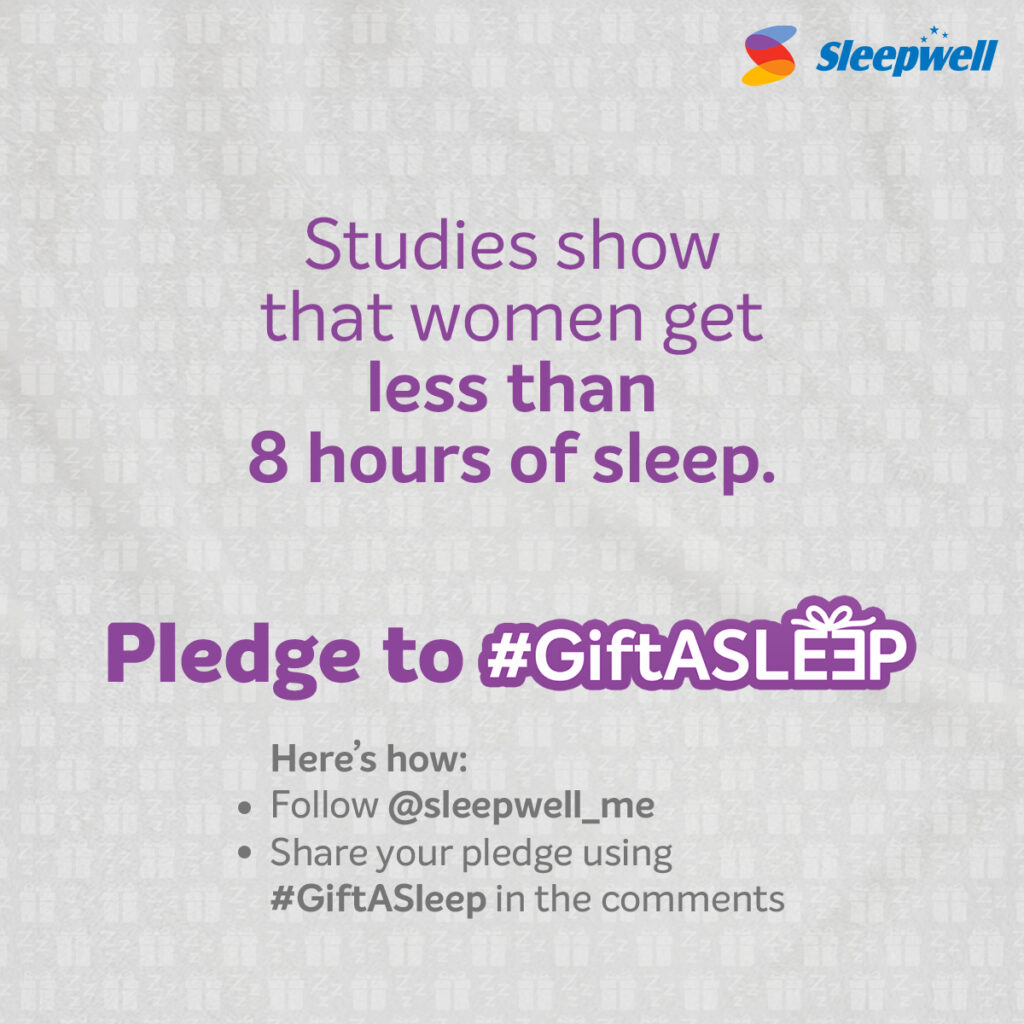 Here's a simple guide on how you can do it:
Step 1:
Head to their post
Step 2:
Read the stats and participate by taking a pledge in the comments section to prioritize women into getting their beauty sleep.
Step 3:
Sleepwell will send a unique 20% discount code via DM
It's time for us to acknowledge the work women do and support them in getting the rest they need. Join us in our campaign to #GiftASleep to women everywhere. Together, we can make a difference and bring about positive change.