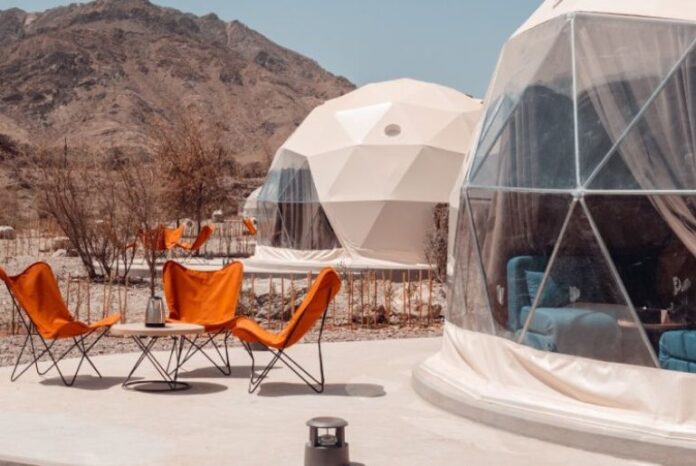 Get ready to visit the family friendly Hatta Resorts which is back in action. There are a variety of options like staying in a trailer hotel or the iconic Hatta Domes. You can also visit Hatta Wadi Hub for some extreme sports and adventurous activities.
Guests can expect the similar fantastic activities (ziplines, kayaking, horseback riding, and paragliding) that brought a remarkable 1.25 million tourists last year. They are planning to introduce new adventure rope activity for kids and adults. Nature lovers can go horseback riding or camel riding, while sports enthusiasts can get their adrenaline pumping with pedal boating, archery, and even four-wheel biking.
The water slides will be enjoyable for the entire family, and  soothing yoga sessions at sunrise or sunset will also be provided.
You can also stay overnight in fully furnished campervans or glamping domes and enjoy a dinner at the resort. Sedr Trailers at Hatta Resorts are adorable trailers unlike anything you'll find in the UAE, Damani Lodges at Hatta Resorts are secluded within the mountains. Caravans at Hatta Resorts are ideal for families who aren't quite ready to embrace full-on camping; and our favorite, the Domes at Hatta Resorts are igloo-like tents with incredible views. Wild Café, as well as locally owned food trucks Damani Bites, Sedr Bites, and Taste of Hatta, can be found here. Overnight guests can enjoy a complimentary, substantial breakfast.
If an independent stay is required , it can happen too by pitching your tent and with access to all facilities on site.
Deets :
Time : Open daily 7am-10pm,
Month: Sep-May.
Register : hattawadihubtickets.com
FOLLOW US ON OUR SOCIALS