talabat UAE partnered with Dubai Department of Economy and Tourism as part of Dubai Fitness Challenge (DFC) during the flagship fitness initiative's sixth edition to organise weekly yoga and mindfulness sessions for delivery riders. The sessions are led by Dubai-based yoga and meditation instructors Manish Pole and Samaneh Mojaveri and are taking place every Friday until the end of November at talabat's headquarters in Dubai, benefiting over 80 riders per week.
Also read: UAE-India Passport Rules Changed With Immediate Effect ; Make Sure Your Passport Has This!
talabat Organises Yoga & Mindfulness Initiative For Its Riders
Through this collaboration, talabat aims to encourage riders to incorporate 30 minutes of workout and meditation in their day to enhance their well-being and safety, on and off the roads. In addition to the weekly yoga sessions, talabat is organising football and cricket sessions during the month of November to offer riders other sports and fitness activities they can participate in.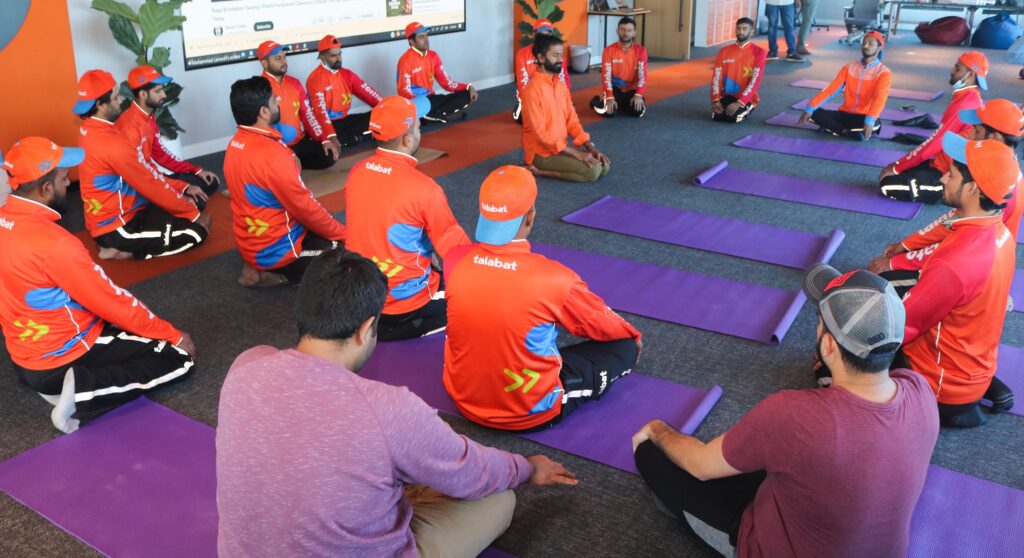 Tatiana Rahal, Managing Director, talabat UAE, commented: "Even 30 minutes of daily
workout and meditation can increase fitness and concentration levels. I am a firm believer that a healthy mind starts with a healthy body and I am glad to be able to support Dubai's 30×30 fitness challenge by encouraging our riders to realize the benefits of exercise in improving their physical and mental well-being, as well as their focus on the roads. This reiterates the importance of road safety in our agenda and is one of several rider initiatives we launched this year to enhance our riders' overall experience. Remember that road safety starts with each and every one of us."
Also read: UAE Announces Mandatory Unemployment Insurance From 2023 ; Get Compensation Up To AED 20000
Samaneh Mojaveri, Yoga and Meditation Instructor commented: "Yoga is a great way to
work through the body to strengthen and deepen the mind-body connection and I have the
pleasure of sharing my learnings with talabat's riders, who have become an integral part of the community. We start the session with simple stretching exercises that riders can do daily, followed by 'Pranayama', a meditation practice that focuses on refining breathing ability and awareness and 'Yoga Nidra' to cultivate a state of deep physical and emotional relaxation, all of which work on increasing mental focus if practiced regularly."