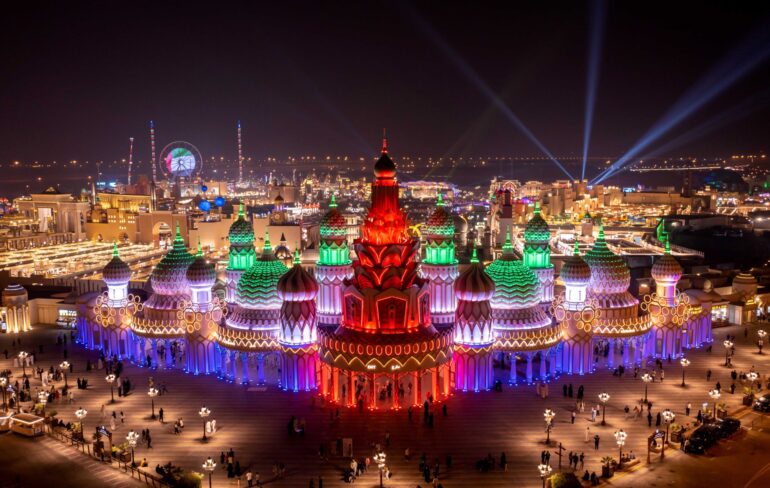 Global Village, is gearing up for the 51st UAE National Day with guests able to enjoy spectacular musical performances, along with themed activities and entertainment, starting from December 1 to December 4.
Four-day National Day celebrations At Global Village
Global Village guests will be able to enjoy a special orchestra made up of 33 talented musicians who will be performing a selection of traditional songs on the main stage, including the national anthem Ishy Bilady. A violinist and harpist will also be performing a selection of popular Emirati songs to commemorate the UAE National Day celebrations.
Also read: Everything You Need To Know About Global Village Season 27 This Year ; Tickets, Pavilions, Food, Parking & New Attractions
Live Performances
Alongside these performances and showcasing the spirit of tolerance of the UAE, the main stage will host a range of cultural shows from the 27 pavilions represented at Global Village.
National Day Colours
Celebrating National Day under the theme "Brighter Together" Global Village will be adorned in the colours of the UAE flag, Celebration Walk's arches will be decorated with the verses of the national anthem and the main entrance gates and the Carnaval lit up with a special National
Also read: Global Village Announces Culinary Line-Up; Includes 50+ New Dining Concepts
Day light display
Each evening at 9pm a spectacular fireworks display will also light up the Dubai skies with the colours of the UAE flag.
UAE Memoribilia
Guests can also pick up National Day memorabilia from the UAE, Al Sana and Khalifa Foundation pavilions as well as dine at the traditional food outlets across Global Village, which is a great place for families to enjoy the long weekend celebrations in style.
Muhannad Ishaq, Senior Manager, Guest Relations at Global Village said, "As UAE's
home-grown entertainment brand, we are excited to be hosting a great line-up of activities on National Day and to provide a venue for families and friends to come together and celebrate our great nation. Global Village is a place where people of diverse cultural backgrounds from all over the world come together which is a key part of what makes up the Emirates unique global identity. We are proud to live in this country and highlight its heritage and traditions. Our National Day line-up is designed to celebrate our country and all that it has to offer. From the musical extravaganzas and firework spectaculars, we are looking forward to delivering great experiences as we collectively aspire to a more wonderful world."
Also read: New Attraction Alert! Global Village Launches Brand New Outdoor Snowfest Ice Rink
How To Get To Global Village?
There are multiple convenient ways to get to global Village. The RTA Announced 4 Bus Routes To Global Village At Just AED 10.
Details Of The 4 Bus Routes To Global Village
Bus 102 from Rashidiya Metro Station
Price: AED 10
Bus 103 from Union Metro Station, passing through Al Rebat Street
Price: AED 10
Bus 104 from Ghubaiba Bus Station passing through Al Jafiliya Metro Station.
Price: AED 10
Bus 106 from Mall of Emirates Metro Station passing through Al Barsha A2, Al Barsha Lulu Supermarket, Dubai American Academy 2, Classic Crystal 2 and Al Quoz, Clinical Pathology Services 2
Price: AED 10
The service runs from 3.15pm – 11.15pm daily, with 30 minutes of travel time. All the buses will be deluxe volvos, with stringent health measures onboard and at stations to safeguard against the spread of COVID-19 amongst riders, drivers and staff.
Not only this, but the RTA has also approved plans to operate three electric Abras inside Global Village. How cool is that!
1. By Private Car:
Global Village is situated on two of Dubai's major highways. There are over 20,000 parking spots & it is divided into 3 zones:
General Parking
Area P1 – P12 (Free of Charge)
VIP Parking
Area 1 & 2 (Weekdays & weekends: AED 200 per day)
Premium Parking
15 minutes and below (AED 10)
16 minutes or full-day (AED 100)
2. By Taxi/Rickshaw:
You can get a rickshaw from the parking @AED 5 per person to the entry gate. The Global Village rickshaw services will be running with additional sanitation protocols.
You can book an UBER/Careem or an RTA taxi. Standard rates apply. Careem is currently running offers for Global Village.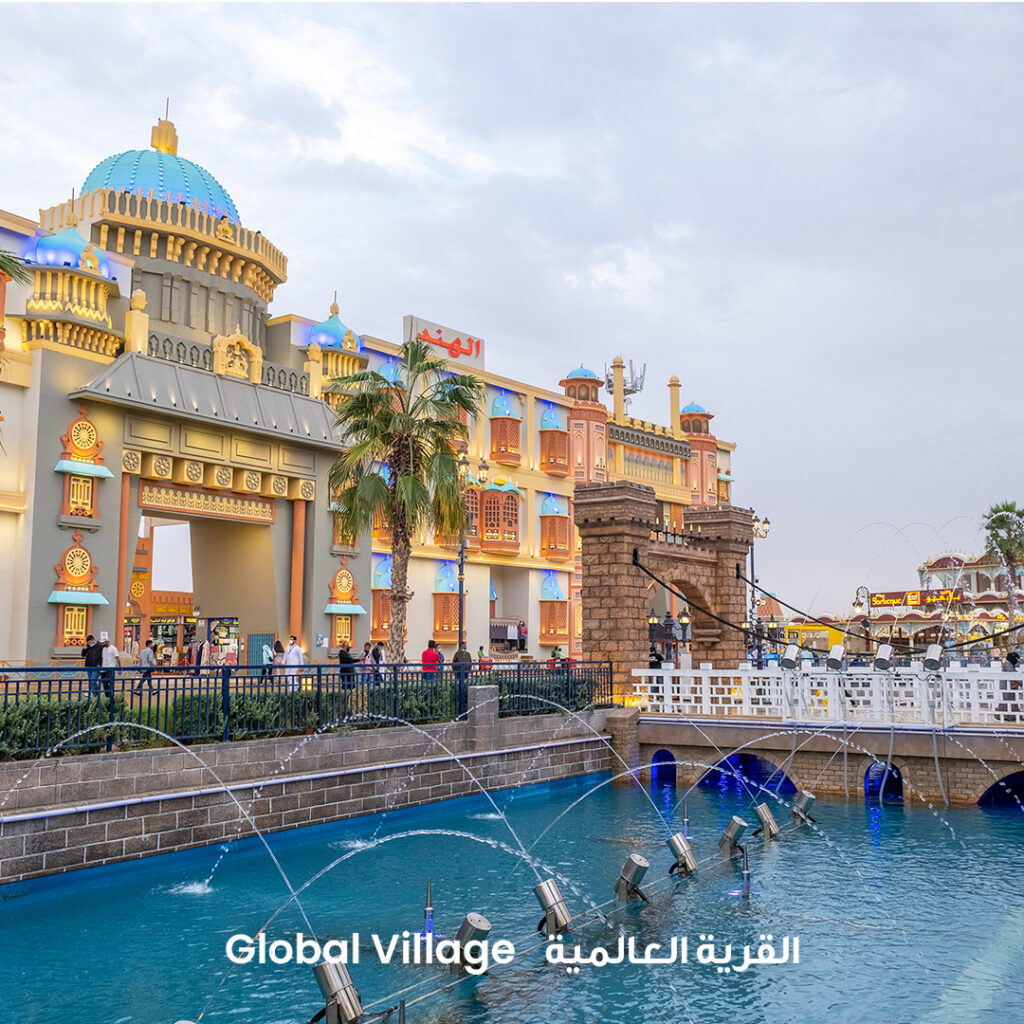 Global Village Address & Timings
Address:
Sheikh Mohamed Bin Zayed Road and Emirates Road – Exit 37 – E311 – Dubai – United Arab Emirates
Park timings:
Sunday- Wednesday: 4:00pm – 12:00am
Thursday – Saturday: 4:00pm – 1:00am
Tuesdays are reserved exclusively for ladies and families, except on official public holidays and opening day (25th October, 2022).
Global Village Season 27 Ticket Prices
The park entry starts at as low as AED 18 per person