Café Isan, which is Dubai's most authentic Thai street food and tea bar restaurant is back with something exciting in light of the ongoing pandemic struggles, Café Isan's fifth birthday and the desire to help people pursue their dreams. The buzzing JLT joint is launching a micro franchise scheme, which will help all those who qualify will be ready to operate Thai street food cart – at a location of their choice to be proposed during the application process. No prior cooking experience is required as Chef New will fully train all successful applicants.
Co-founder Chef New explains: "After starting my venture, accidentally in way over a decade ago and with just AED200 I found what I love to do and I'm so grateful I've been able to make a living from my passion." "So, it's a great time to give something back. We've decided to help people who also have a dream of running their own food business, by offering them the chance to run their own Café Isan cart – with our help and guidance – starting with just AED200 as I did."
The initial cart is being piloted with Bradley DeVries, a Café Isan regular who lost his job due to the pandemic.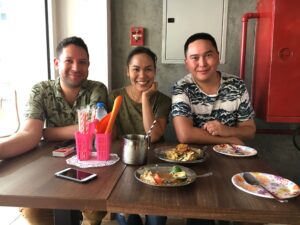 He says: "Once a devoted customer and now part of the team. I lost my job due to the pandemic and I'm ecstatic at the opportunity given to me by Café Isan. I'm honoured to be the first vendor."
Co-Founder Lisa Knight explains: "We're looking for passionate people with drive, ambition a solid work ethic and a little business acumen – but most of all, we want to help some of our most entrepreneurial customers who first and foremost, love Thai food, and secondly, have perhaps fallen on tough times as a result of the pandemic. Those with space, such as retail site owners – where one of our carts might fit are asked to get in touch, as we'd love to place carts where they are needed, and even help bring new customers to some different places across Dubai."
Café Isan is calling on property and landowners to offer a vending space to these new entrepreneurs. All the applicants must send an application to the Café Isan team for the selection process. Café Isan will provide with all the ingredients for the cart, that are, sauces, centralised kitchen etc. Vendors will receive professional train from Chef New along with the chance for the highest-performing food cart annually to win a trip to Thailand's Isan region.
Initial concepts for the carts include:
Tea Bar – No cooking experience required (Dairy & Vegan)
Mango Sticky Rice Cart – No cooking experience required (Vegan)
Som Tum Station – Some cooking experience required (Vegan, Veg)
Snack food Cart* – No cooking experience required (Vegan, Veg, Shrimp) – *with a vegan, or mixed cart option
Tom Yum Soup Cart – Some cooking experience required (Seafood)
Satay Station – Minimal cooking experience required (Chicken)
Visit teamcafeisan.co for more information.
Facebook | Instagram | Youtube