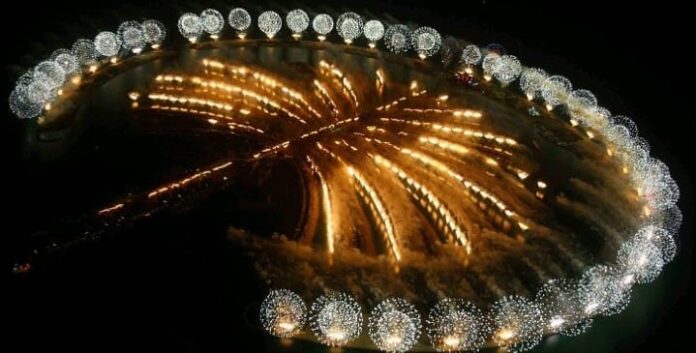 Just a few days back, we reported that Atlantis The Royal Opens On 10th February, & Bookings Are Now Open. In the latest update, we've found out that to match its royal opening, massive fireworks will light up Palm Jumeirah for the grand reveal of Atlantis The Royal.
Also read: This Luxury Hotel in Dubai Is Offering A Staycation For Just AED 5 For Limited Time Only
Fireworks To Light Up Palm Jumeirah For Grand Reveal Of Atlantis The Royal This Weekend
Dubai is known for its spectacular fireworks displays, and the upcoming show at the new Atlantis The Royal hotel promises to be a treat for the eyes. The hotel, located on Palm Jumeriah, will host a private event featuring a firework show and a performance by music superstar Beyoncé.
Here's a sneak peek into what Palm Jumeirah looks fully lit up at the Atlantis The Palm opening 13 years ago:
Palm Jumeriah is one of the most iconic landmarks in Dubai and offers stunning views of the Arabian sea. While the event is not open to the public, the pyrotechnics will be visible above Palm Jumeriah and can be enjoyed by anyone. The firework show is expected to begin at 9:45pm and will be followed by a full live concert by Beyoncé, her first in five years.
Also read: There's A New Drunch Deal At The Palm Jumeirah For Just AED 149 Every Saturday
Performances At Atlantis The Royal
The exclusive weekend event will also include performances by Jay Z, chef Nobu, Kendall Jenner, and Swedish House Mafia. This is an opportunity of a lifetime to see some of the biggest names in the entertainment industry come together for one exclusive event.
The hotel will be celebrating its opening with a huge 'Grand Reveal'. As part of the reveal, VIP guests will get to attend & see Beyoncé performing for the first time after 5 years, in a full live concert. The hotel's grand opening is a highly-anticipated event, and the Atlantis The Royal hotel is set to become one of the most sought-after destinations in Dubai.
The exclusive weekend is taking place before the resort opens to guests, and will include a curated itinerary of events and experiences including Swedish House Mafia playing a set. This event is not to be missed and will be an unforgettable experience for all who attend.
Atlantis The Royal hotel in Dubai will officially be open for bookings starting Saturday, March 4, 2023. This is a great opportunity for travelers to be among the first to experience this luxurious hotel and all it has to offer. With its prime location, top-notch amenities, and world-class entertainment, Atlantis The Royal hotel is sure to be a hit among travelers and locals alike.
Here's a sneak peak into Atlantis The Royal in this exclusive video that TIËSTO & Tate McRae Shot For New Single
We cannot wait for this event to take place and for the hotel to officially open for bookings. Dubai is known for its over-the-top events and spectacular fireworks displays, and this upcoming event at the Atlantis The Royal hotel is no exception. So, mark your calendars and get ready to experience one of the most spectacular events in Dubai.