Get ready for a thrilling Oktoberfest celebration at Lock Stock and Barrel (LSB). This October, LSB invites you to immerse yourself in the exhilarating spirit of Oktoberfest This Saturday. They have held Oktoberfest brunches for the entire month, and this Saturday, October 21st, is your last chance to enjoy the German beer festival. Here are all the juicy details you need to know about the brunch!
Also read: Celebrate Oktoberfest In Style At These 6 Places Around Dubai
Savour German Delights & Bottomless Beverages
For their Rixos JBR location you can enjoy brunch From 1:00 pm to 4:00 pm and for their Business Bay location enjoy from 7:00 pm to 10:00 pm. So, this Saturday let LSB will treat you to a fantastic Oktoberfest experience. Picture this: a cornucopia of delicious German dishes, including Wurstl sausages, platters, and apple strudel, ready to delight your taste buds. It's a German feast like no other, right in the heart of Dubai.
Get Down And Groove To Live Music
But that's not all! As you enjoy your Oktoberfest brunch, you'll grove to the electrifying beats of their in-house DJs and musicians. They'll have you dancing in true LSB style while you sip on an incredible selection of Lockdown beverages.
Also read: Abu Dhabi: 14 Places To Celebrate Oktoberfest – Deals From September Till November
The Unmissable Afterparty
Ready to keep the party going? After brunch, the fun doesn't stop. An amazing afterparty awaits you, with fantastic two-for-one offers on selected beverages to keep the celebration at its peak well into your Saturday evening.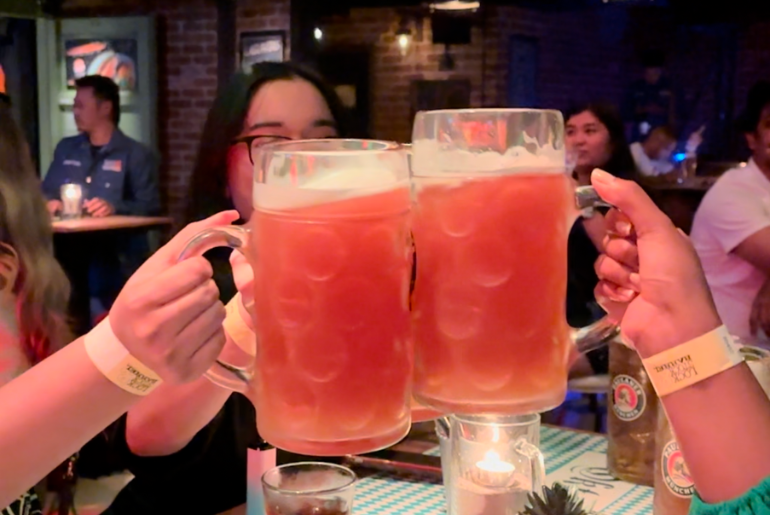 This is a celebration like none other, and you won't want to miss out on the action. Lock Stock and Barrel has got your Saturday covered this weekend, ensuring you have a head-bangin good time with delicious food, refreshing drinks, and top-notch entertainment.
Let's Talk Prices
Prices start at AED 325 for sparkling drinks, AED 275 for house drinks, and AED 225 for soft drinks. For more information, contact Tel: (0)4 423 8307 or check out their website. Don't miss the fun; make sure to save the date: Saturday, October 21st, in any of LSB's select locations.
You may also like: Dubai's Biggest Oktoberfest Celebration Returns To Ernst Biergarten This Month!