Oktoberfest, the iconic Bavarian festival, is making its way to Dubai, and the festivities are kicking off already! This annual celebration originates in Munich, Germany, and is generally celebrated on October 12. Now, Dubai is joining in on the action, offering you the chance to immerse yourself in all things Bavarian, from mouthwatering pretzels to sizzling bratwurst and the finest German hops. So, dust off your dirndls and lederhosen because it's time to celebrate Oktoberfest in Dubai! Here are the best places around Dubai, giving you that fun-filled Oktoberfest experience.
Also read: Abu Dhabi: 14 Places To Celebrate Oktoberfest – Deals From September Till November.
1. Barasti: Oompah and Oktoberfest Eats
From this Thursday, September 21, to Sunday, October 1, Barasti's summer tent will transform into a lively Oktoberfest haven, starting the celebrations of for the rest of Dubai to follow. Picture this: long tables, colourful bunting, Bavarian-inspired dishes, and plenty of German hops. You can even dance on the tables to the sounds of live Oompah bands! The special menu includes delights like obatzda and pretzel, a delectable cheesy delight with homemade pretzel, and currywurst—a marriage of roasted German bratwurst and sweet and sour tomato curry sauce, plus grilled German sausages and apple strudel.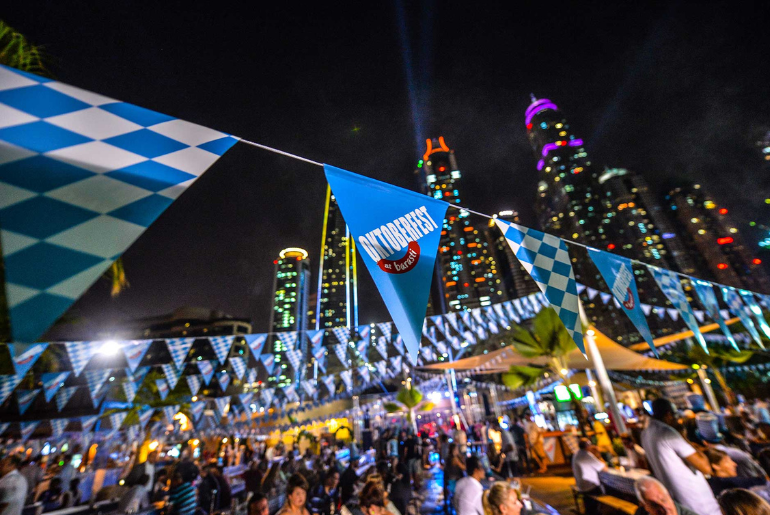 Quick Deets
Location: Le Meridien Mina Seyahi Beach Resort
Timings: From 9am to 3am
Contact: 04 318 1313
2. Ernst Biergarten & Wirsthaus: A Bavarian Extravaganza
Ernst Biergarten & Wirsthaus is going all out for Oktoberfest. From Thursday, September 14, to Friday, October 15, they're hosting Bavarian shenanigans every Thursday, Friday, Saturday, and Sunday. You can catch a live stream of the Munich Oktoberfest on their TVs while enjoying a food package with unlimited roast chicken and suckling pork for just AED 150 per person. Special German hops are being imported for the occasion, and German bands will provide the tunes.
Also read: Dubai's Biggest Oktoberfest Celebration Returns To Ernst Biergarten This Month!
Quick Deets
Location: 25hours Hotel Dubai One Central – Trade Center St – Dubai
Timings: Open from 12 PM–12 AM
Contact: 04 210 2511
3. Grand Hyatt Dubai: Oktoberfest Extravaganza
The Grand Hyatt Dubai is pulling out all the stops for Oktoberfest, which runs from Thursday, October 12, to Friday, October 29. Inside their Grand Oktoberfest Tent, you can enjoy an all-you-can-eat buffet for AED 169 (drinks charged separately) every Thursday, Friday, and Saturday from 7pm to 2am. On Saturdays, there's a Bavarian Family Brunch for AED 249 (soft drinks), AED 349 (house beverages), and AED 125 (kids aged 5-12). It's a month-long Oktoberfest celebration you won't want to miss! Find it on Oud Metha Road at the Grand Hyatt Dubai.
Also read: Dubai Is Hosting 2 Spectacular Fireworks Displays This Weekend To Celebrate KSA's National Day
Quick Deets
Location: Grand Hyatt Dubai Oud Metha Road
Timings: From 7pm-2am
Contact: 04 317 1234
4. 71 Sports Bar: A Taste of Bavaria
For an authentic Oktoberfest experience, head over to 71 Sports Bar. Here, you can indulge in Bavarian delights like half a grilled chicken with German fries (bratkartoffeln) and sauerkraut for just AED 85. If you're craving something heartier, go for the pork schnitzel with cranberry sauce and spaetzle (egg noodles) for AED 95. And if you're in the mood for something quick and delicious, the currywurst is available for AED 55.
Quick Deets
Location: Trump International Golf Club Dubai, Al Hebiah 3rd Street – DAMAC Hills – Dubai
Timings: From 12 pm – 10pm
Contact: 04 245 3988
5. Great British Restaurant: A Month-Long Oktoberfest Celebration
Great British Restaurant is gearing up for a month-long Oktoberfest celebration, starting from Thursday, September 14, to Friday, October 15. The venue will be adorned with rustic decorations, traditional music, and a live DJ. You'll have a wide selection of German and craft hops to choose from, and a special menu featuring classics like schnitzels, sausages, pretzels, and sauerkraut. Join the festivities at Dukes the Palm, A Royal Hideaway Hotel, and raise your glass to Oktoberfest!
Also read: An AED 440 Million Picasso Painting Is Coming To Dubai Next Week & You Can See It For Free
Quick Deets
Location: Palm – Jumeirah Rd – The Palm Jumeirah – Dubai
Timings: Open from 12:30–3 PM, 6:30–11 PM
Contact: 04 455 1111
6. Caddy Shack: Munich-Inspired Oktoberfest
Caddy Shack at Trump International Golf Club is hosting a Munich-inspired Oktoberfest, and it's a meat lover's dream. For just AED 199, you can enjoy a special barbecue platter featuring chicken chops, lamb chops, beef medallion, beef sausage, and sauerkraut, accompanied by four bottles of hops. This offer is available every Thursday, Friday, and Saturday.
Quick Deets
Location: Trump International Golf Course, Damac Hills, Al Hebiah Third District – Dubai
Timings: from 5pm – 9pm
Contact: 04 245 3988
You may also like: Abu Dhabi And Dubai's Most Enchanting Winter/Christmas Markets To Look Forward To This Year