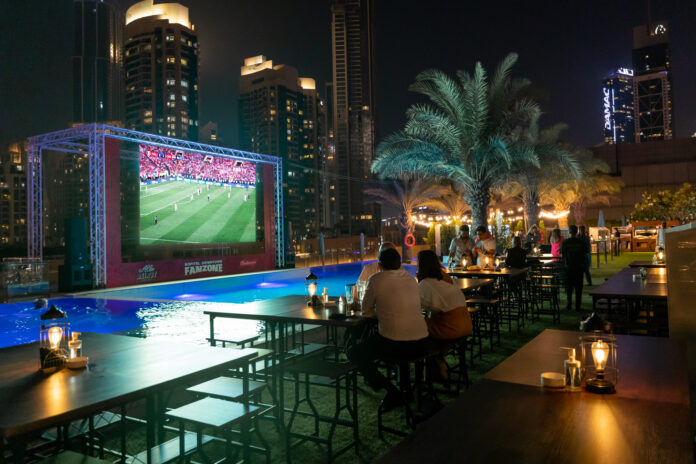 The FIFA World Cup 2022 has been a real nail biter so far, keeping viewers on the edge of their seat. With all the action so far, you KNOW it's going to be a nail biter of a finish with Argentina Vs France. Well, we can't guarantee who is going to win the finals, but we can guarantee a list of the best places in Dubai to catch the FIFA World Cup Finals 2022, across all budgets!
1. Official Dubai BudX FIFA Fan Festival™️ At Dubai Harbour 
Tickets to the official BudX FIFA Fan Festival™ at Dubai Harbour are on sale now & here's everything you need to know about the festival, tickets & venue. Opening 2 hours before the first kick-off on each day right up until 3am, the BudX FIFA Fan Festival TM promises an unrivalled, immersive FIFA World Cup Qatar 2022 TM viewing experience. It can seat up to 10,000 viewers per day. The venue will offer an unparalleled viewing experience with a unique blend of football, culture and high energy nightlife.
Fans can expect an incredible mix of music, live entertainment, games, activities, and of course an unrivalled viewing experience. BudX FIFA Fan Festival TM Dubai will be one of 6 official FIFA International FIFA Fan Festivals TM with FIFA's cutting edge 4D audio technology that will transport fans to the stadiums and make them feel part of the action.
As an event partner, Adidas will have a 1050 sq m experiential space within the official
FIFA Fan Festival TM where football fanatics will be able to watch matches, test
products, meet their favourite legends, shop localised products and watch the games
inside the adidas space.
Also read: Dubai Among 6 Cities Selected To Host FIFA Fan Festival Events During FIFA World Cup Qatar 2022
Official BudX FIFA Fan Festival™ Dubai Tickets
Several ticketing options are available, all offering all-day passes where guests can
come and go as they please throughout the day. To make the experience even more
memorable, VIP or hospitality suite are also available where guests can enjoy all the
action and feel like a celeb in the process.
Details:
Tickets: Tickets are now available on Platinumlist for fans who are 21+
VISA cardholders get 20% discount on all General Admission and Premium Admission Day and Season passes using promo code BUDXVISA20.
Timings: 17 & 18 December | 04:00 pm – 03:00 am
2. Watch The FIFA Final At Barasti Beach Bar
Barasti Beach Bar is screening every FIFA World Cup Qatar 2022TM match right at their very own Barasti Beach Stadium, in partnership with the official FIFA World  Cup Qatar 2022TM beverage sponsor.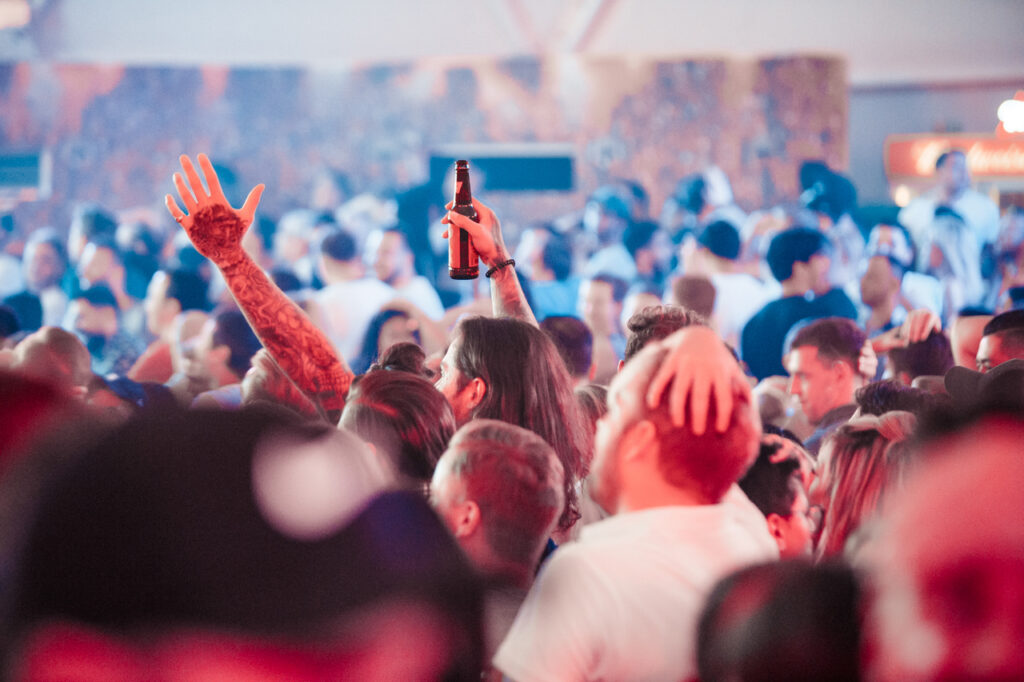 That means you get right in the middle of the action, whilst having your toes dipped in the sand & cracking open a few cold ones. But we hear you! You're wondering what's so special about a beach stadium, and what makes this experience so unique. Well, you're in for a surprise because Barasti Beach Bar has some really funky theatrics planned.
We're giving you not one or two, but NINE reasons as to why Barasti Beach Stadium is the best place to watch a FIFA match in Dubai:
A whopping 12x7m wide screen in front of you, which is among UAE's biggest screens.
Stage theatrics like C02 canons to get you in the mood!
A laser light show
Flame throwers for all the history-making moments
Free entry through the player's neon light tunnel
Live BBQ stations and food counters because no celebration (or loss) is complete without a good meal. Plus everyone knows that a good BBQ is basically the breakfast of champions.
Incredible drink deals of 6, 12, 24, and 48 bottle buckets, coz hey you've gotta stay hydrated!
Interactive sessions, games, and entertainment
Once the match is over, you can dance the night away with a live band and DJ music sets to carry you late into the night.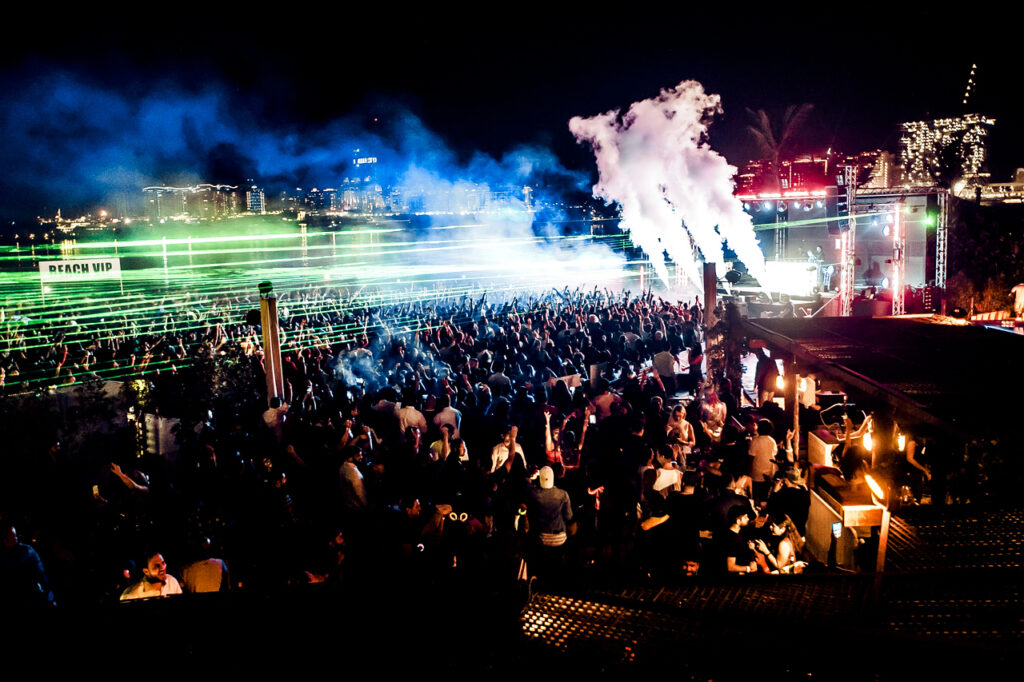 Details Of Barasti Beach Bar
What: Barasti Beach Stadium during FIFA World Cup Qatar 2022TM
Where: Barasti Beach Bar, Le Meridien Mina Seyahi Resort & Waterpark
When: November 20th – December 18th
Price: Free entry
3. Expo City Dubai's 'Fan City' For FIFA World Cup Finals
Running through November 20 to December 18, Fan City will have 2 zones – the family-friendly Jubilee Park and the VIP experience at the Al Wasl dome. Definitely something to add to the best places in Dubai to catch the FIFA World Cup Finals 2022.
Fan City – Jubilee Park
Jubilee Park will be open from day 1 of the FIFA World Cup – November 20
Jubilee Park can host up to 10,000 visitors, and will feature bean bags for seating and jumbo entertainment screens for viewing
The zone will also have a multitude of food & beverage options, including food trucks, alcohol for those of legal drinking age & a shisha lounge
There will also be a host of activities like face-painting, table-top games, foot volley courts, penalty kick activations, agility courses, and DJ's spinning decks during half-time.
Timings: 5pm to 1.30am on weekdays ; 12pm – 1.30am on weekends
Address: X562+974 – Al Wasl Avenue – Dubai – United Arab Emirates
Fan City – Al Wasl Dome
Al Wasl Dome will have special screenings starting from Saturday, December 3
The venue can host up to 2,500 visitors with general admission, VIP hospitality packages as well as VVIP box seats on offer. All hospitality guests will receive a complimentary one-day Expo City Dubai Attraction Pass valid until December 31, 2022. Ticket-holders for the early game can also enjoy complimentary access to Jubilee Park afterwards.
Al Wasl dome will feature four super-sized screens that will broadcast the matches real time. The live screening will be augmented by in-game graphics projected on the dome
For entertainment, fans and visitors will be treated to a flag-raising ceremony, team anthems, and a pre and post game entertainment.
Timings: Al Wasl will be open from 6pm to 9.30pm and 10pm to 1.30pm
Address: X562+974 – Al Wasl Avenue – Dubai – United Arab Emirates
Also read: Expo City Dubai Announces One-Day Attractions Pass & Here Are All The Details
Ticket Prices For Expo City Dubai 'Fan City'
Press Play comes from a belief in the power of 'live'. They are evoking thought through music and sport. Led by a disruptive international team of creatives, music heads and thought provokers at the heart of Press Play is the desire to connect, inspire and create generational change through conversation, culture and community.
Camelphat will be performing live on the 18th. Here's a little preview for you!
Press Play Details
Price:
AED 195 for All-Day General Access (1 Person) Redeemable with Beverages.
AED 4350 for All-Day VIP Table (6 People) Redeemable with Beverages.
AED 8100 for All-Day VIP Table (12 People) Redeemable with Beverages.
AED 15000 for All-Day Dugout (10 People) Redeemable with Beverages.
Booking will give you all-day access to the games shown on that date along with the
performer if there is one due to play.
Location: Precision Football, IBN Battuta Mall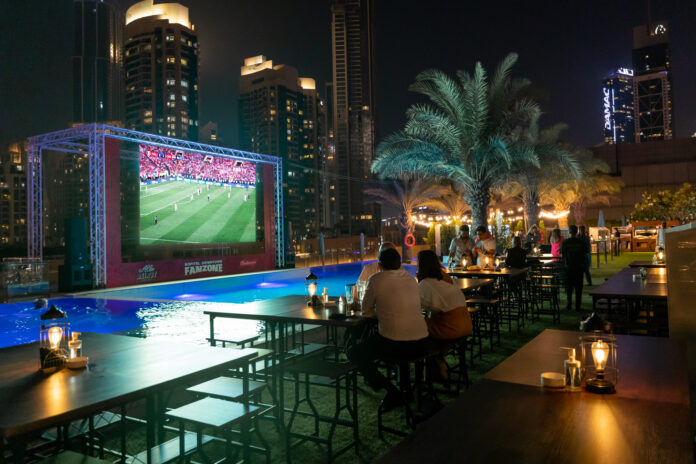 Sofitel Dubai Downtown's outdoor Fan Zone offers what every football fan wants – games, goals and joie de vivre. Up to 550 guests can savour five star service as part of the Fan Zone's immersive sports viewing experience. Featuring a giant screen and surround sound system beside the hotel's Insta-worthy infinity pool, fans can revel in every moment of the action. In addition, live entertainment and football-themed activities will keep the vibe going during halftime and between matches. Perfect addition to our list of best places in Dubai to catch the FIFA World Cup Finals 2022.
Roxy Cinemas has announced the opening of its new rooftop screen. Guests will be able to take in the year's biggest sporting event in comfort amongst the breathtaking views
on the rooftop of the Galleria Mall in Al Barsha.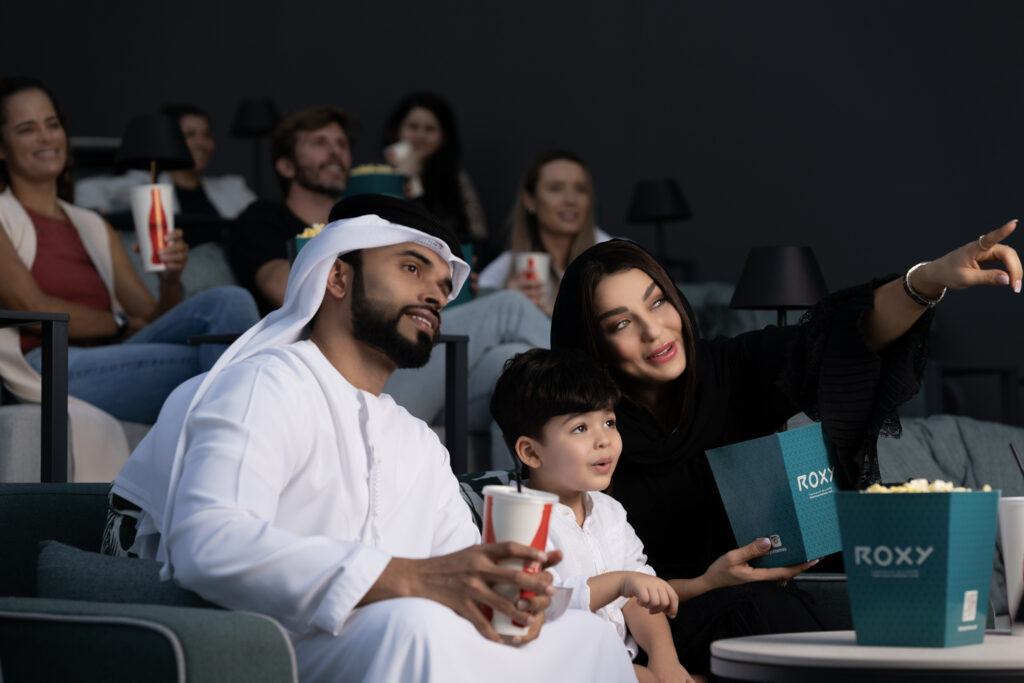 The Roxy Outdoor offers guests a VIP experience, featuring plush, comfy couches, individual tables, delicious food and drink, promising the perfect setting to get together with friends or for a romantic evening with your loved one.
Details:
Roxy Outdoor is located in Al Barsha Galleria Mall, with free parking available for
guests.
Tickets for adults start at AED 140 per person and includes one ticket, a choice of the
classic nachos or a hotdog, a large box of popcorn, some delicious Mirzam chocolates
and soft drink or water.
The package for kids starts at AED 95, and includes one ticket, a small popcorn, classic
nachos or a hotdog and juice.
Tickets for this unique can be booked at theroxycinemas.com or via the Roxy Cinemas app that can be downloaded on the App Store or Google Play.
8.
High Note Pool & Sky Lounge Budget Deals For FIFA Finals
9. Shisha & Football At Old Castello, Jumeirah One
Another one to add to our list of best places in Dubai to catch the FIFA World Cup Finals 2022, is Iconic Indo-Arabic restaurant located in the heart of Jumeirah. It's now back with its revamped look and will be welcoming its patrons to watch the FIFA World Cup Matches on its one big projector screen and 13 LED screens. Don't miss the variety of Shisha flavours, a well spread Indian and Arabic menu.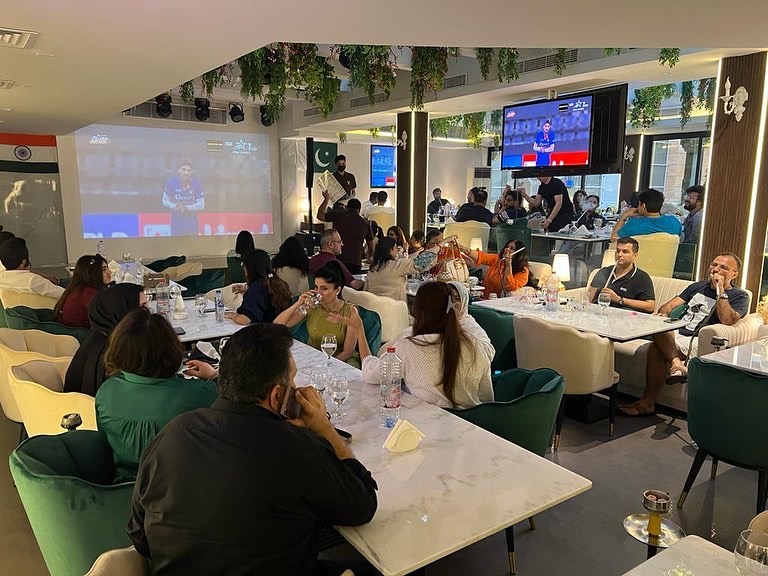 This restaurant is a true chill zone, suitable for any age. Part of the draw is the comfort food, comprising Arabic, Indian and Middle Eastern cuisine and even some other international fare. In a way, this is a place that links two worlds – one steeped in deep reverence for tradition and the other, a contemporary ethnicity. 

Address: Old Castello Restaurant & Cafe, 10C street, Behind Jumeirah Plaza, Jumeirah
10. FIFA World Cup Action at A Cappella, The Pointe
The Bar & Kitchen Concept, A Cappella on The Pointe Palm Jumeirah is offering exciting F&B deals, breathtaking views and an ultra fun ambience for all the footie fans out there. A Cappella ensures you catch all the action on a huge projector screen and two 75 inch TV screens.
During match hours grab 2 Bottle of Hops and 1 Bite at AED 99 and 4 Bottles of Hops and 2 Bites at AED 169.
Cheer on your favourite team  while you sip on your beers, take a dip in the bluer-than-sky sea view and the majestic Atlantis in the spotlight and the  fountain. This destination is primed to mesmerize guests with its unique and entertaining elements.
Details
Price: 2 Bottles of Hops + 1 Bite at AED 99
4 Bottles of Hops + 2 Bites at AED 169
Address: FB 08 East Wing The Pointe, Palm – Dubai – United Arab Emirates
Contact: +971 58 971 9542