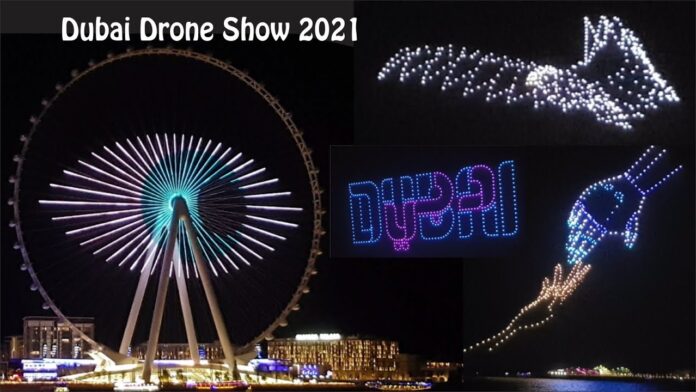 As part of the Dubai Shopping Festival (DSF), The Beach, JBR has announced a host of exciting activities, entertainment & fun for the whole family. Think great F&B offers, fun activities for the kids, great offers on shopping & long walks on the beach. The highlight, of course, is the amazing drone light shows that will take place daily starting 15th December! We've got all the details, so read on!
Also read: Things To Do In Dubai In December 2022; Concerts, Shopping, Food & Free Activities
1. Drone Light Shows At The Beach, JBR
There's something whimsical and thrilling to watch the sky illuminate with lights. Whether you're a kid or an adult – it's one of those things that really mesmerises you. Well, The Beach JBR is hosting a drone light show using cutting-edge technology, that will depict UAE landmarks, logos, and take inspirations from art, culture and society.
Details: 
Dates: From 15 December until 30 January
Location: The Beach, JBR
Timings: two shows daily at 7pm and 10pm
Santa and his elves are making a pit stop every weekend at The Beach opposite JBR from 9th December until 24th December. Gather your kids (and the kid in you) and embark on a journey of fun and frolic with holiday decor and exciting activities at The Beach. Head over to find Santa and his elves touring the place on their customised bikes, handing out delicious candies to all good boys and girls, and making merry!
Snap a selfie at Santa's Grotto or get an instant picture clicked with Santa and his elves while you ask them questions about the North Pole!
Santa's itinerary:
Friday, Saturday & Sunday – 9th, 10th & 11th December 2022
Friday, Saturday & Sunday – 16th, 17th & 18th December 2022
Friday, Saturday & Sunday – 23rd, 24th & 25th December 2022
Timings:
Every Friday, Saturday and Sunday between 4:00 p.m. and 10:00 p.m
Also read: Best New Year Parties 2023 In Dubai For All Budgets ; Kid Friendly, Live Performances & More
3. Celebratory Fireworks At The Beach, JBR
Christmas:
Dubai Shopping Festival will officially open on December 15th, and will be celebrated with a dazzling display of fireworks. The Beach, JBR, will be lit up at 9pm. However, if you can't make it tomorrow, don't you worry! There will be fireworks lighting up the sky every night at 8:30pm until December 25th.
Details:
December 15th: Fireworks at 9pm
December 16th – 25th: Daily fireworks at 8:30pm
New Year 2023:
While Dubai is currently filled with crazy options to celebrate New Year's Eve, we suggest looking into NYE at The Beach with its edition of spectacular fireworks.
Post-NYE, fireworks will continue to take place from January 9-15 at 8:30 PM.
4. Festive Shopping At The Beach, JBR
Celebrate another spectacular season of live entertainment, amazing deals and fun for the whole family, during the 28th edition of Dubai Shopping Festival (DSF) from 15 December 2022 to 29 January 2023. Get ready for 46 days of unmissable at The Beach, JBR with offers running across its stores.