Feel like taking a vacation to a historic and elegant place? Al Fahidi is your place! Al Fahidi might not have tall and shinny buildings like Dubai, it is more old school and elegant. But it has everything you need for a perfect vacation. Let's see the top five things that you can enjoy in Al Fahidi:
1.Dubai Museum:
From having scenes of traditional Arab houses to mosques, this museum is like a dream for history lovers. It uses life size dioramas to show what is an everyday life in the city of Dubai before the discovery of oil.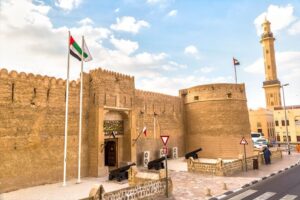 2.Arabian Tea House:
This place is just a couple of minutes away from the Al Fahidi Metro Station and has many photogenic shots for you Instagram! The food and cleanliness of this place is just beyond comparable. Arabian Tea House will give you the perfect 'Old Dubai' vibes!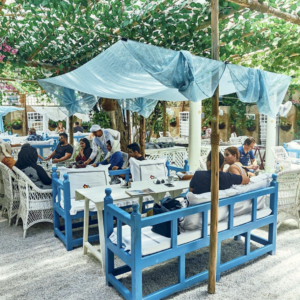 3.Disco Sandwich At Palace House:
It is a nice place tucked away in a small lane in Meena Bazaar lane. Get ready to eat some delicious sandwiches and snacks that they serve here. If you are craving some spicy street food, this is the ultimate place for you.
4.Abra Ride:
For just AED 1 you can ride across the beautiful creek. Enjoy the amazing views of the tall buildings that surround this creek. At the end of your day, if you want to just sit ans enjoy the sunset, this is the perfect way to do it!
5.Hindu Temples:
There are about three famous Hindu temples in Al Fahidi, which are, Shree Krishna Haveli (Shrinathji Temple), Shiv Mandir (Shiva Temple) and Shirdi Sai Baba Mandir (Sai Baba Temple). All these temples conduct morning and evening prayers. All of them are very close to the Al Fahidi Metro Station.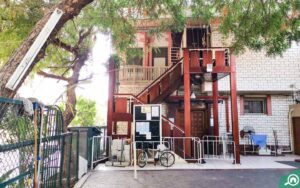 6.Coffee Museum:
You know you have reached the coffee museum because you will smell coffee before even entering the museum. This place will tell you how coffee is prepared. roasted and weighted. You can even try the traditional Ethiopian coffee here.
7.Falafel & Aloo Wada Rolls at Farsian:
Enjoy some basic and simple yet super tasty falafels here. If you are in a hurry and want a go to snack, try this!
FOLLOW US ON OUR SOCIALS 
Facebook | Instagram | Youtube