Shisha is quite popular in the middle-east, and every occasion calls for it. Though it is less harmful than smoking cigarettes in its own way and if done regularly it can be harmful, this UAE company claims to have the solution. Medad Technology claims that its Nesta pipe uses ultrasonic vibrations to provide a nicotine hit, potentially reducing the risk of cancer from inhaling hazardous vapours. The unique algorithm in the gadget creates equally distributed nicotine mist particles when they are inhaled.
This week at the World Vape Show in Dubai World Trade Centre, the smoking pipe was revealed. The company says that because no charcoal or tobacco is burned, there are no dangerous carbon emissions or toxic fumes inhaled by users of classic hookah pipes. "The challenge was to develop real, alternative products that were safer than shisha and e-cigarettes, not categorised under vaping, so a completely new product," said Mohammed Al Mazrouei, chief executive of Medad Holding, which is based in Dubai with its R&D facility in Abu Dhabi. "Our aim was to completely transform the health of users, so we had to move away from smoke."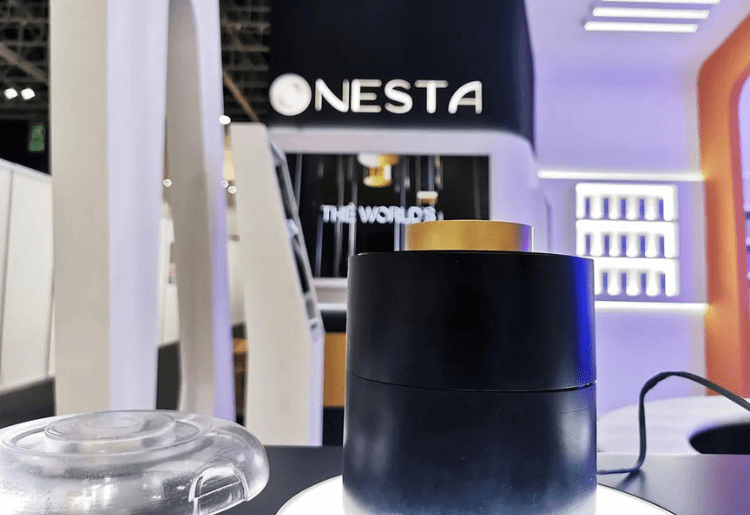 "Most e-cigarettes and vapes have cancer-causing properties, are carcinogenic or use formaldehyde [a flammable chemical]," he said. "This is a unique system that satisfies the user but has no harmful elements." Nesta, according to Mr Al Mazrouei, is a better alternative to shisha since it is smoke-free and does not burn or heat tobacco. The European Union Medical Agency and the Medicines and Healthcare Products Regulatory Agency in the United Kingdom have both given their approval to the gadget. The UAE authorities are looking into it. The company intends to petition the US Food and Drug Administration for clearance as well.