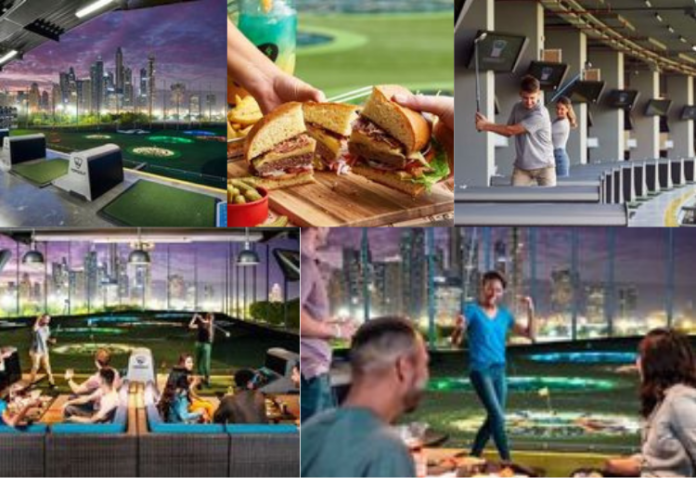 New Year means new surprises and events for the people of Dubai! In the spirit of the new year, Topgolf Entertainment Group, an entertainment and global sports company has launched their three-level mega-entertainment venue, which is distributed in an area of about 60,00 square feet, featuring 96 climate-controlled hitting bays, accommodating 1,100 guests along with more than 300 state-of-the-art digital screens. Topgolf Entertainment Group has partnered with Dubai Golf, the centrally located Topgolf Dubai venue in Emirates Hills to bring this project to life! So start this year with your gang by taking a trip to this paradise in Dubai.
"Since its inception, Topgolf's foundation has been built on innovation, fun and inclusivity. We are very excited to be able to introduce the Topgolf experience to the people of Dubai and international visitors from all over the world at our new location at Emirates Golf Club," said Topgolf International's Vice President, Steve Lane.
Dubai Golf CEO, Christopher May, added: "We look forward to inspiring people of all ages and skill levels to come together and create lasting memories at Topgolf Dubai. The venue will offer dynamic digital experiences and exceptional dining and entertainment to visitors. With our iconic views of the Dubai Marina skyline, Topgolf Dubai is a one-of-a-kind experience and will be a must-do Dubai destination."
Food here is a perfect blend of western and Arabic culture. American inspired dishes and breads along with some specially curated Arabic highlights are just among the few things available here.
Topgolf Dubai is appropriate for all kinds of events are parties, be it birthday parties, a chill hangout with friends and family or a weekend getaway. You name the activity and they have it, music, sports, golf, soccer, racecar driving, cricket, tennis, falconry, cycling, rugby, horse racing and so much more. This venue can accommodate and entertain all types of guests and groups.
FOLLOW US ON OUR SOCIALS 
Facebook | Instagram | Youtube