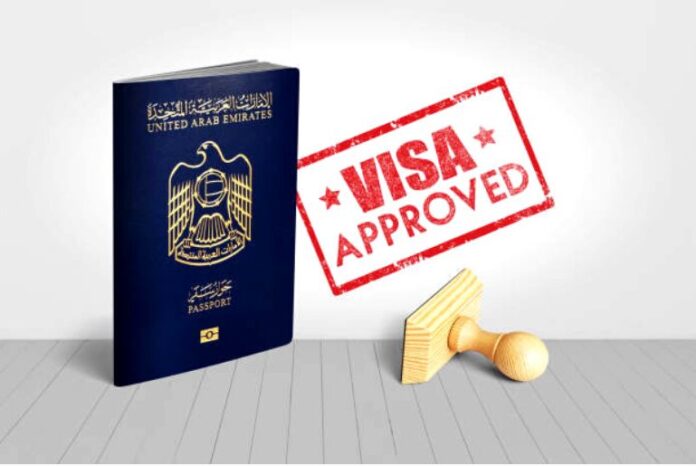 We've got some good news for you! As per the latest visa regulations, expected to take shape from today, October 3rd 2022, more categories of people will now be eligible to get the UAE Golden Visa. The UAE Golden Visa, Green Visa & long-term visit visa rules come into effect today. 'Habibi, come to Dubai' just got a whole new meaning! Read on to know more.
What Is The Golden Visa Residency Program?
The Golden Visa residency program was first implemented in 2019. As per the program, expats could study, work, and stay in the UAE without a national sponsor. They would also have 100% ownership of their business on the UAE's mainland. The visa was valid for 10 years, and obviously one of the most coveted in the UAE. The criteria to apply for the visas was extremely strict, and slightly restrictive. As of today, however, things have changed & here's everything you need to know: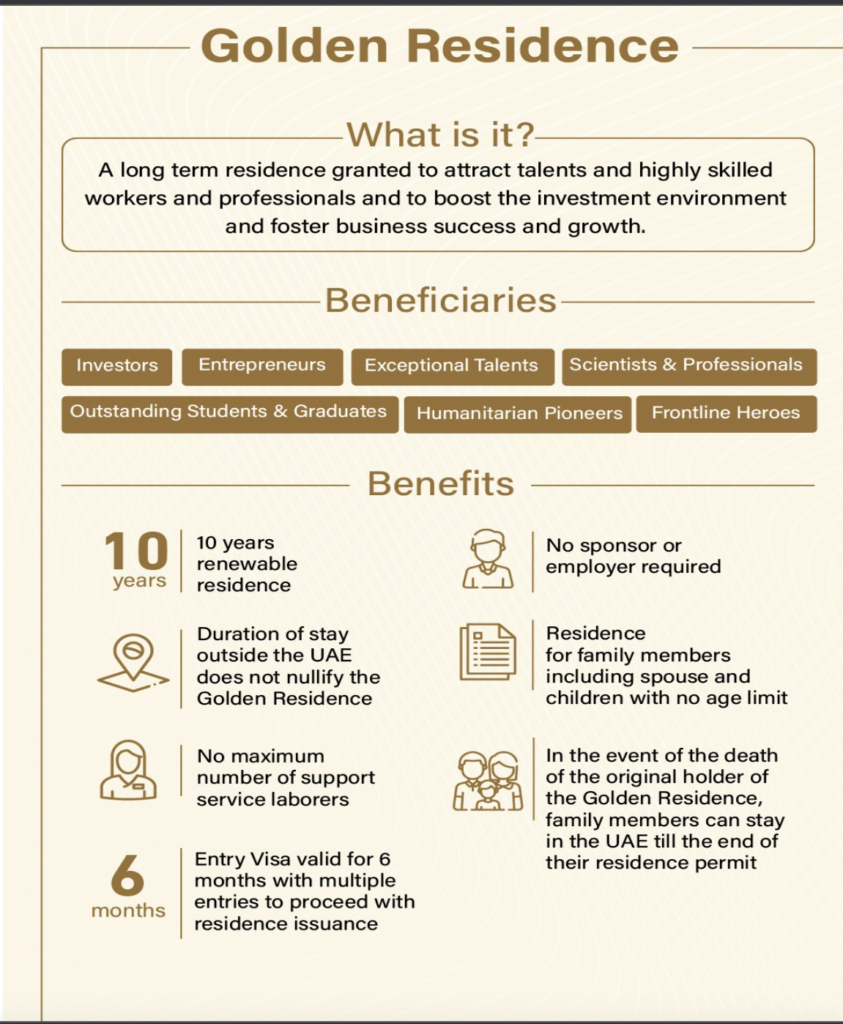 UAE Golden Visa Revised Benefits:
Golden Visas will now remain valid irrespective of the time spent in UAE.
The minimum monthly salary requirement has been dropped from AED 50,000 to AED 30,000. This means that more skilled professionals will now be eligible to get long-term residency.
Investors  purchasing property worth minimum of AED 2 million, can get the Golden Visa. Unlike earlier, you can now also get a loan from certain approved local banks.
You can now stay out of the country for over 6 months, without losing your golden Visa.
The Golden Visa holder will now be able to sponsor his/ her family members, including spouse and kids irrespective of their age. They can also sponsor unlimited support services (domestic) labourers.
Family members can continue to live in the UAE, even after the sponsor dies during the Golden visa's validity period.
UAE Golden Visa Eligibility Criteria: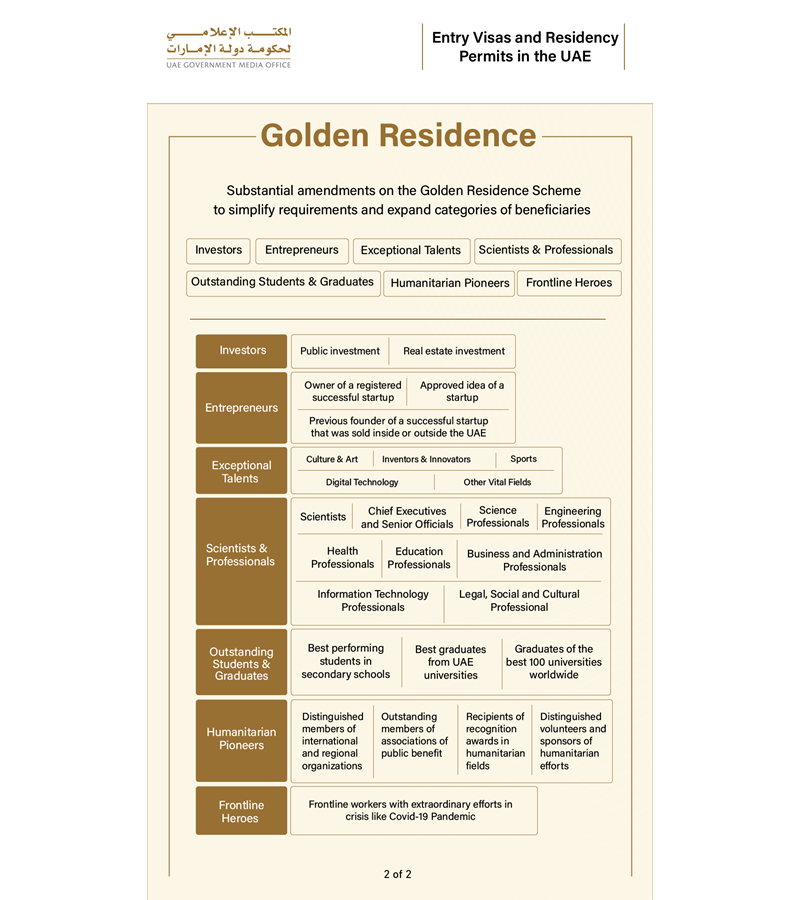 Investors
Real estate investors can obtain a Golden visa in the UAE if they fulfil one of the following conditions:
purchase a property worth no less than AED two million or
purchase a property with a loan from specific local banks or
buy one or more off-plan properties of no less than AED two million from approved local real estate companies.
     2. Entrepreneurs
Entrepreneurs can obtain a Golden visa if they fulfil one of the following conditions:
·own or partner in a start-up registered as a small and medium enterprises (SMEs) in the UAE, and the company generates annual revenues of not less than AED one million
·obtain an approval for a start-up idea from an official business incubator or from Ministry of Economy or other competent local authorities
must have founded an entrepreneurial project that was sold for a total amount of not less than AED seven million.
3. Exceptional Talents
Inventors, innovators, and exceptional talents in vital fields such as culture, art, sports and digital technology can obtain a Golden visa regardless of their educational qualification, employment status, monthly salary or professional level. The visa requires a recommendation or approval from a federal or local government entity.
4. Scientists and Professionals
Scientists
Scientists and researchers with high achievements and influence in their field can get the Golden visa based on a recommendation from the Emirates Scientists Council. A candidate should have a PhD or a Master's degree in one of the disciplines of engineering, technology, life sciences and natural sciences from the best universities in the world, as well as substantial research achievements.
Professionals
Professionals or highly-skilled workers with high educational qualifications and professional experience in all disciplines, including medicine, sciences and engineering, information technology, business and administration, education, law, culture and social sciences can get the Golden visa if they:
have a valid employment contract in the UAE
are classified in the first or second occupational level as per the classification of Ministry of Human Resources and Emiratisation
hold a Bachelor's degree or equivalent
have a monthly salary of not less than AED 30,000
5. Outstanding Students & Graduates
High performing students in the UAE's secondary schools and outstanding graduates from the UAE's universities and the best 100 universities worldwide can get the Golden visa. Criteria includes academic performance/cumulative average, year of graduation and the university classification.
6. Humanitarian Pioneers
Humanitarian pioneers such as the following can get the Golden visa:
distinguished members of international and regional organisations
·outstanding members of associations of public benefit
recipients of recognition awards in humanitarian fields
distinguished volunteers and sponsors of humanitarian efforts.
7.Frontline Heroes
Frontline workers with extraordinary efforts in crises, such as the COVID-19 pandemic can also get the Golden visa.
Green Visa
Firstly, what is the Green Visa? The UAE's Green visa is a type of residence visa, that allows its holder to sponsor himself/herself for 5 years, eliminating the need of a UAE national or employer to sponsor his/her visa.
Who Can Apply For A Green Visa?
The following categories can apply for a Green visa:
1 Freelancers/self-employed people
Freelancers and/or self-employed people who wish to apply for a Green visa need to submit:
a freelance/self-employment permit from Ministry of Human Resources and Emiratisation
proof of a bachelor's degree or specialised diploma
evidence of annual income from self-employment for the previous two years for an amount not less than AED 360,000, or prove financial solvency throughout their stay in the UAE.
2 Skilled employees
To apply for a Green visa, skilled employees must :
have a valid employment contract
be classified in the first, second or third occupational level as per Ministry of Human Resources and Emiratisation
hold a minimum of bachelor's degree or equivalent
have a salary of not less than AED 15,000
3 Investors or partners
The Green visa for investors is given to investors establishing or participating in commercial activities. It replaces the previous residence visa that was valid for 2 years only. Requirements include:
approval of the investment and proof of investment (If the investor/partner has more than one licence, the total invested capital will be calculated.)
approval of the competent local authorities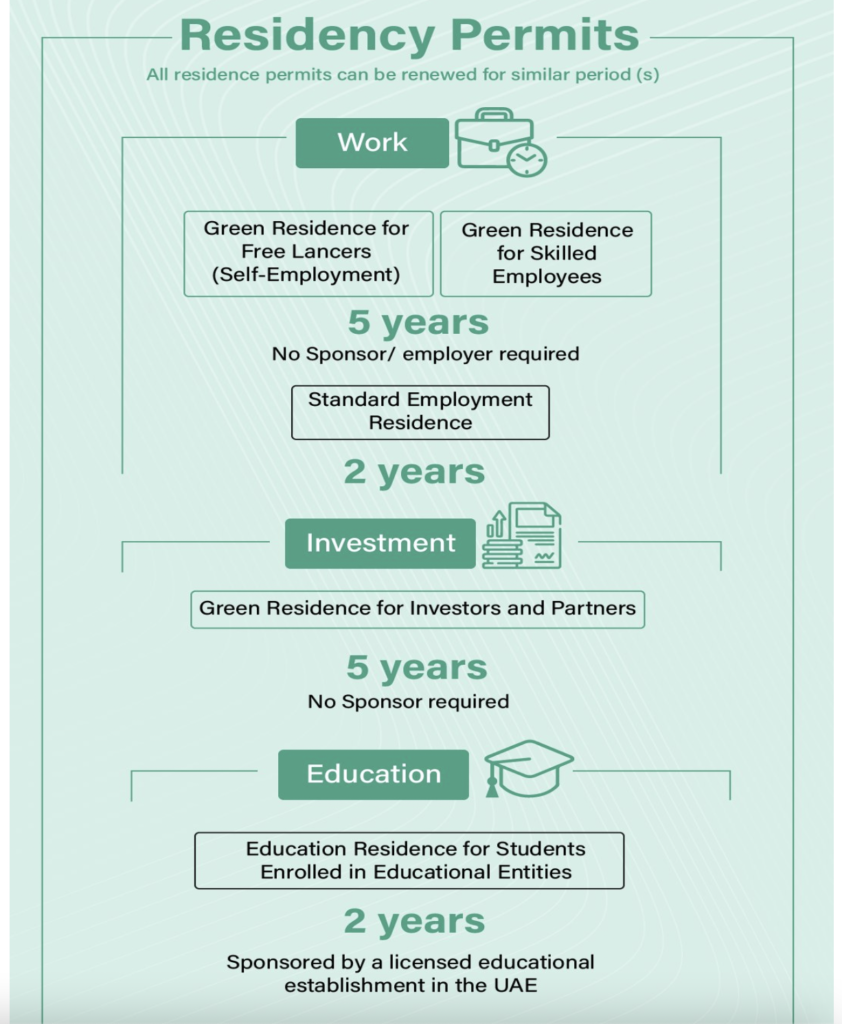 Tourist Visa
Under the updated Visa regulations, visitors can now enter and stay in the UAE for two months (60 days); as opposed to the previous 30 days. Visitors can also apply for a five-year, flexible multi-entry tourist visa. This will allow stay in the UAE for up to 3 months (90 days) in a row.
As reported by Gulf News, Major General Sultan Yousef Al Nuaimi, the Director General of Residency and Foreigners Affairs said, "The updated visa system is an attempt at improving the quality of life and making the experience of living, working and investing in the UAE a pleasant and happy one."