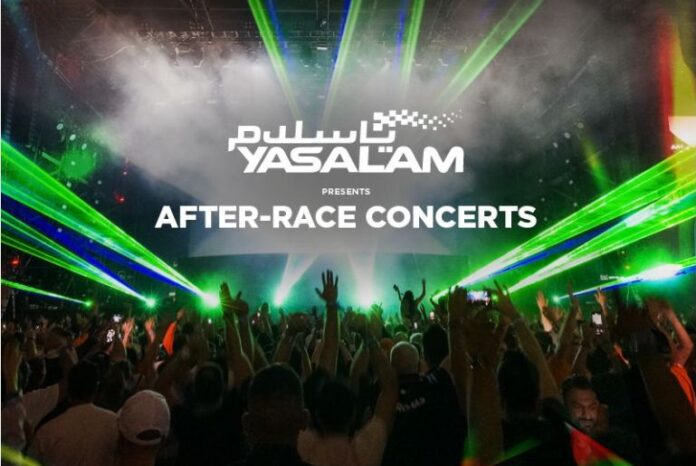 With just 50 days until the annual Yasalam After- Race Concerts, a four-day series of AAA performances centered around the Formula 1 ETIHAD AIRWAYS ABU DHABI GRAND PRIX, Flash Entertainment, the biggest live entertainment company in the Middle East, is preparing.
The concerts at Etihad Park are reserved only for Abu Dhabi Grand Prix ticket holders and will take place between November 17 and 20. Swedish House Mafia and Kendrick Lamar, both Grammy Award winners, have already been scheduled to perform at the Friday and Saturday night performances. Information about the Thursday and Sunday night acts will soon be released.
Here's what's more to expect from the event :
GOLDEN CIRCLE UPGRADE
The Golden Circle upgrade is a necessity for your Abu Dhabi Grand Prix weekend. Owners of race tickets who plan to attend the concerts can choose to upgrade to Golden Circle for a better experience that includes a closer view of the stage, access to designated beverage stations, and quick entry into the arena.
Depending on the evening, different rates can be paid for individual nights of Golden Circle upgrades. AED 195, Dh 295, Dh 395, and Dh 495 can be spent on an upgrade for Thursday night, Dh 295 for Friday night, Dh 395 for Saturday night, and Dh 495 for Sunday night. For AED 945, a package covering all four nights is offered.
It is easy to upgrade to Golden Circle, and ticket holders are advised to do it as soon as possible to avoid disappointment. Owners of tickets for the Abu Dhabi Grand Prix can visit yasmarinacircuit.com to easily upgrade their race-weekend experience.
FOUR NIGHTS OF AAA TALENT
The Yasalam After-Race Concerts always include top-notch artists, thanks to Flash Entertainment's past bookings of The Rolling Stones, Prince, Paul McCartney, Eminem, Beyonce, Florence & The Machine, and many others. The Grammy Award-winning Swedish House Mafia, a supergroup of house musicians made up of Axwell, Steve Angello, and Sebastian Ingrosso, have already been confirmed for this year. They're most known for their international song "Don't You Worry Child," and they'll perform on November 18th.
Kendrick Lamar, an American rapper, songwriter, and record producer who has sold more than 70 million records worldwide, will perform on Saturday night. Each of his five albums has received a platinum certification, and in 2018 he became the first rap artist to ever win the Pulitzer Prize for Music. He has won 14 Grammy Awards overall.
In the upcoming weeks, two more well-known performers are expected to be announced, with openings on Thursday and Sunday nights.
According to John Lickrish, CEO of Flash Entertainment, "The Yasalam After-Race Concerts have become synonymous with Abu Dhabi GP weekend year after year because of our focus to presenting AAA top acts who appeal to the audience profile."
"The Yasalam After-Race Concerts have become synonymous with Abu Dhabi GP weekend
year-on-year because of our commitment to bringing AAA superstar performers who appeal to the audience profile," said John Lickrish, CEO, Flash Entertainment. "The artists we have
announced are well-loved by the market and the Golden Circle upgrade option gives the
audience a chance to get even closer to their favourite performers and make their race-
weekend experience truly unforgettable."
LOCAL TALENT IN THE SPOTLIGHT
Warm-up acts each night from the Regional Artist Spotlight (RAS) program will further demonstrate Flash Entertainment's continuous support of local talent. The platform seeks to give emerging musical talent in the GCC possibilities, giving them a platform to perform in front of a large, global audience and assisting them in getting exposure to a wider audience. To make each of the concerts memorable, one local performer will be partnered with an international superstar on each of the four evenings.
Visit https://www.flashentertainment.com/ or follow Flash Entertainment on Instagram at @FlashEntertainment for more information in addition to their list of forthcoming events.
FOLLOW US ON OUR SOCIALS