Recently I was called in for a meal At Rang Mahal, and this is my first hand experience of the the place. Let's dive right in. As soon as I entered Rang Mahal Dubai, I began an extraordinary culinary adventure. This lavish place, decorated with beautiful Rajasthani designs, had an atmosphere of royalty that immediately made me feel like I had stepped back in time to the era of maharajas and maharanis (also known as Kings and Queens). What I didn't realise at the time was that I was about to experience an incredible variety of flavours that would awaken all of my senses and bring me immense pleasure. After a delightful afternoon indulging in all the goodness Rang Mahal had to offer, here is my review of the experience.
Rang Mahal At JW Marriott Marquis Dubai
Rang Mahal is the latest addition to JW Marriott Marquis Dubai's dining scene. Celebrating India's diverse flavours and alluring aromas, the new menu will showcase Jain, vegetarian and traditional recipes, alongside curries, biryanis and tandoor cooked meats. They have also won the What's On Awards Dubai 2023 for Favourite Indian Restaurant Above AED 400 – Highly Commended.
Also read: Dubai: 28 Dazzling Date Spots: The Best Places For All Budgets
My Initial Thoughts
In terms of ambience, When I walked in, I was greeted by a burst of vibrant colours and fancy designs that created a rich and luxurious Indian atmosphere. The soft lighting created beautiful shadows on the walls, making the place feel cozy yet extravagant. The golden decorations and comfortable furniture gave me a sense of elegance and made me feel like an important guest in a royal palace. I was astounded by absolute attention to detail, which was impeccable. Every element, from the golden accents glimmering subtly to the plush furnishings, exuded a sense of refinement and luxury.
Let's Get To The Best Part, How Was The Food You Ask?
Well my food journey started with a tempting selection of appetisers that looked so good, it was hard to believe they were meant to be eaten. One of them was the Tandoori Cottage Cheese, which had a tantalising blend of 5 different spices. It tasted fresh and lively, with a hint of smokiness that left me wanting more.
As the main course arrived, my senses were overwhelmed by a delightful mix of aromas. The Baked Morell Mushroom, a selection from their vegetarian menu, was truly outstanding. The creamy Amul cheese blended effortlessly with the fresh vegetables, creating a delicious combination of flavours that was rich, dense, and absolutely heavenly. Each bite transported me to the heart of India, where the flavours danced together perfectly.
 Also read: Dubai: 10 Restaurants That Sheikh Mohammed & Sheikh Hamdan Have Visited
Accompanying the Baked Morell Mushroom was buttered Naan Cumin Pulao, a subtly spiced rice dish. The tender Naan and soft rice simmered in a fragrant blend of Kashmiri spices, resulting in a robust and soulful medley of flavours. It melted in my mouth effortlessly, leaving behind a warm and comforting feeling.
Also read: The Complete List Of Michelin Star Restaurants In Dubai 2023
To enhance the extraordinary flavours, Rang Mahal Dubai offered an extensive wine and cocktail list curated to complement the diverse range of dishes. The attentive sommelier expertly guided me through the selections, ensuring a seamless pairing of libations with each course. The carefully chosen beverages elevated the dining experience, adding another layer of sophistication and indulgence.
And last, but certainly not least and absolutely nothing short of perfection was the desert. The Cassata Kulfi was a harmonious union of tradition and innovation, showcasing Rang Mahal's commitment to pushing culinary boundaries. Its velvety smoothness and exquisite taste provided a sweet conclusion to an already unforgettable dining experience.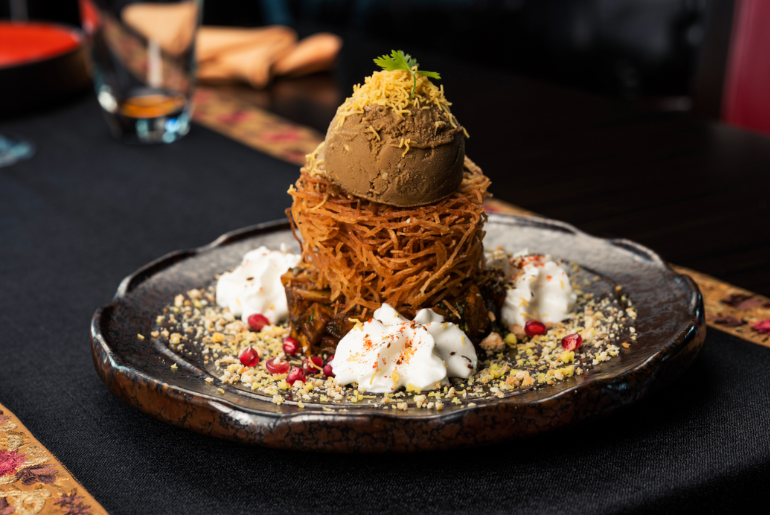 The Overall Immersive Experience
The staff at Rang Mahal Dubai exuded a perfect blend of attentiveness and knowledge. Their warm greetings and genuine hospitality set the stage for an exceptional dining experience. With grace and expertise, they guided me through the menu, ensuring I had a comprehensive understanding of each dish's unique flavours and preparations. The attentive service continued throughout the evening, with staff seamlessly attending to every need, adding an extra touch of sophistication to the overall experience.
The rhythmic beats of live Indian music filled the air, creating an atmosphere that was both intimate and engaging. Every moment seemed to be imbued with a sense of timelessness as I savoured each bite, revealing in the sensory journey that unfolded before me. The meticulous attention to detail and the seamless service made me feel truly cared for, allowing me to relax and fully immerse myself in the restaurant's enchanting ambiance.
I simply cannot recommend this restaurant anymore highly than i already do. As a vegetarian I find it extremely difficult to find intensely flavourful food that not only looks impeccable but taste spectacular as well. But Rang Mahal stood me corrected. Their menu is special curated to suit people with all eating preferences.
Located in JW Marriott Marquis Dubai in Business Bay, open from 6pm to 12am daily, you can make a table booking here or call make a reservation on this number +9714 414 3000. And see their website here.
You may also like: 14 Activities Kids Will Love To Do Indoors In Dubai This Summer