Dubai, the capital of the Emirate of Dubai and the most populous city in the United Arab Emirates, has seen a surge in tourists since it reopened to tourism. In the first half of 2022, Dubai recorded over 7 million tourism arrivals.
The city, known for its innovative architecture including the world's tallest building, always has new construction projects in the works. One recent addition is the Museum of the Future, which opened on February 22, 2022 and is shaped like an oval with calligraphy covering its exterior. Here is a list of some crazy architectural feats that are expected to be completed by 2023 & beyond:
Also read: Dubai Roads Will Have Self-Driving Taxis By The End Of 2023
1. Floating Super Hotel – Kempinski Floating Palace
We have hundreds of five-star hotels and even one seven-star hotel in Dubai, and now we're getting a floating super hotel. The Kempinski Floating Palace will be a floating hotel off Dubai's shore. There will be 156 rooms and suites. And, of course, 12 luxury floating villas.
The Waterworld-inspired development also has its own port with space for 16 ships. A floating helipad would round off any floating hotel in Dubai. Also, the hole in the middle of the hotel is literally built to allow larger boats to sail through.
The resort also features all of the standard extras. As a result, gourmet restaurants, bars, shops, spas, and pool areas will be available. Everything takes place aboard a massive floating hotel.
Also read: UAE Holidays 2023 List : 13 Holidays Next Year & 3 Long Weekend Ideas
2. World's Longest Cantilevered Building – One Za'abeel
Designed by world-renowned architects Nikken Sekkei, One&Only One Za'abeel is a breathtaking work of revolutionary design. The dual-tower edifice capitalises on Dubai's capricious skyline, showcasing 360-degree views of glimmering skyscrapers, lush green expanses, and transcendental sunsets. This will be Dubai's newest icon.
Not to be missed by any resident or guest is "The Link – World's Longest Cantilevered Building". The Link is a panoramic sky concourse that connects the two towers of One Za'abeel, floating an awe-inspiring 100 metres above the ground. It will offer an exploration of world-class restaurants, celebrity chef outlets, a statement swimming pool, wellness facilities, retail and entertainment.
Set to become Dubai's most desirable dining destination, One&Only One Za'abeel will welcome 11 exceptional restaurants and bars, spanning Argentinean, Indonesian and Middle Eastern delights. Located within The Link, four celebrity chef restaurants will deliver unrivalled culinary experiences, backdropped by breathtaking 360-degree Dubai views.
3. Mandarin Oriental Wasl Tower
The hotel, located in downtown Dubai will be the anchor of a 63-storey, mixed-use building, to be known as wasl tower, located on Sheikh Zayed Road. The property will have direct access to the area's business and leisure attractions, including Dubai Opera, Burj Park and Dubai Mall.
The downtown Mandarin Oriental hotel will feature 257 spacious and contemporary guestrooms, suites and serviced apartments, which will be located on floors 16 to 38 of the tower, providing outstanding views over downtown Dubai and the world's tallest building, the Burj Khalifa. The accommodation will be designed to reflect local culture, with features inspired by Mandarin Oriental's Asian heritage.
The Group will also manage 144 Residences at Mandarin Oriental, located on the tower's upper floors, which will provide some of the most luxurious private homes in the city. The Residences will have their own private access, with dedicated facilities including a Resident's Lounge, while also benefiting from Mandarin Oriental's legendary service and direct access to the hotel.
4. Futuristic Super Yacht Shaped Hotel – Jumeirah Marsa Al Arab
Jumeirah Marsa Al Arab, planned to open in 2023, is nestled at the tip of a peninsula at the heart of Dubai's largest private beach, Jumeirah Marsa Al Arab will complete Jumeirah's oceanic trilogy, which includes the wave-shaped Jumeirah Beach Hotel and sailboat-inspired Burj Al Arab Jumeirah.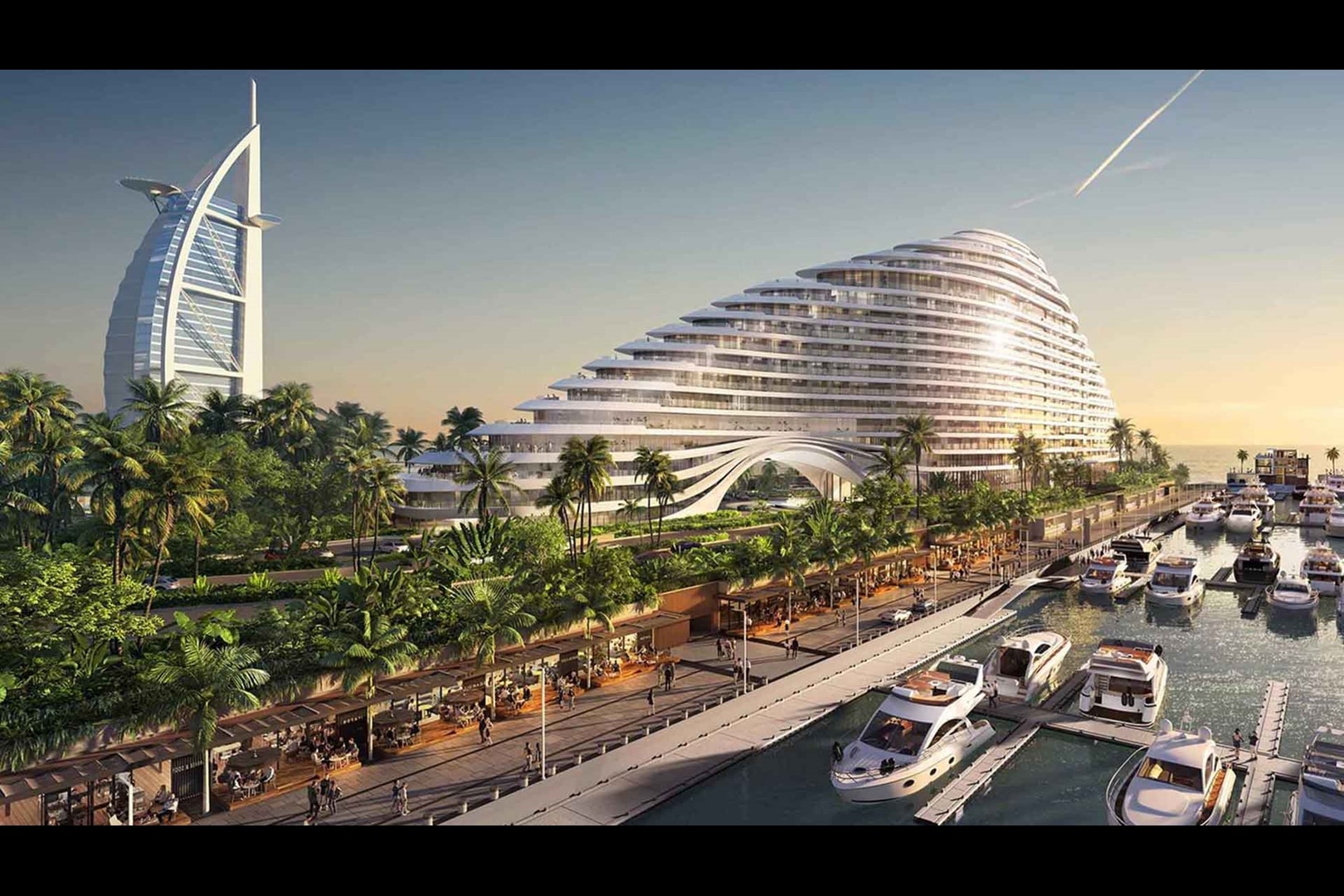 The new resort, with design influences of a futuristic superyacht, will feature 386 rooms and suites, four penthouses, as well as 83 luxury hotel apartment suites set amid private landscaped gardens.
It encompasses specially-integrated wellness and leisure destinations and an impressive line-up of signature restaurants, including a new concept comprising four restaurants in one. All rooms will offer a panoramic vista over the Arabian Sea.
Read more: 10 Things Tourists Must Experience In Dubai Other Than The Burj Khalifa & Palm Jumeirah
5. FIVE Beach
FIVE Hotels & Resorts has announced plans to open a third hotel in Dubai, called FIVE Beach, located on JBR. The property, set to open in 2023, will be a transformation of the previously under-construction Corinthia Meydan Beach into a quintessential FIVE hotel, featuring signature gourmet dining and glamorous entertainment options.
FIVE Beach will offer 227 contemporary suites and 102 lavish serviced residences, all designed with FIVE's state-of-the-art standards and featuring stunning views of the Arabian Gulf. The hotel will offer a range of five-star amenities, including seven dining and nightlife venues that will transport guests to different parts of the world and a REFIVE Spa, which will be a tranquil oasis offering a variety of luxurious treatments.
6.

The Lana, Dorchester Collection, Dubai
A striking building positioned among the gleaming skyscrapers of the vibrant Business Bay area and beside the waters of Dubai Canal, The Lana stands out as an architectural marvel. Here you'll find yourself at the very heart of life in Dubai, where days unfold with strolls along the waterfront and outings to the nearby Burj Khalifa district.
Space, light and extraordinary views are to be the defining features of the 225 rooms and suites, where Gilles et Boissier combine traditional elements with contemporary touches inspired by the spirit of Dubai. Tall windows frame views of the Burj Khalifa or the sun-baked desert, stretching endlessly towards the horizon.
7. Uptown Tower
The first tower to be released in the premium Uptown Dubai district, Uptown Tower is designed by world-renowned architects AS+GG, and is set to transform the Dubai skyline.
An architectural marvel rising for 340 meters, providing stunning uninterrupted views and housing a 188-key 5-star luxury hotel – SO/ Uptown Dubai – and 227 signature SO/ branded residences, 46,325 SQM GFA of Grade A office space, as well as amazing amenities like opulent restaurants, exclusive retail, spas and many other state-of-the-art commercial and residential features.
The first of its kind in the Middle East, enter a new world of fashion and glamour at SO/ Uptown Dubai. Located in the iconic Uptown Tower, a building inspired by the shape and light reflections of a diamond, you can enjoy uninterrupted views of Dubai's awe-inspiring skyline and Uptown Dubai's Central Plaza below. Here you can experience complete luxury with amenities and service excellence delivered with an audacious and fashionable twist.