An award winning Pan Asian restaurant has just opened its 6th outlet in Business Bay, and to celebrate that it is offering unlimited dimsums and stone bowls for just AED 6 per head, for a limited period only. Read on to know all the details!
Also read: 17 Things to Do In Dubai In February 2023 – Live Concerts, Food Festival, Dance – Across All Budgets
Unlimited Dimsums For Just AED 6 At China Bistro
Dhruv from the Gulf Buzz team couldn't resist treating himself a little and went over to try the special menu. And boy, did we hog! Everything on their menu was absolutely delicious – in both their veg & non vegetarian options. Dhruv's personal favourites were the Ginger Chicken Jaiozi dumplings and the Vegetable Basil dumplings. But enough about us. Here's all the details you need to know:
For a limited time, enjoy all-you-can-eat dim sum for AED 6 or a Korean Dolsot Sizzling Stone Bowl for AED 6 until February 14th, from 5 – 7pm.
Also read: 21 Best Places To Celebrate Valentine's Day 2023 In Dubai – Couples, Singles & Galentines
What that means is that if you've not made any plans for Valentines yet, then maybe treat him/her or yourself to a tummyfull of dimsums. (Maybe add a cute note that says, "You're all that, and dim sum")
The Korean Sizzling Stone Pot menu features dishes cooked and served in stone Dolsots made from Pagodite, a variety of stone used by Chinese artisans. These stone bowls retain heat for a longer time, ensuring a warm and comforting dining experience.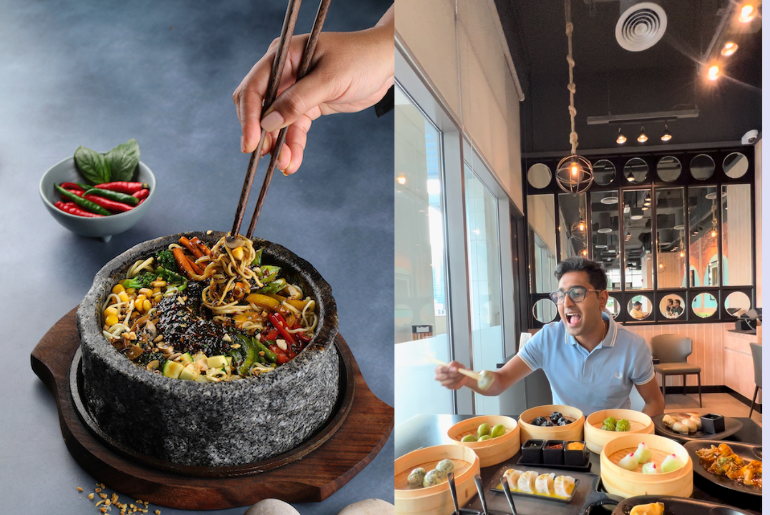 Also read: This Dubai 5 Star Is Running A Flash Sale ; Huge 45% Discount On Stays
China Bistro Interiors
The China Bistro interiors are designed to reflect the inspiration behind the brand, the Terracotta Warriors. The decor pays homage to ancient Chinese traditions while avoiding typical elements seen in traditional Chinese restaurants. The ambiance, combined with authentic food, service, and music, contributes to a memorable dining experience.
China Bistro Deal Details
The Deal: All-you-can-eat dim sum for AED 6 or a Korean Dolsot Sizzling Stone Bowl for AED 6 until February 14th at China Bistro
Location: China Bistro, Retail 4, Bellavue Towers, Business Bay, Dubai
Contact: 971549951532
Timings for unlimited dimsums: 5pm – 7pm