Dubai is gearing up to host an astonishing masterpiece by none other than Pablo Picasso himself. This isn't just any painting; it's a vibrant and captivating portrait of Marie-Thérèse Walter. What makes it even more intriguing is that it's valued at an astonishing $120 million, which translates to approximately AED 440 million. It is the most expensive painting that has ever been brought to the Middle East, and this is your chance to view it for absolutely free! Here are all the spectacular details you need to know.
Also read: Abu Dhabi's BIGGEST Art Fair 2023 To Take Place In November
A Rare Gem On Display In DIFC
The art world is abuzz as the highest-valued painting ever to grace the Middle East is set to make its grand appearance in Dubai. This exceptional Picasso creation will be showcased at Sotheby's Dubai, located in the heart of DIFC. Mark your calendars for Monday, September 25, and Tuesday, September 26, because that's when you can witness this iconic piece up close and personal.
And all for the low, low price of completely free! That's right, there are no twists and turns here, no catches. All you have to do to view this stunning masterpiece is simply show up between 2 pm and 5 pm on Monday or from 10 am to 7 pm on Tuesday. It's that easy, folks. So, I don't see any reason you would miss the opportunity to gaze at this beauty before it jets off on its worldwide tour, ultimately concluding its journey in the USA.
Also read: Your Insider's Guide to Dubai And Abu Dhabi's Art Scene: Art Studios, Exhibitions & Museums
A Glimpse Into Picasso's Legacy
This mesmerising artwork was crafted by Picasso in 1932, showcasing his incredible talent after three decades of artistic exploration. What sets this painting apart is the presence of a watch, a unique detail found in only three of his pieces.
A Portrait Of His Muse & Lover
Marie-Thérèse Walter, Picasso's muse and lover, is immortalised in this surrealist masterpiece, created five years after their fateful encounter. The painting not only captures their profound connection but also reflects Picasso's evolving artistic style.
Also read: The Viral Van Gogh X Japan Exhibition Is Coming To Dubai
A Rare Public Display
Art collector Emily Fisher Landau has cherished this painting since 1968, gracing her living room with its presence for half a century. Its unveiling at Sotheby's Dubai marks the first time it has been on public display outside the United States in 50 years.
Katia Nounou Boueiz, Head of Sotheby's UAE, expressed her excitement, stating, "It is a true privilege to have a masterpiece of this significance by one of the world's most well-known and well-loved artists, unveiled in the UAE as the first stop on its world tour. One of the greatest works of modern art we have ever brought to auction, it is the perfect artwork to showcase and continue our commitment to bringing the best of art and culture to the region."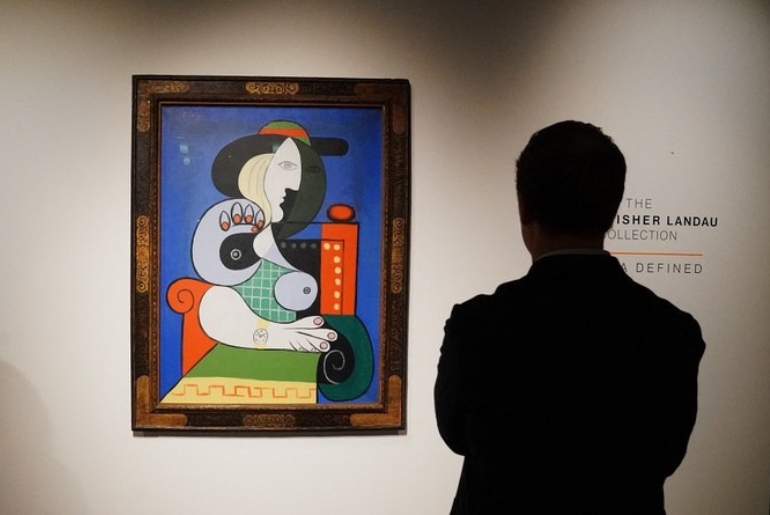 Your Chance To Witness History
Don't miss out on this incredible opportunity to witness history and immerse yourself in the world of art. Head to Sotheby's at DIFC on the 25th and 26th of September, and let the magic of Picasso's creation leave you awe-inspired.
You may also like: These Are The Top Immersive Experiences In Dubai – Dining, Art & More!