This weekend, Dubai is getting ready for a dazzling display of fireworks to celebrate Kingdom of Saudi Arabia's 93rd National Day, a special occasion that falls on September 23 each year. The UAE has a tradition of paying tribute to our neighbouring country, and this year is going to be any different. Let me tell you where you can watch mesmerising fireworks this weekend.
Also read: Dubai's Most Enchanting Winter/Christmas Markets To Look Forward To This Year
Spectacular Fireworks At Dubai Parks and Resorts
Dubai Parks and Resorts is rolling out the red carpet for guests to join in the festivities of Saudi National Day. On Saturday, September 23, this expansive entertainment destination is set to host a mesmerising firework extravaganza.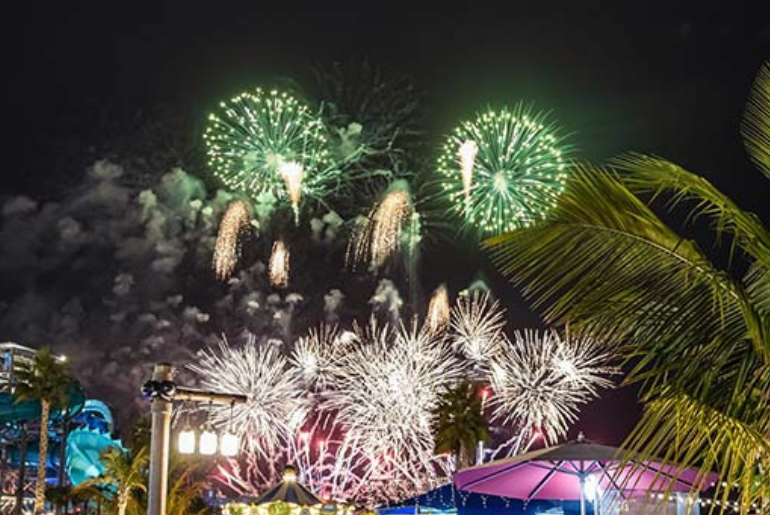 The fireworks, adorned with a Saudi theme featuring the iconic green and golden colours, will light up the night sky above Riverland Dubai. The show will kick off at 7 pm and then once more at 9 pm, for a night filled with dazzling lights.
Also read: These Seasonal Attractions Are Reopening In Dubai – Find Out Which Ones Inside
More Than Fireworks
But that's not all! Dubai Parks and Resorts offers much more than just fireworks. While you're there to enjoy the dazzling display, you can immerse yourself in a world of family fun. Inside the complex, you'll discover a variety of thrilling theme parks, including Legoland, Motiongate, and Legoland Water Park. It's an opportunity for kids and adults alike to have an unforgettable day out.
Or Plan A Staycation
For those looking to turn the celebration into a mini-vacation, you're in luck. Dubai Parks and Resorts is conveniently located near two fantastic accommodation options: Lapita Hotel, a Polynesian-themed resort, and Rove At The Park. These spots provide the perfect setting for a relaxing staycation after a day of fun and festivity. So, whether you're coming for the fireworks, the theme parks, or a little bit of both, this weekend in Dubai promises an unforgettable experience in celebration of Saudi National Day. See you all there!
You may also like: Board Games, Burgers & Bliss: Enjoy 10 Of Dubai's Most Spectacular Board Game Cafes