What is the most expensive meal you've ever had? In a city where everything is the most luxurious, tallest & swankiest – it comes as no surprise that the world's most expensive restaurant is set to open in Dubai in November 2022 for a limited period only. Read on to know all the details!
The Sublimotion Experience
Sublimotion will be launched in Mandarin Oriental Dubai on November 4th & will run until May 2023. What makes this restaurant so special is that you get to feast your eyes, nose, mouth & ears in this exclusive pop-up and prepare for a theatrical experience like never before. In fact, this 'simple meal' has a crew of 25 designers, engineers, stage directors, composers, illusionists, and actors, working to deliver a meal experience like never before.
A meal here isn't just an ordinary fancy dinner. It is an experience. You get 10 courses and each course is paired with live performances and 360-degree theatrical screens with surround imagery. It combines illusions, music, science fiction & food!
The whole experience lasts for 2 hours & the restaurant serves only 12 diners at a time in a roofless space. Each guest's name projected onto the table. The food here is not served, it drops from the ceiling – course after course!
The extraordinary Sublimotion, which opened to instant renown in an exclusive space in Ibiza in 2014, is the brainchild of Paco Roncero, chef and owner of two-Michelin-starred Paco Roncero Restaurante in Madrid, accompanied by co-founder and creative director Eduardo Gonzales of Vega Factory.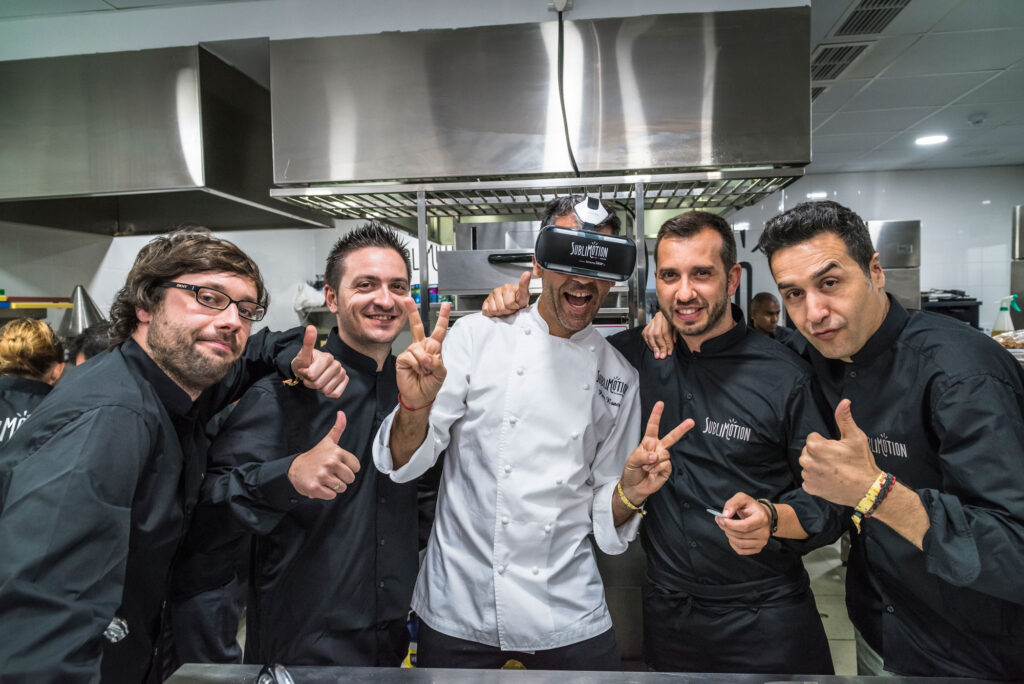 Take a look at the video below to know what its like:
Price Of The Sublimotion Experience
Meal prices start at AED 5000 per person. However, for the richest of the rich looking for an uber exclusive experience there is the 'Ultimate Sublimotion Experience' package priced at AED 19,000 for 2.
In this package, you get a stay in the suite at the Mandarin Oriental, breakfast, spa treatment for two, pick up in a Tesla and two seats to dine at Sublimotion Dubai.
The Mandarin Oriental website states, "Diners are welcomed into the exciting world of molecular gastronomy and haute cuisine where innovation, art and technology combine to create dramatic culinary delights in an original and compelling atmosphere."
How To Book The Sublimotion Experience?
For reservation, please call +971 4 777 2250 or email sublimotiondubai@mohg.com
Timings: First seating – 6:30pm ; Second seating – 9:30pm
Dress code: Smart elegant or national attire.Guests must refrain from wearing sportswear, beachwear, torn jeans and flip flops. Long pants are required