Ice skating in desert? That too outdoors? Well, anything is possible in Dubai. A brand new eco-friendly, outdoor Snowfest Ice rink has landed at Global Village for Season 27. To know the complete details of Global Village, Season 27 – click here.
Snowfest Ice Rink At Global Village for Season 27
Calling all ice skating enthusiasts! The large, shimmering ice rink is a revolutionary, world-class synthetic rink, giving guests the same experience as real ice skating but without the wet feet and chilly noses.
No matter the weather, skaters can enjoy an evening of sliding around the ice rink and getting caught in a beautiful snow shower.
Situated at the entrance of the Carnaval™, guests will be provided with all the equipment
needed including the skates, skating seal aids for the children, and even a pair of fluffy
Snowfest socks, for a fun and safe skating session.
The Snowfest ice rink is ready to chill, thrill and excite Global Village guests at AED 40 for 20 minutes of wonder. Tickets are available online and on the Global Village app.
How To Get To Global Village?
There are multiple convenient ways to get to global Village. The RTA Announced 4 Bus Routes To Global Village At Just AED 10.
Details Of The 4 Bus Routes To Global Village
Bus 102 from Rashidiya Metro Station
Price: AED 10
Bus 103 from Union Metro Station, passing through Al Rebat Street
Price: AED 10
Bus 104 from Ghubaiba Bus Station passing through Al Jafiliya Metro Station.
Price: AED 10
Bus 106 from Mall of Emirates Metro Station passing through Al Barsha A2, Al Barsha Lulu Supermarket, Dubai American Academy 2, Classic Crystal 2 and Al Quoz, Clinical Pathology Services 2
Price: AED 10
The service runs from 3.15pm – 11.15pm daily, with 30 minutes of travel time. All the buses will be deluxe volvos, with stringent health measures onboard and at stations to safeguard against the spread of COVID-19 amongst riders, drivers and staff.
Not only this, but the RTA has also approved plans to operate three electric Abras inside Global Village. How cool is that!
1. By Private Car:
Global Village is situated on two of Dubai's major highways. There are over 20,000 parking spots & it is divided into 3 zones:
General Parking
Area P1 – P12 (Free of Charge)
VIP Parking
Area 1 & 2 (Weekdays & weekends: AED 200 per day)
Premium Parking
15 minutes and below (AED 10)
16 minutes or full-day (AED 100)
2. By Taxi/Rickshaw:
You can get a rickshaw from the parking @AED 5 per person to the entry gate. The Global Village rickshaw services will be running with additional sanitation protocols.
You can book an UBER/Careem or an RTA taxi. Standard rates apply. Careem is currently running offers for Global Village.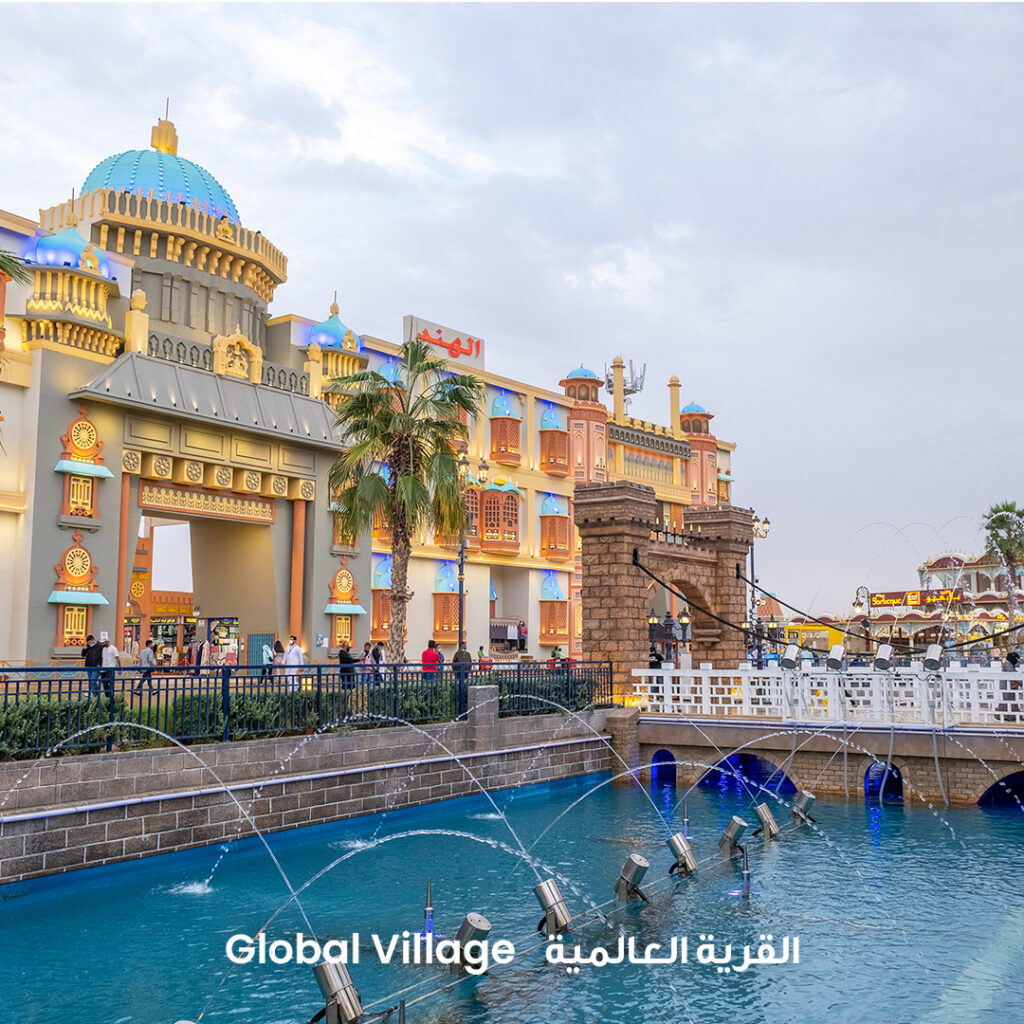 Global Village Address & Timings
Address:
Sheikh Mohamed Bin Zayed Road and Emirates Road – Exit 37 – E311 – Dubai – United Arab Emirates
Park timings:
Sunday- Wednesday: 4:00pm – 12:00am
Thursday – Saturday: 4:00pm – 1:00am
Tuesdays are reserved exclusively for ladies and families, except on official public holidays and opening day (25th October, 2022).
Global Village Season 27 Ticket Prices
The park entry starts at as low as AED 18 per person