It's here! Global Village Season 27 is starting today, 25th October and this year GV will feature over 4000 shows, over 3,500 shopping outlets, more than 175 rides, and over 250 restaurants, cafes, and street food options.
What Is Global Village?
Well let's start with the basics, shall we? Global Village is an extravaganza like no other. Think of its as an accurate representation of our Dubai. It is to put simply – a world without borders. A world where more than 90 cultures come together to celebrate colours, flavours and experiences. From bustling bazaars to breathtaking performances, unique cuisines and shopping options, the best of the world comes together at Global Village.
This magnificent cultural melting pot is definitely not something you can cover in a single day, and you can – and more importantly, will want to visit several times. Global Village is great for couples, families, kids, adults – absolutely anyone & everyone.
Top 3 Popular Pavilions At Global Village
Pavilions in Global Village are divided as per countries. Each country pavilion has something unique to offer from food to experiences, and events.
Here are some popular pavilions that you must try to visit:
Japan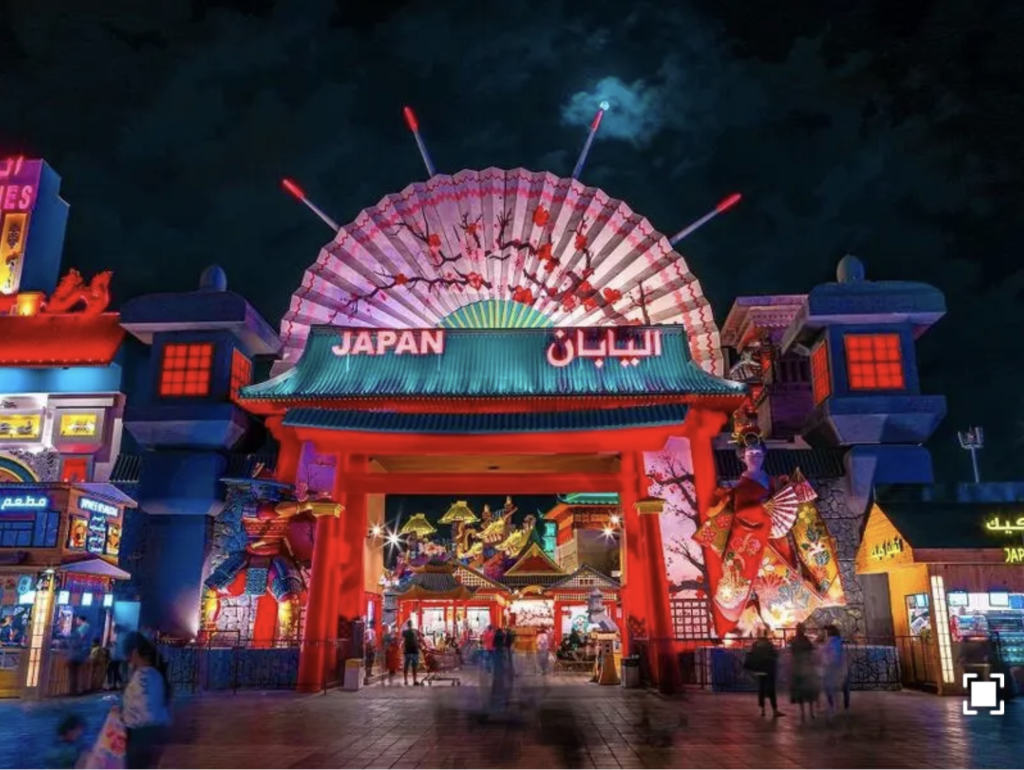 Aaah, the land of the rising sun. A Geisha will welcome you as you journey across Japan, meeting Ninjas and Samurai warriors along the way. From being welcomed by the traditional Japanese fan at the entrance to the Maneki-Neko lucky cat and the cherry blossom-inspired designs, Kabuki masks and Japanese pagodas – a visit to the Japan Pavilion is one filled with colour, excitement and challenges. Don't forget to visit the Ninja house to discover its various trapdoors and secret passages.
Things Not To Miss:
Japanese Tea & Japanese Cheesecake
2. Turkey
The Ottoman Empire comes alive for you at the Turkey Pavilion. Step back into the past and wander around through traditionally crafted ceramic, copper and porcelain works, calligraphy-inspired jewellery, Turkish carpets and handmade pottery.
Get a glimpse of the architectural splendour of Turkey's famed landscapes like the majestic Hagia Sophia, the old Taksim market, or the historic Cappadoccia with its fairytale scenery.
Things Not To Miss:
Body Fragrances, Baklava with ice cream, Decorative items, Turkish Ice Cream & coffees
3. Europe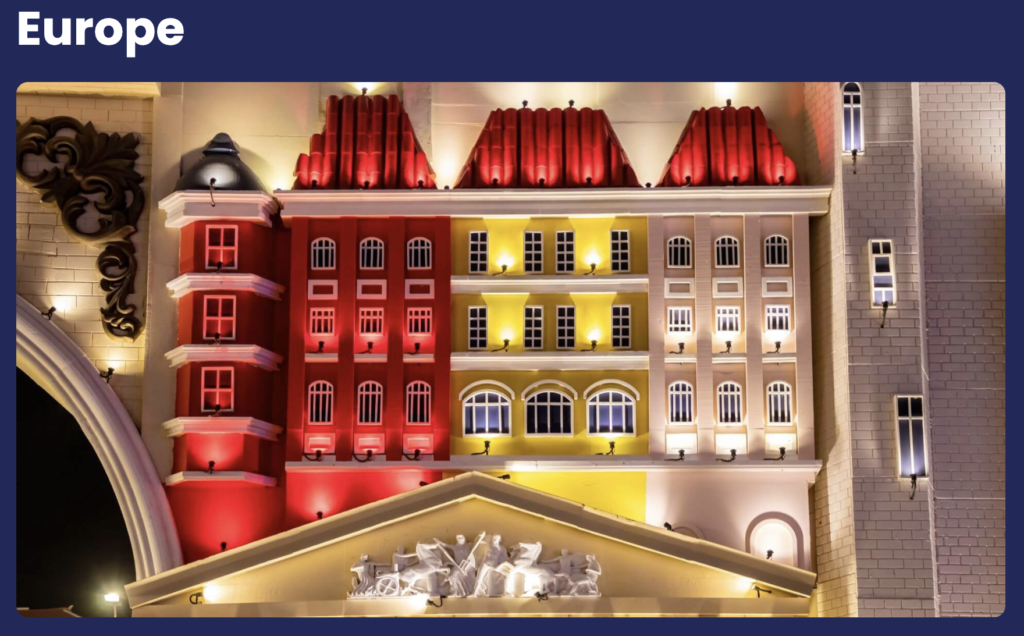 A full continent wrapped up in one pavilion. Europe will leave you mesmerised with the Queen's Jubilee celebrations to the imposing architecture found across the continent. Stroll past the wonders like the Eiffel Tower and the Leaning Tower of Pisa. Celebrate Europe's rich and varied legacy with a replica of the Royal Crown or stop by for performances of music, art, and dance that honor the eclectic heritage of Europe.
Things Not To Miss:
Olive oil, pasta, honey
Global Village Culinary Line-Up
Global Village recently revealed the first details of its Season 27 culinary line-up and this time guests will be able to choose from 200+ restaurants, cafes and street food options.
Premium Restaurants At Global Village
Guests can experience high end cuisine in four beautifully designed double-storey restaurants, overlooking Dragon Lake.
Brand new Lebanese food concept Naseem Beirut, will be making its Global Village debut.
Chef Rohit Ghai will be bringing his casual dining concept Khaojee to Global Village for the first time.
Michelin-starred Rohit Ghai has become one of the culinary world's most in-demand chefs after a hugely successful decade on the London restaurant scene. Serving a fresh take on Indian fusion, the acclaimed Chef has created a menu concept that will tantalize the tastebuds and stimulate the senses. His solo restaurant, Kutir, has hosted celebrities including Ed Sheeran, James Blunt, Peirce Brosnan, Roger Federer and a host of Bollywood stars.
Over in Restaurant Alley, Chef Amin Ebra will be bringing a taste of signature modern Persian cuisine, with the Dubai premiere of the Belgrave restaurant. Chef Ebra's award-winning restaurant is inspired by the legacy of Chef Amin's grandfather, who served as the head chef to the Iran monarchy.
Cult Turkish fried chicken shop Doyuyo, will be making its first appearance in the UAE
Make way for Shobak, a home grown Saudi Arabian restaurant, famous for its signature hot pies.
Also read: You Can Now Hop On A Hot Air Ballon In Global Village This Year

Global Village Carnaval
The Global Village Carnaval has over 170 rides, games, and attractions to explore and enjoy. The best part is that its not just for kids, but is just as fun for the adults. You can spin with gravity-defying, stomach-churning, high-intensity, spinny rides.
Choose from 125+ arcade and skill games, & enjoy everything from new-age virtual games to classics like shooting hoops and throwing darts.
Our personal favorite is the House Of Fear. Would you dare go in?
Global Village Ripley's Believe It Or Not!®
You better believe it. This is the first 'Odditorium' in the region, and it's back with 250 exhibits and interactives including 40 new ones! Ripley's Believe It Or Not!® is a family-friendly attraction, & is home to a host of eccentric displays from visual illusions and pop culture memorabilia to unusual artefacts and features of tales so unbelievable they must be true. Ripley's Believe It Or Not!® needs to be on your Global Village bucket list!
What's New at Global Village Season 27?
If you're wondering what's new at Global Village Season 27 this year, the answer is – A LOT!
Wonder Taxis
From vintage to iconic – Global Village is bringing a unique fleet of some of the world's most recognisable and iconic cars to the streets of Dubai. Aptly named, "wonder rides" you will see taxis from New York, Cuba, Japan, Thailand, Mexico, and Lebanon.
Guests can enjoy fun back-seat themed challenges, inspired by the host country of each cab. You can also stand a chance to win some exciting prizes if you spot one of the Global Village wonder rides, take a photo & post it on your social media channels, tagging #WonderRides.
2. The Global Village Big Balloon
The Global Village Big Balloon Ride is a tethered Helium Balloon ride that fly's up to 120 meters from the ground (as high as a 6 storey building) and offers spectacular panaromic, 360 degree view of the surroundings.
Offering romance of a Hot Air Balloon with significantly higher safety and a great opportunity to engage with the entire family. At a price similar to a movie ticket, get an experience of a lifetime
3. The House of Fear
If you're someone who doesn't get spooked out easily, maybe this is the curse you've been waiting for. Halloween is definitely going to be LIT this year with GV's latest attraction, spread across 660 metres. Professional actors will appear in nine scenarios & it will even feature a haunted cemetery. EEEEP GOOSEBUMPS!  Adding to the already scary line up will be a hospital mental ward and a wailing tree. But shhh, we don't want to reveal too much & let you brave hearts tackle this for yourself. Definitely sounds like the scariest haunted house in the region & we are here for it!
4. Diggers Lab
Located right at the entrance of Carnaval is a hydraulic digger experience. Kidscan actually experience a live construction site with construction helmets et all. Not only an excavator, they can also control dumpers and other construction machinery. Perfect for the lil ragamuffins to try a new experience.
5. New pavilions from Qatar and Oman
The Oman Pavilion will mesmerise you with the fragrance of frankincense. Enjoy glimpses of the Royal Palace, the Al Sahwa Tower, Sultan Qaboos University and Muttrah Souq. Watch traditional dancers swish and sway to the Bedouin beats and dance. If you love a good bargain, head to the central marketplace where local artisans peddle artefacts and antiques, traditional textiles, and stunning silver jewellery.
Enter The Qatar Pavilion and you'll be impressed with the replicas of imposing forts, breath-taking clock towers and some of the most stunning modern buildings of Doha. Of course, you cannot miss some authentic coffee & a retail experience like no other.
6. Road of Asia
Road Of Asia is a new pedestrian street featuring 43 kiosks from 13 Asian countries with authentic products from Sri Lanka, Indonesia, Cambodia, Malaysia, Brunei, Laos, Hong Kong, Taiwan, Vietnam, Nepal, Bhutan, Myanmar, and the Philippines.
Get mesmerised by Asian culture & a melting hot pot of tradition, food & happiness.
7. Snowfest Ice Rink
Calling all ice skating enthusiasts! The large, shimmering ice rink is a revolutionary, world-class synthetic rink, giving guests the same experience as real ice skating but without the wet feet and chilly noses.
No matter the weather, skaters can enjoy an evening of sliding around the ice rink and getting caught in a beautiful snow shower.
Situated at the entrance of the Carnaval™, guests will be provided with all the equipment
needed including the skates, skating seal aids for the children, and even a pair of fluffy
Snowfest socks, for a fun and safe skating session.
The Snowfest ice rink is ready to chill, thrill and excite Global Village guests at AED 40 for 20 minutes of wonder. Tickets are available online and on the Global Village app.

How To Get To Global Village?
There are multiple convenient ways to get to global Village. The RTA Announced 4 Bus Routes To Global Village At Just AED 10.
Details Of The 4 Bus Routes To Global Village
Bus 102 from Rashidiya Metro Station
Price: AED 10
Bus 103 from Union Metro Station, passing through Al Rebat Street
Price: AED 10
Bus 104 from Ghubaiba Bus Station passing through Al Jafiliya Metro Station.
Price: AED 10
Bus 106 from Mall of Emirates Metro Station passing through Al Barsha A2, Al Barsha Lulu Supermarket, Dubai American Academy 2, Classic Crystal 2 and Al Quoz, Clinical Pathology Services 2
Price: AED 10
The service runs from 3.15pm – 11.15pm daily, with 30 minutes of travel time. All the buses will be deluxe volvos, with stringent health measures onboard and at stations to safeguard against the spread of COVID-19 amongst riders, drivers and staff.
Not only this, but the RTA has also approved plans to operate three electric Abras inside Global Village. How cool is that!
1. By Private Car:
Global Village is situated on two of Dubai's major highways. There are over 20,000 parking spots & it is divided into 3 zones:
General Parking
Area P1 – P12 (Free of Charge)
VIP Parking
Area 1 & 2 (Weekdays & weekends: AED 200 per day)
Premium Parking
15 minutes and below (AED 10)
16 minutes or full-day (AED 100)
2. By Taxi/Rickshaw:
You can get a rickshaw from the parking @AED 5 per person to the entry gate. The Global Village rickshaw services will be running with additional sanitation protocols.
You can book an UBER/Careem or an RTA taxi. Standard rates apply. Careem is currently running offers for Global Village.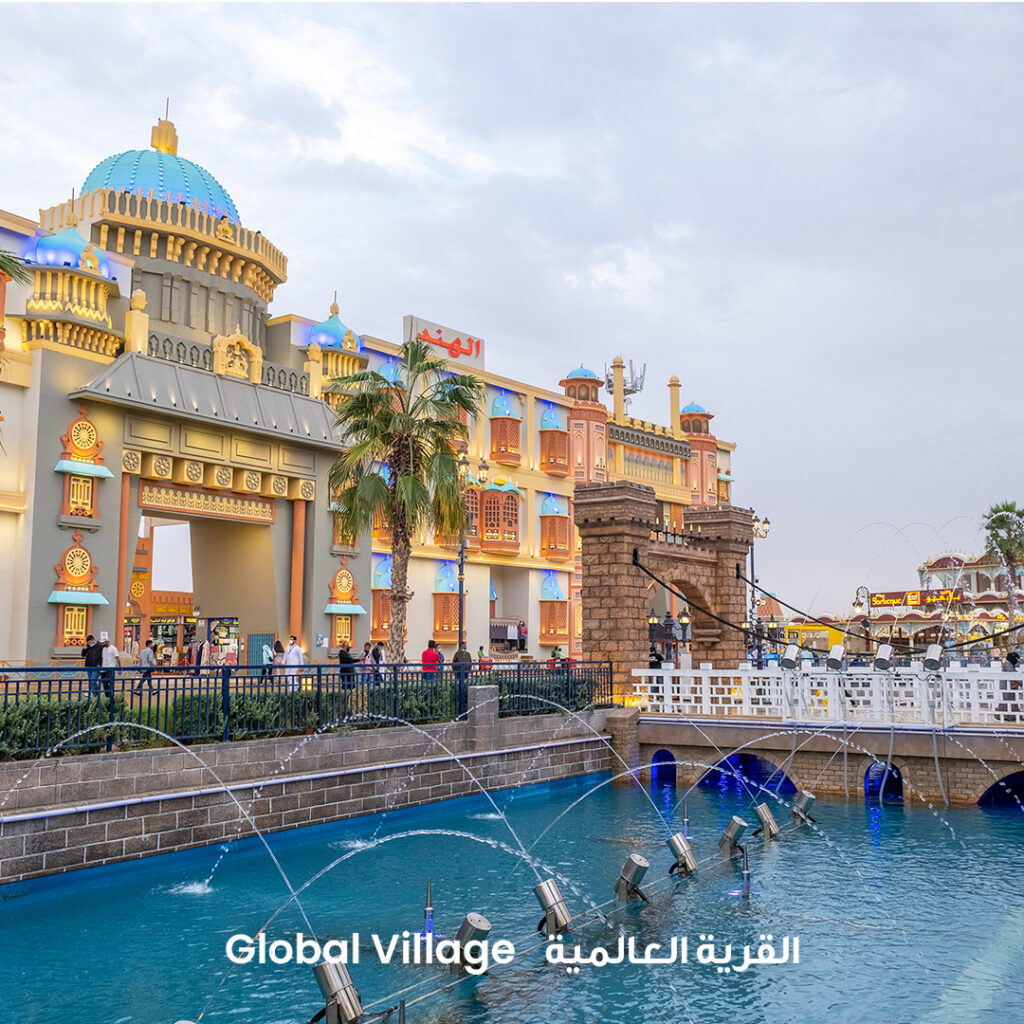 Global Village Address & Timings
Address:
Sheikh Mohamed Bin Zayed Road and Emirates Road – Exit 37 – E311 – Dubai – United Arab Emirates
Park timings:
Sunday- Wednesday: 4:00pm – 12:00am
Thursday – Saturday: 4:00pm – 1:00am
Tuesdays are reserved exclusively for ladies and families, except on official public holidays and opening day (25th October, 2022).
Global Village Season 27 Ticket Prices
The park entry starts at as low as AED 18 per person