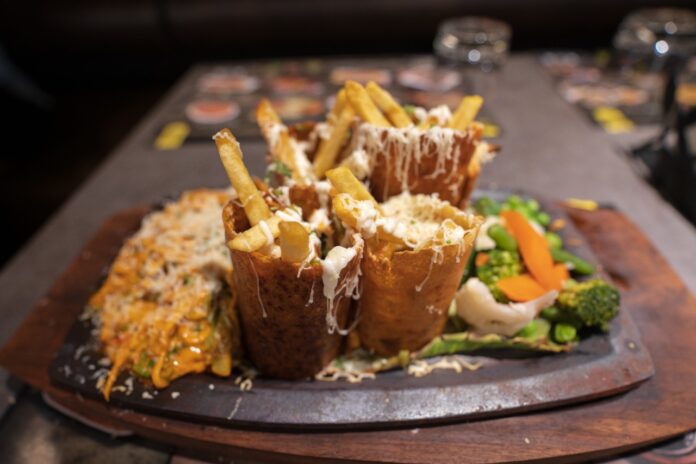 If you want something yummy in your tummy, Yummy Dosa Restaurant – specializing in Mumbai-style street food, has launched UAE's first-ever Dosa Sizzlers, as a part of their Winter Menu to keep you all warm and cosy.
Dosa Sizzler In The UAE
The Dosa Sizzler is a beautiful amalgamation of flavours such as Paneer, Noodles and Exotic Vegetables served with French Fries, Boiled Vegetables and Dosa Gravy. Made with fresh ingredients and a whole lot of exotic veggies, this dosa serves as the authentic Indian Dosa morsel with a sizzling quirk. Indulge in the sizzling, lip-smacking spice-filled Dosa this winter.
Also read: Top 8 Biggest Food Items In The UAE!
Along with Dosa Sizzler, try out their all-new mouth-watering flavours: Mexican Sizzlers – prepared with Mexicano sauce (kidney beans with paneer, carrots and broccoli) and served with pepper rice, Chilly Garlic noodles sizzler – Yummy Dosa's best seller burnt chilli rice flavour is now available in noodles in sizzler base and Paneer Tikka Sizzler – exhibits the Punjabi touch to Yummy Dosa's hot sizzler menu.
Also Read: Abu Dhabi To Use Drones For Food, Document Delivery By 2023 If Trials Successful
The Sizzling hot Dosas are priced at AED 45. The Paneer, Noodles and Exotic Vegetables will play a symphony that will keep you wanting more. Head over to Yummy Dosa and try the UAE's first-ever Sizzling Dosas!
Yummy Dosa Details
What: Yummy Dosa launches UAE's first-ever Sizzling Dosa as part of its Winter Menu
When: Starting Now
Price: AED 45
Address:
Shop No.1, Sharjah 1 Building, Next to Gazebo Restaurant, Abu Shagara, Sharjah
83 Sheikh Khalifa Bin Zayed St – Dubai – United Arab Emirates
20 – Jebel Ali Village Discovery – The Gardens – Dubai – United Arab Emirates
Contact Details:
Sharjah: +971 6 535 1804
Discovery: +971 4 876 7982
Al Karama: +971 4 342 6332