Florian Ughetto and Liz Nunez will be the first couple in the United Arab Emirates to marry in the metaverse on May 19. Decentraland will host the ceremony, attended by the couple's close family and friends. Florian and his bride Liz will walk down the aisle in their private plot on Decentraland, dressed in a snazzy, tailored black and brown suit and a stunning white dress acquired for around $100 on the largest NFT marketplace Open Sea.
"I am from France and my wife is Paraguayan," said Florian Ughetto. "We dreamt of flying in our family and friends from France and Paraguay to Dubai to attend our wedding. However, Covid and legal hurdles played spoilsport. That is when we decided to take things to the metaverse."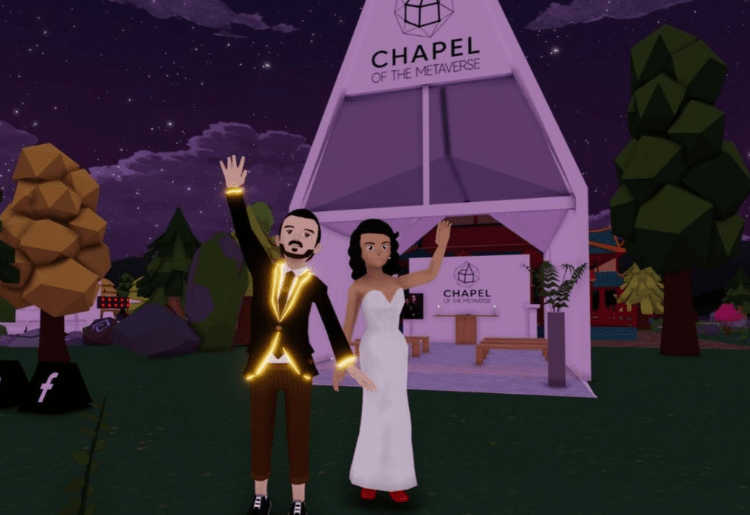 They'll be joined in the metaverse by 20 of their closest family and friends, who will join them from the comfort and privacy of their own house. The best man and maid of honour will give speeches after exchanging vows. The tiny group will then travel to an unknown area to party all night within the metaverse.
Because of their various nationalities, the couple who got lawfully married in Georgia in 2019 had a lot of legal complications when wanting to get their marriage registered. "That is one of the reasons why we chose to fly to Georgia to register our marriage," said Florian. The pair is quite thrilled about their wedding, which will take place on May 19, 2022. "We have had several practice runs," Florian said.
"But I am nervous. The biggest challenge we face is connectivity. If anyone's computer glitches or has a connectivity problem, we will have an issue. That is why we have recorded backups of everything, including our vows. But we are keeping our fingers crossed that everything runs smoothly."
The couple decided to start their wedding planning firm, Easy Wedding, after their legal troubles. "Once we returned, we decided to set up our own company to help couples like us who face legal nightmares when trying to register their marriage," said Florian. "In a city like Dubai where people from all over the world come, meet and fall in love, we felt like a service like ours would help people immensely"
FOLLOW US ON OUR SOCIALS