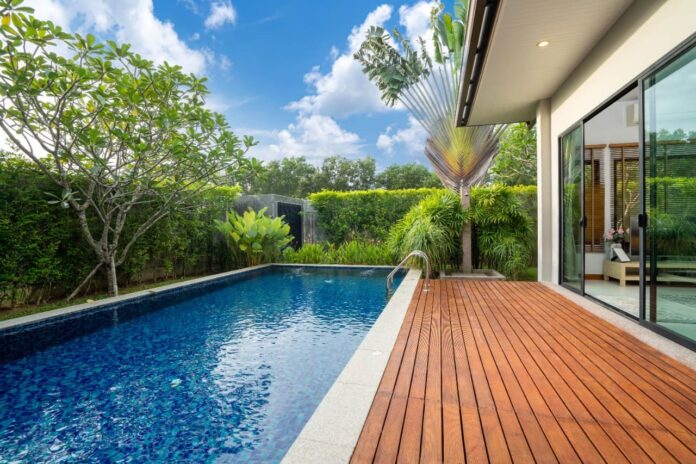 Winter is here & it's officially hosting season in Dubai. Home gardens take more of centre stage and is probably even the highlight of your home. Warm bonfires, friends & chilling is pretty much what a great weekend looks like. It's time to spruce up your gardens & we've got the perfect way to do it.
Danube Home Garden Services
Home decor and furniture specialists, Danube Home provide end-to-end design solutions for home gardens as well as transformative decor pieces. They have a wide range of ready to use products as well as completely customized solutions for outdoor spaces; from gazebos to outdoor seating areas, and even outdoor kitchens and entertainment.
Also read: Best New Year Parties 2023 In Dubai For All Budgets ; Kid Friendly, Live Performances & More
The Garden range also includes water features and swimming pools, which can be installed with the help of experts from Danube Home. Imagine having your friends come over to your own private pool! How cool is that? Their pool and Landscaping services all come with warranty against any manufacturing defects so customers can be assured of the high level of quality. Danube Home also offers a high-quality range of durable floor and pool tiling, which can be used to create beautiful patterns that add interest to outdoor elements.
Also read: UAE Public Holidays 2023 List : 14 Holidays Next Year & 4 Long Weekend Ideas
Danube Home Landscaping Services include:
Garden & Pool Design
Floor Installation
Customized Gazebos & Pergolas
Outdoor Kitchens & BBQ Pits
Customized Garden Furniture
Smart Garden Lights
Water Fountains
Vertical Gardens
Kids Outdoor Play Areas
Automatic Irrigation Installation
Artificial grass in multiple finishes that can be used to create stunning landscapes
Planning your own garden too overwhelming for you? No Problem! Customers can also draw on the expertise of extremely talented landscape designers and specialized engineers to bring their dream gardens to life.
Also read: Danube Group Is Opening Middle East's Largest Inflated Sports Facility In Dubai
Customers can also add depth and panache to their gardens with the range of fountains and garden ornaments to help create dream-like spaces for a backyard getaway.
To find out more, and explore the Garden and Landscaping range of services, visit Danube
Home branches across the UAE or take a look online at www.danubehome.ae.