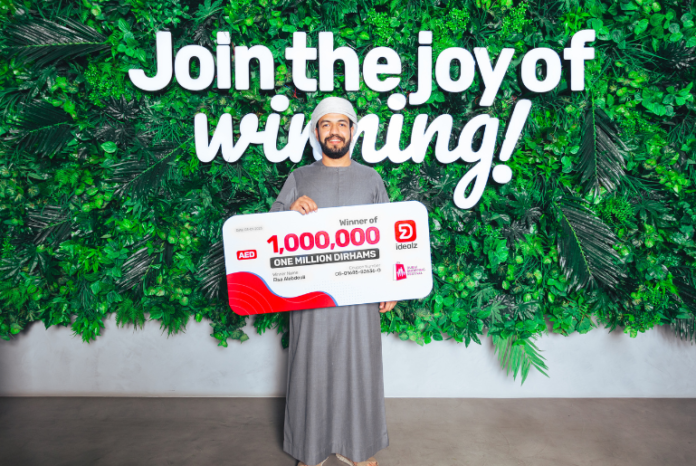 Dubai is the land of luck and prosperity, and recently, thanks to Idealz, Eisa Alabdouli, a UAE national residing in Fujairah, won 1,000,000 Dirhams. All Eisa did was enter the raffle draw campaign on Idealz for AED25, and as luck had it, he won the draw. 
Fujairah National Wins AED1 Million Cash Prize With Idealz 
He participated in three raffle draw campaigns, and didn't think he would win either. But one day, he got a call from Idealz and was informed that he had won a whopping 1 million Dirhams. 
Recalling the joyous moment, Eisa jokingly said, "It was my anniversary and being on a diet, I was having my salad early and that's when I got a call from Idealz. At first, I was shaken, and in disbelief. I thought I was being scammed, but after confirming the news, my happiness knew no bounds. I shared the news with my wife and she was happier and more excited than I was." 

Idealz Transformed Eisa Alabdouli's Life & Made Him A Millionaire
Idealz changed Eisa's life, and thanks to the e-commerce site, Eisa believes that 2023 will be his year. He said, "Firstly, I would like to build my house, buy a new car, start a new business, pamper my wife and kids, and save some amount for the future. My life has changed and now I definitely believe in luck." 
Idealz, the innovative e-commerce site, known for its unique shop-and-win proposition, is loved by customers in over 130 countries. You can participate in draws daily for the chance to win prizes ranging from a Mercedes-AMG G63  to an apartment in Downtown Dubai. Idealz has something for everyone. 
In fact, Eisa, who is a millionaire now, has always been an avid participant in raffle draws in the country, regularly traveling to metro stations to get his tickets. As fate would have it, one day, his brother told him about Idealz and the ease of participating from his phone. Given the convenience and the limited quantity campaigns, Eisa made the switch to Idealz and today, he's a millionaire. His parents and other family members are extremely happy and can't wait to see him build his dream life. 
No dreams are too big; sometimes, all it takes is a leap of faith. So, if you too are dreaming of becoming a millionaire or looking to upgrade your ride in 2023, a digital raffle starting from as low as AED5 may just be the way to go.